Turtle Adoption and Volunteer Program at Talang-Satang National Park - 4 days
Individual Private Tour - Tour Details & Information, Tour Code: MD-KCH-02
Detailed Itinerary
Day 1: Begin of Tour Kuching (Sarawak) - Sematan - Talang-Talang Besar
(L/D)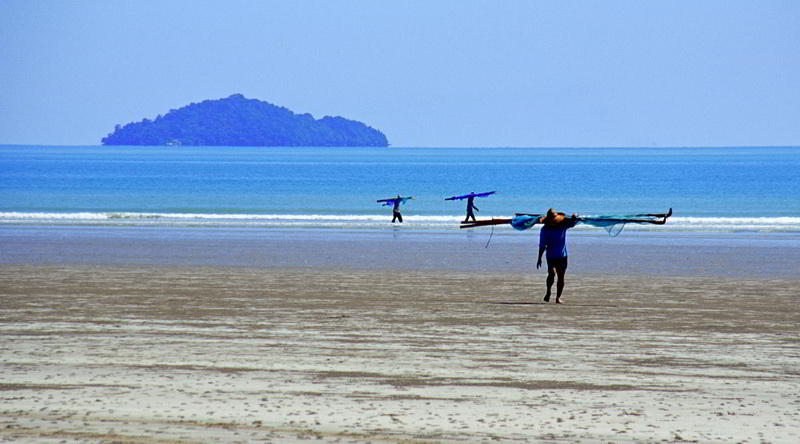 Talang-Talang Besar IslandIn the morning you meet your guide in the hotel lobby and are then transferred to the fishing village Sematan in an air-conditioned van (transfer ca. 2 hours). While you are having lunch in a local restaurant there, you discuss the program of the next days with your guide. After lunch you are brought to the Sematan jetty and take the boat to the Talang-Talang Besar Island (transfer ca. 45min). There you are welcomed by the park rangers of the Sarawak Forestry Corporation. The responsible park ranger will brief you about your program and your tasks for the next days on the island. You have the opportunity to discuss about your conception of this program and the rangers will tell you how your participation directly contributes to the protection of the endangered sea turtles in Sarawak. You also get more information about the different species of sea turtles landing on this island and you have a look at the hatching place, where the laid eggs are transferred to, in order to ensure a better protection. Dinner will be prepared by your guide and eaten together with the park rangers in the park headquarter. Before sunset you check the hatching place together with your guide and the park rangers for the first time. If there are already baby turtles hatching out, you help the park rangers to collect them in order to count them and determine the species. After this you can watch the release of the hatchlings. In the evening the access to the beach is only allowed together with a park ranger, because there can be already sea turtles landing, looking for a good place to lay their eggs. Please note that after sunset the use of conventional torch lights is prohibited; torch lights with red light function are provided. In the first night you wait for the signal of the park ranger until you can go to the beach and watch the turtles during their egg deposition. This is to protect the turtles which, after their landing, cannot be disturbed because they need time to find a suitable place to lay their eggs. While you observe the egg deposition, your guide and the park ranger give you further information about the actions to protect the eggs. Watch how they collect the eggs and transfer them to the hatching place. You also observe the park ranger while measuring and examining the turtles, and making the documentation with the help of the identification mark of each of the turtles. The first night is for you to see what you are going to do in the following nights. Overnight in basic rooms in the park headquarter
Day 2: Talang-Talang Besar
(B/L/D)
Turtle Hatching Talang-Talang BesarBreakfast in the park headquarter. After breakfast you will discuss with the park rangers about your experiences in the night. Together with your guide you will check the identification mark numbers of the turtles who landed on the beach. Then you get more information about the international policy of the turtle conservation (IUCN) and how it is implemented in this program. You also learn to distinguish between the different species of sea turtles landing on this island. After lunch you can explore the submarine world around the island by snorkeling. (Agreement of the park ranger of the Sarawak Forestry Corporation required. Areas and terms for the snorkeling activities are allocated by the employees of the Sarawak Forestry Corporation.) Before you start with your supporting work, you become acquainted with the egg deposition places known around Sarawak, the protection strategies etc. After dinner, before sunset, you will check the hatching places to observe the turtles hatching out, to determine their species and to count them. Then you will bring them to the park headquarter and afterwards release them. During this and the following night you are increasingly doing more protection activities yourself. Together with the park ranger you will then do a beach patrol to keep records of the arriving turtles. As soon as they start laying their eggs, you will (under the guidance of the park ranger) begin to measure them, to collect the eggs and to document this landing with the help of the identification mark of each of the turtles. In this night your activities will be observed by a park ranger in order to point out any mistakes. Overnight in basic rooms in the park headquarter.
Day 3: Talang-Talang Besar
(B/L/D)
Sea TurtleBreakfast with the park rangers of the Sarawak Forestry Corporation. After breakfast you will discuss with the park rangers about your experiences in the night and you will compile and edit the recorded data of the turtles. On this day you will get more information about techniques and management practices in the protection of species and you will talk about the implementation of these concepts. Spend the afternoon at your leisure. Dinner in the park headquarter. In this night you will try to do all the protection activities as independently as possible (under the observation of a park ranger). Overnight in basic rooms in the park headquarter.
Day 4: Talang-Talang Besar - Kuching - End of Tour Kuching (Sarawak)
(B/L)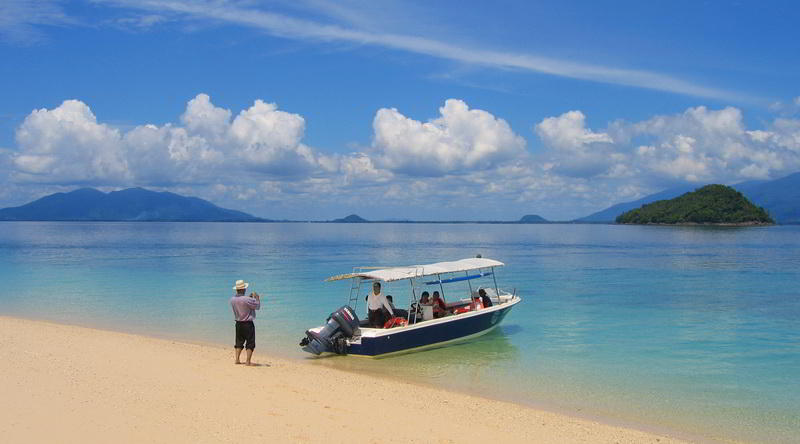 Talang-Talang Besar IslandAfter the breakfast with your guide and the park rangers you will discuss with them about the experiences and the results of the last days and also about possible problems in the implementation of this protection program. After this talk you say goodbye to the park rangers and, together with your guide, you go back to Sematan by boat. Lunch in a local restaurant in Sematan. Return to Kuching
Hotels, Rates & Information
Hotels for this Tour
(Changing the hotels according to your wishes is no problem!)
Location
Comfort Hotels
Talang-Talang Besar
Park HQ
Homestay/Guesthouse

Rates
Options
Comfort
Rate per person
EUR 675
USD 830
Based on individual private tour, min. 2 travellers in double/twin room
Changing or adapting this tour to match your personal needs, interests and wishes is, as always, possible. Please contact us! Group rates (closed groups only, min. 4 Pax) on request.
Single Supplement
On Request
Single Traveller
EUR 1.215
USD 1,495
Use our travel bag to remember tours and quickly access them later through the Travel Bag Menue (, comes up as soon as you add a tour) - Or to add them to a tour request for an individual offer.
Add to your travel bag list
Map
In progress
Information, Services, Remarks
Depart/Arrive:

Kuching (Sarawak) / Kuching (Sarawak)


Hotel/Airport Transfers:

Transfers are inclusive from and to above mentioned airports and hotels of the immediate area.

Services (included):

Tours & Transfers as per itinerary
Englishspreaking guide
Entryfees
Participation Turtle Volunteer Program
Accomodation: Shared rooms at Park HQ
Adoption of a Turtle (personalized adoption certificate)
Adoption of a Nest (personalized adoption certificate)
Meal Plan as stated:
3x Breakfast 4x Lunch/Lunchbox 3x Dinner

Not included

Own expenses
Additional services (marked 'optional' above)
Programme not mentioned above
Season Surcharges


Best Season(s):

May - September (hatching season)

Important Remarks:

Min. 2 Persons. Single traveller rates on request.
Program on seat-in-coach base (group of min. 2 and max. 6 pax).
Volunteers for the project must be 18 years or older.
Slots 2019:
02.09.2019 – 05.09.2019
09.09.2019 – 12.09.2019
16.09.2019 – 19.09.2019
23.09.2019 – 26.09.2019
Please pay attention to the Travel Information provided.
When travelling islamic countries there can be interference during the month of Ramadan, other high holidays and fridays.
Volcanism: The Sunda Islands and the Sunda Archipelago are of volcanic orgin and show high volcanic activity. Accrodingly it may be possible that tours, routings and activities (especially those involving or near volcanoes) need to be altered in case of high activity or order by the government.
This tour is not soutable for people with reduced mobility. If you are unsure if you meet the requirements please contact us! We will try to find a solution for your individual needs.
During the dry season severe haze caused by wood fires in Borneo and Sumatra can possibly affect this region. Please keep yourself updated using the ASEAN Regional Haze Situation Center.