Komodo via Sumbawa - 4 days
Individual Private Tour - Tour Details & Information, Tour Code: SI-KOM-01
Detailed Itinerary
Day 1: Begin of Tour Bima (Sumbawa) - Komodo
(L/D)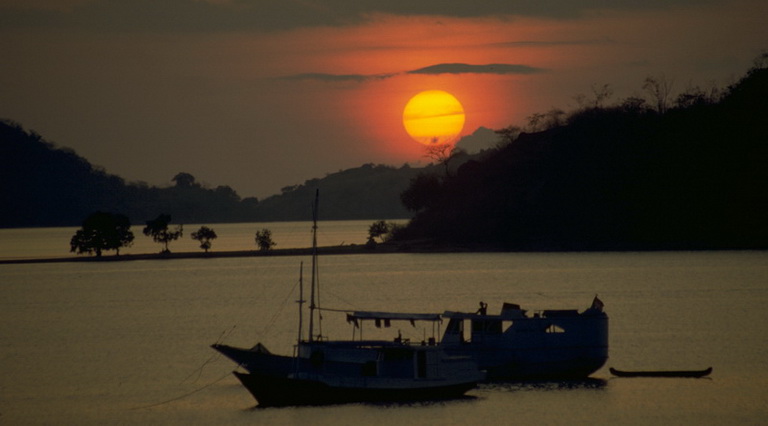 Sunset in Labuan BajoOn arrival at Bima airport meeting with guide. Travel Sumbawa island until you reach Sape on the east coast. There you will board a modified fisherboat for your cruise to Komodo island. The trip will take approximately 6 hours. The boat is made from teak wood. The cabin is equipped with simple matrasses. Late afternoon arrival at Komodo. Dinner and overnight on board.
Day 2: Komodo - Rinca
(B/L/D)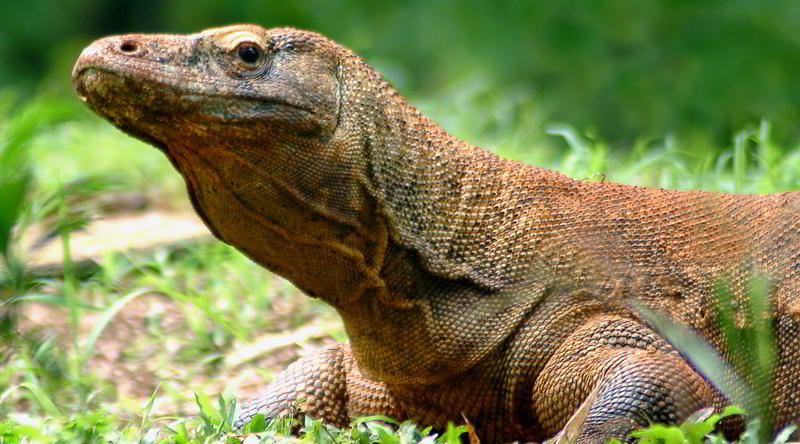 Komodo dragonBreakfast on board. Go for a short trekking tour on Komodo Island. The trip to Waingalung is 1,5km long. There you will see many comodo dragons (Varanus Komodoensis). The giant lizards can grow to a lenght of 3m and can reach a weight of 150kg. Their diet consists of carrions, deers and even their own kind. Cross to Rinca island in the afternoon. Dinner and overnight on board.
Day 3: Rinca - Bima/Sape
(B/L/D)
Komodo landscapeAfter breakfast you can swim and snorkel on a secluded beach. The sea surrounding the island is full of tropical fish and coral structures. Relax and enjoy the crystal clear waters and white sandy beaches. Return to Sape in the afternoon. From Sape transfer back to Bima. Dinner and overnight in Bima.
Day 4: Bima/Sape - End of Tour Bima (Sumbawa)
(B)
Breakfast at hotel, then transfer to airport and flight to your next destination.
Hotels, Rates & Information
Hotels for this Tour
(Changing the hotels according to your wishes is no problem!)
Location
Comfort Hotels
Komodo
AC Cabin Boat (MV Fadaelo or similar)
Boat

Rinca
Fan Cabin Boat
Boat

Bima/Sape
Lawata Hotel
Homestay/Guesthouse

Rates
Options
Comfort
Rate per person
On request
Based on individual private tour, min. 2 travellers in double/twin room
Changing or adapting this tour to match your personal needs, interests and wishes is, as always, possible. Please contact us! Group rates (closed groups only, min. 4 Pax) on request.
Single Supplement
On Request
Single Traveller
On Request
Use our travel bag to remember tours and quickly access them later through the Travel Bag Menue (, comes up as soon as you add a tour) - Or to add them to a tour request for an individual offer.
Add to your travel bag list
Map
In progress
Information, Services, Remarks
Depart/Arrive:

Bima (Sumbawa) / Bima (Sumbawa)


Hotel/Airport Transfers:

Transfers are inclusive from and to above mentioned airports and hotels of the immediate area.

Services (included):

Private tour
English speaking guide
Air-conditioned car
Accomodation: DBL room hotels (or similar)
Transfers and entrance fees as per itinerary
Meal Plan as stated:
3x Breakfast 3x Lunch/Lunchbox 3x Dinner

Not included

Own expenses
Additional services (marked 'optional' above)
Programme not mentioned above
Season Surcharges
Consevation Fee Komodo National Park USD 15,- p.p.


Best Season(s):

April - October
Best months for visiting are from March to June. The animals are more sleepy and reclusive during maiting season (July/August).

Important Remarks:

Important information for traveler: Outside of highly touristic regions like Bali there is only a limited touristic infrastructure available. Regular flight connections, restaurants and hotels (all classes from simple to high end) are limited. Flight cancellations and delays are quite common. Please don't expect amenities like warm water, air-conditioning and even comfortable beds at all hotels and homestays during the round trip. This applies especially outside of bigger cities.
Min. 2 Persons. Single traveller rates on request.
Please pay attention to the Travel Information provided.
When travelling islamic countries there can be interference during the month of Ramadan, other high holidays and fridays.
Volcanism: The Sunda Islands and the Sunda Archipelago are of volcanic orgin and show high volcanic activity. Accrodingly it may be possible that tours, routings and activities (especially those involving or near volcanoes) need to be altered in case of high activity or order by the government.
This tour is not soutable for people with reduced mobility. If you are unsure if you meet the requirements please contact us! We will try to find a solution for your individual needs.