Alila Purnama Komodo - 7 days
Individual Private Tour - Tour Details & Information, Tour Code: SI-KOM-03
Detailed Itinerary
Day 1: Begin of Tour Labuan Bajo (Flores) - Gililawa Laut
(L/D)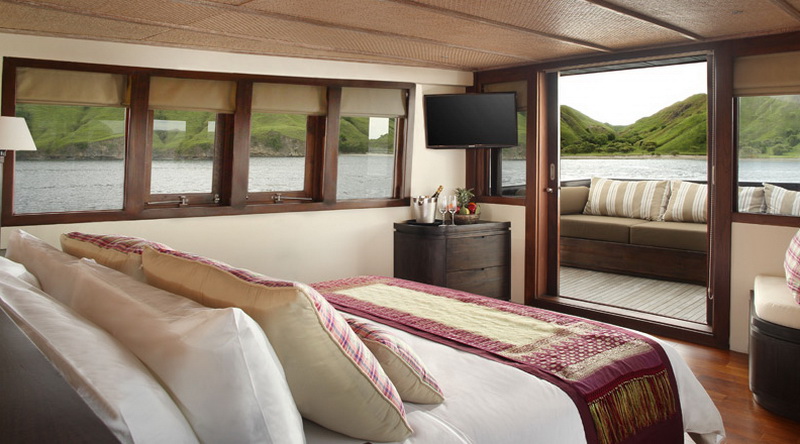 Alila Purnama Sriwijaya SuiteOn your arrival in Labuan Bajo, you will be met by the Alila Purnama crew and transfer red by car and speedboat to Alila Purnama. The ride will take about 15 minutes. Once on board, let your voyage to relaxation begin! Following a general briefing by the Cruise Director to familiarise you and your travelling companions with the vessel and all safety procedures, we will set sail for Sabalon Island. Lunch will be served during the 1 - 1.5 hour cruise. Ready your selves for a splendid afternoon on the beach and in the tropical waters of Komodo. During the night, the boat will anchor at Gili Lawa Laut.
Day 2: Gililawa Laut
(B/L/D)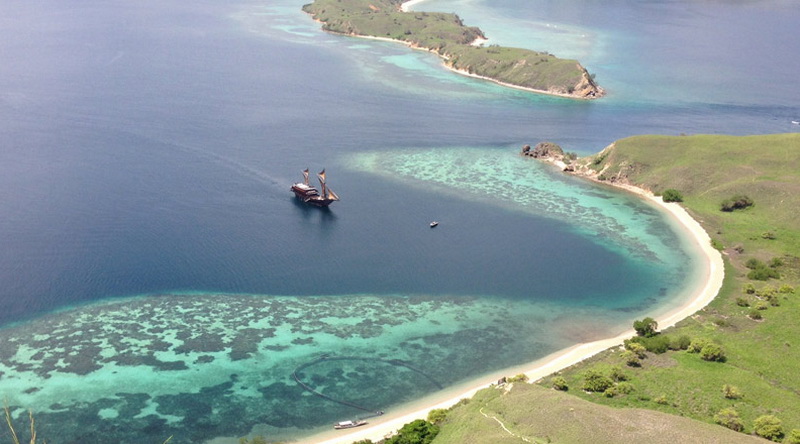 Alila Purnama in KomodoThe northern islands, reefs and pinnacles of the Komodo National Park provide an irresistible magnet for fish and divers. In Gili Lawa Laut you will enjoy a full day of swimming, snorkelling and diving. Here you will discover that it is not uncommon to dive and snorkel with dolphins and manta rays. In the afternoon, if your sense of adventure inspires you, take a trek up to a local summit for a spectacular view over the surrounding islands.
Day 3: Gililawa Laut - Banta Island
(B/L/D)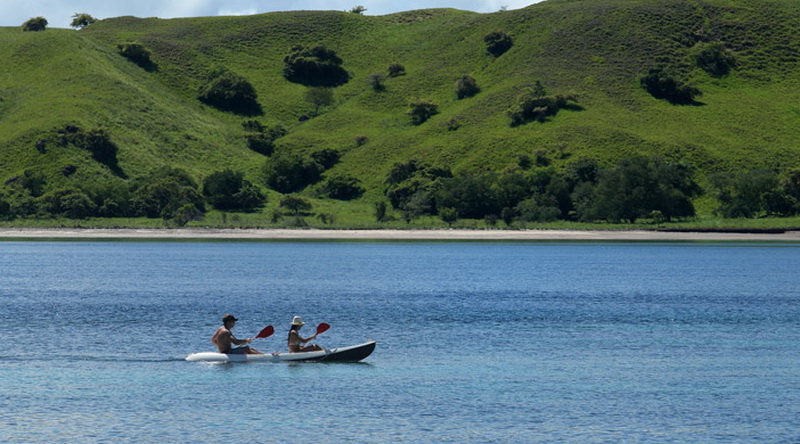 Ailia PurnamaThe early morning brings us to the island of Banta, just at the border of the Komodo National Park. Banta is one of the most beautiful places to be. Kayaking, swimming, snorkelling, diving, sipping a fresh juice at the beach or trekking to discover an extraordinary panorama will be choices available to you.
Day 4: Banta Island - Komodo Island
(B/L/D)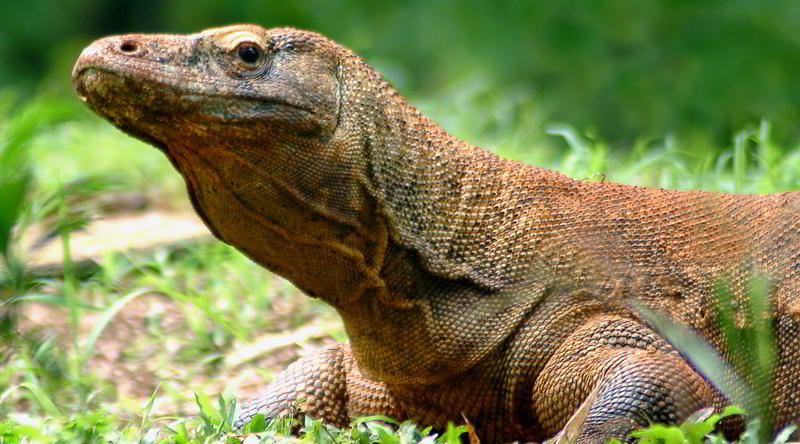 Komodo dragonExplore Komodo Island in the morning. The island is home to the fearsome Komodo Dragons. They are the biggest lizards on earth. Take a walk around the park guided by experienced rangers who will share with you their profound knowledge of the Komodo, the fauna and the flora of the area. Later in the morning, the Alila Purnama will sail to the famous Pink Beach where you can spend the rest of the day in the water or relaxing on the beach.
Day 5: Komodo Island - Padar Island
(B/L/D)
Aroma Oil BottlesAnother amazing day stretches in front of you. You'll find Padar Island another excellent spot for snorkelling and diving, or sunbathing on a secluded beach with a refreshing cocktail in hand. Or if you prefer, stay on board the Alila Purnama and luxuriate with a pampering spa treatment.
Day 6: Padar Island - Batu Muncul
(B/L/D)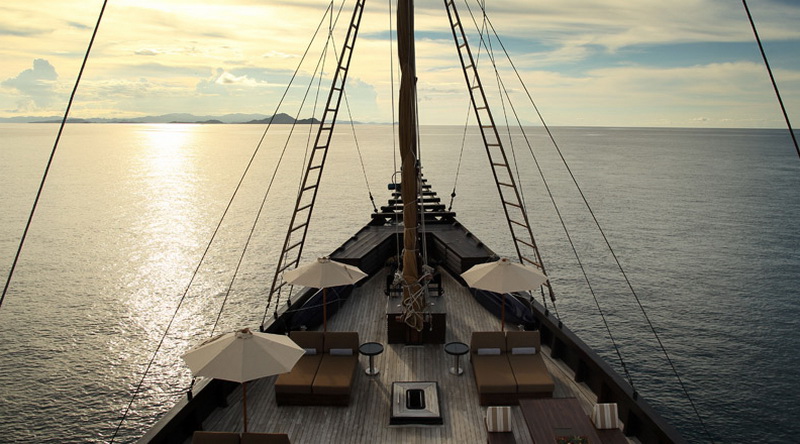 Alila Purnama DeckWake up to another paradise view, this time of the pristine white-sand beaches of Batu Muncul where you can laze away the day at your leisure. The clear waters also beckon… superb for swimming, diving and snorkelling. End this wonderful day with an unforget table barbeque under the stars.
Day 7: Batu Muncul - End of Tour Labuan Bajo (Flores)
(B)
In the morning, we will set sail for Labuan Bajo. After breakfast, it will be time to bid farewell to Alila Purnama and her crew. You will then be transferred to Labuan Bajo airport, where our team will assist with your departure.
Hotels, Rates & Information
Hotels for this Tour
(Changing the hotels according to your wishes is no problem!)
Location
Comfort Hotels
Gililawa Laut
Alila Purnama
Boat
Suite
Banta Island
Alila Purnama
Boat
Suite
Komodo Island
Alila Purnama
Boat
Suite
Padar Island
Alila Purnama
Boat
Suite
Batu Muncul
Alila Purnama
Boat
Suite
Rates
Options
Comfort
Rate per person
On request
Based on individual private tour, min. 2 travellers in double/twin room
Changing or adapting this tour to match your personal needs, interests and wishes is, as always, possible. Please contact us! Group rates (closed groups only, min. 4 Pax) on request.
Single Supplement
On Request
Single Traveller
On Request
Use our travel bag to remember tours and quickly access them later through the Travel Bag Menue (, comes up as soon as you add a tour) - Or to add them to a tour request for an individual offer.
Add to your travel bag list
Map
In progress
Information, Services, Remarks
Depart/Arrive:

Labuan Bajo (Flores) / Labuan Bajo (Flores)


Hotel/Airport Transfers:

Transfers are inclusive from and to above mentioned airports and hotels of the immediate area.

Services (included):

Exclusive live aboard cruise with english speaking cruise director
Luxurious cabin with aircondition and private bath
Non-alcoholic drinks
Non-motorised watersport
Unlimited diving
Excursions and fees
Meal Plan as stated:
6x Breakfast 6x Lunch/Lunchbox 6x Dinner

Not included

Own expenses
Additional services (marked 'optional' above)
Programme not mentioned above
Season Surcharges
Domestic Flights
Airport Taxes
Alcoholic beverages
Spa Treatments


Best Season(s):

May - October

Important Remarks:

Departure with a minimum of 6 pax. There is no fixed route for this trip. Route depends on weather conditions, currents and other things. Changes are possible at any moment.
Schedule 2020/2021
01.07.2021 - 07.07.2021 (6 nights)
Additional/shorter dates:
19.06.2020 - 24.06.2020 (5 nights)
17.08.2020 - 22.08.2020 (5 nights)
05.09.2020 - 10.09.2020 (5 nights)
10.06.2021 - 15.06.2021 (5 nights)
19.08.2021 - 24.08.2020 (5 nights)
24.09.2020 - 27.09.2020 (3 nights)
03.09.2021 - 07.09.2021 (4 nights)
17.09.2021 - 21.09.2021 (4 nights)
Different itinerary and charter (min. 4 nights) on request.
Important information for traveler: Outside of highly touristic regions like Bali there is only a limited touristic infrastructure available. Regular flight connections, restaurants and hotels (all classes from simple to high end) are limited. Flight cancellations and delays are quite common. Please don't expect amenities like warm water, air-conditioning and even comfortable beds at all hotels and homestays during the round trip. This applies especially outside of bigger cities.

Important information: All programmes and transfers by boat are on seat-in-coach base (group). You may be in a small group with other people.
Please pay attention to the Travel Information provided.
When travelling islamic countries there can be interference during the month of Ramadan, other high holidays and fridays.
Volcanism: The Sunda Islands and the Sunda Archipelago are of volcanic orgin and show high volcanic activity. Accrodingly it may be possible that tours, routings and activities (especially those involving or near volcanoes) need to be altered in case of high activity or order by the government.
This tour is not soutable for people with reduced mobility. If you are unsure if you meet the requirements please contact us! We will try to find a solution for your individual needs.