Morning of the World - 5 days
Individual Private Tour - Tour Details & Information, Tour Code: SI-DPS-03
Detailed Itinerary
Day 1: Begin of Tour Denpasar (Bali) - Ubud
(L)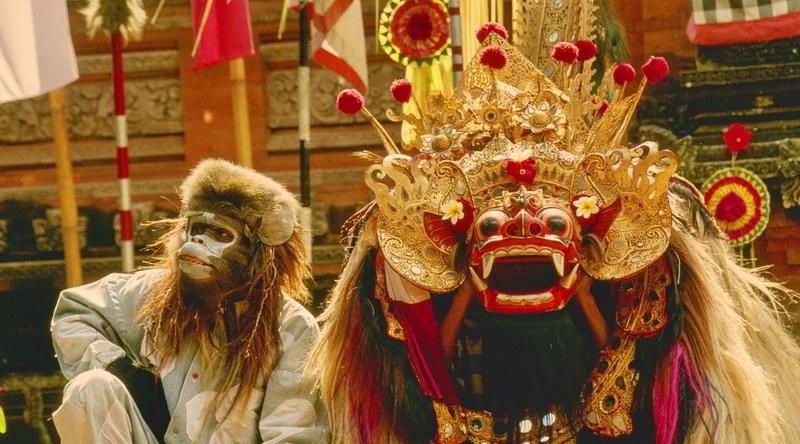 Barong and HannumannPick up by your guide at the hotel lobby. After a short drive to the center of the island you will visit the legendary Barong Dance. The dance tells the story of Barong, the king of spirits, and Rangda an evil witch. Then you will come to the village Celuk, which is famous in the whole of Asia for their gold & silver carvings. Afterwards you will reach the art center Ubud soon and visit the traditional market, where especially in the morning a lot of activities are going on. Your guide will show and explain to you about all kind of exotic spices, fruits and much more. It is always wise to bargain. After this you will visit the Neka Museum, a glorious exhibition of international appreciated Painters who came to Ubud together around 1930. Then continue to Goa Gajah - Elephant Cave, a really interesting temple which were used long time ago by the Brahman priests and ascetics for meditation. Check-in at your hotel in Ubud.
Day 2: Ubud - Pemuteran
(B/L)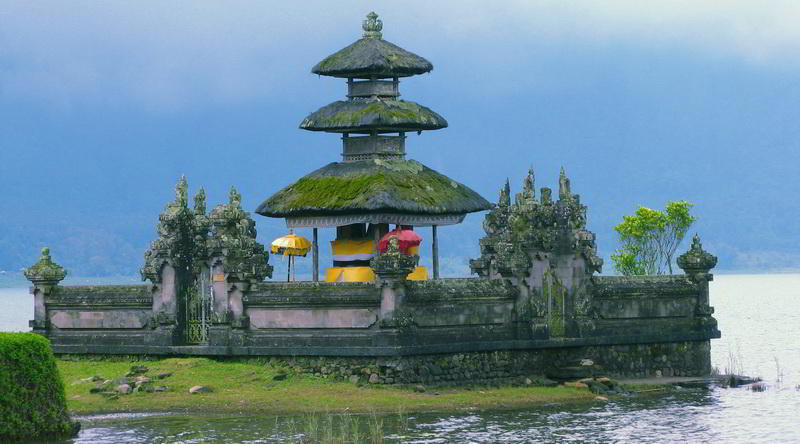 Ulun Danu TempleLeave Ubud in the morning and continue your trip to the mountain area of Bedugul at the Bratan Lake, which is actually a crater filled with freshwater. There you will visit the temple Pura Ulun Danu placed at the water 5m from the shore of the lake. From there you will pass the mountain region which is a great chance to make really nice photos at cocoa or coffee plantations on the way to Munduk. From there you will start a short trekking around 15min to the waterfall through the jungle. At the waterfall you will have a chance to refresh. Along the north coast of Bali you will arrive at Vihara Buddha, a Buddhist monastery and center of meditation and also will stop at Hot Springs in Banjar. Following the north coast of Bali westwards you will reach Pemuteran. Check-in at Pemuteran hotel.
Day 3: Pemuteran - Lovina
(B/L)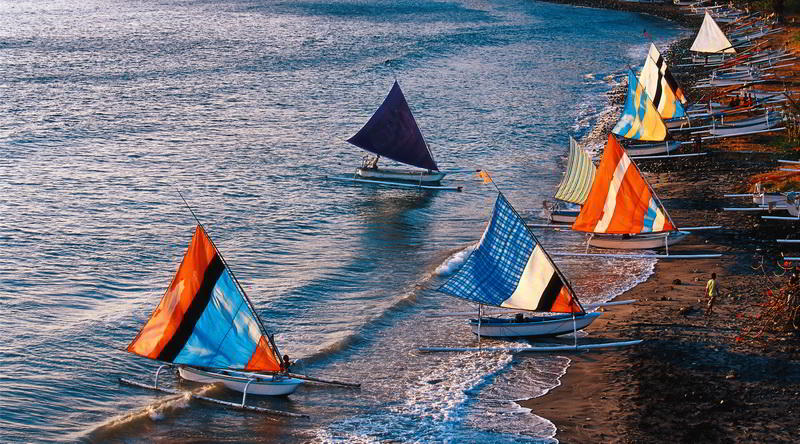 Jukungs on a Bali BeachStart the day with a short drive to Labuan Lalang harbor near Pemuteran. Get on a chartered boat to Menjangan Island. The trip will only take 20 minutes. There you can spend the morning snorkeling and swimming. Enjoy the beautiful reef with many colorful fish. Pulau Menjangan is known for its unique underwater world. Continue the trip to Lovina Beach afterwards. On the way to Lovina you will visit Pulaki Temple, where you can see a lot of monkeys. In the afternoon you will arrive at Lovina. Check-in at your Lovina hotel.
Day 4: Lovina - Candi Dasa
(B/L)
Ricepaddies Eastern BaliAfter breakfast check-out from your hotel. At the village Sangsit you will visit the mythic temple Pura Beji. By continuing the trip you will use the mountain road and can enjoy the fascinating and always changing landscape there until the village Kintamani which is on the border of the Volcano Penulisan. There you will have a really beautiful panorama view of the crater (12km diameter), fantastic view on the volcano Mt. Batur (2.200m high) which is still active and has a nickname, called Gunung Lebah (ind. = mountain in the deep). We will take you along nice landscapes to Pura Besakih, the biggest temple of Bali. It has 40 turrets and a beautiful view of the impressive Gunung Agung volcano. Then we will continue our journey through the unbelievable beautiful paddy fields next to the village of Selat at the east coast. Check-in at your hotel in Candi Dasa.
Day 5: Candi Dasa - End of Tour Denpasar (Bali)
(B/L)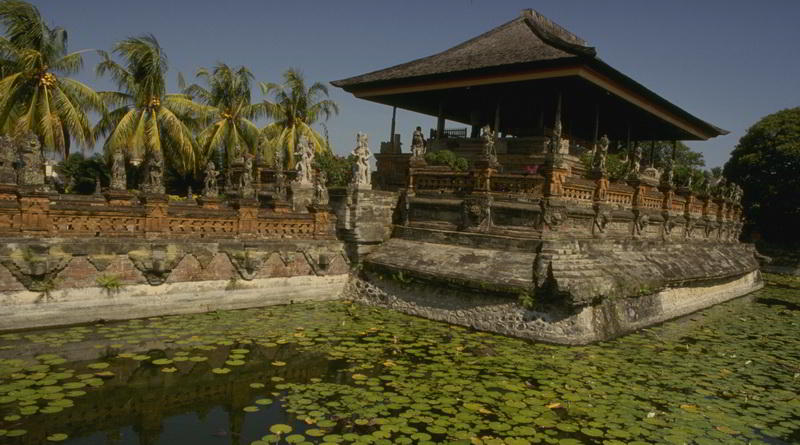 Kertagosa KlungkungAfter breakfast at Candi Dasa Hotel short drive to Tenganan village. It is the home of the Bali Aga - the original Balinese. Their culture is not dominated by Hinduism. They follow animistic beliefs. The society of Tenganan was mostly secluded until the 1970s. After this interesting visit the trip will be continued to the bat cave Goa Lawah where thousands of bats and a small temple can be visited. Last stop will be at Klungkung where you will see the historical court hall Kerta Gosa, where judges used to speak law in former times. Afterwards you will be transfer to your hotel in south Bali.
Hotels, Rates & Information
Hotels for this Tour
(Changing the hotels according to your wishes is no problem!)
Location
Comfort Hotels
Deluxe Hotels
Ubud
Alaya Resort Ubud

Deluxe
Maya Ubud Resort and SPA

Superior
Pemuteran
Taman Selini Resort


Matahari Beach Resort and SPA


Lovina
Puri Bagus Lovina


The Damai Lovina


Candi Dasa
Rama Candi Dasa Resort

Superior Wing
Alila Mangis

Superior
Rates
Options
Comfort
Deluxe
Rate per person
EUR 735
USD 815
EUR 1.028
USD 1,144
Based on individual private tour, min. 2 travellers in double/twin room
Changing or adapting this tour to match your personal needs, interests and wishes is, as always, possible. Please contact us! Group rates (closed groups only, min. 4 Pax) on request.
Single Supplement
EUR 167
USD 186
EUR 438
USD 487
Single Traveller
EUR 1.320
USD 1,470
EUR 1.850
USD 2,055
Use our travel bag to remember tours and quickly access them later through the Travel Bag Menue (, comes up as soon as you add a tour) - Or to add them to a tour request for an individual offer.
Add to your travel bag list
Map
In progress
Information, Services, Remarks
Depart/Arrive:

Denpasar (Bali) / Denpasar (Bali)


Hotel/Airport Transfers:

Transfers are inclusive from and to above mentioned airports and hotels of the immediate area.

Services (included):

Private tour
English speaking guide
Air-conditioned car
Accomodation: DBL room hotels (or similar)
Transfers and entrance fees as per itinerary
Meal Plan as stated:
4x Breakfast 5x Lunch/Lunchbox

Not included

Own expenses
Additional services (marked 'optional' above)
Programme not mentioned above
Season Surcharges


Best Season(s):

April - November

Important Remarks:

Min. 2 Persons. Single traveller rates on request.
Please pay attention to the Travel Information provided.
When travelling islamic countries there can be interference during the month of Ramadan, other high holidays and fridays.
Volcanism: The Sunda Islands and the Sunda Archipelago are of volcanic orgin and show high volcanic activity. Accrodingly it may be possible that tours, routings and activities (especially those involving or near volcanoes) need to be altered in case of high activity or order by the government.
This tour is not soutable for people with reduced mobility. If you are unsure if you meet the requirements please contact us! We will try to find a solution for your individual needs.