Baliem Valley Experience - 6 days
Individual Private Tour - Tour Details & Information, Tour Code: SI-IRJ-01
Detailed Itinerary
Day 1: Begin of Tour Jayapura (Irian Jaya/West Papua) - Baliem Valley/Wamena
(L/D)
Baliem Valley ResortIn the morning, arrival in Jayapura and short flight to Wamena. Lunch and visit of the local market in Wamena. Transfer to The Baliem Valley Resort. The small resort is located in the vast Baliem Valley and surrounded by the Jayawijaya Mountains. A 3-star hideaway in a natural paradise. Dinner and overnight at the Resort.
Day 2: Baliem Valley/Wamena - South Baliem Gorge - Baliem Valley/Wamena
(B/L/D)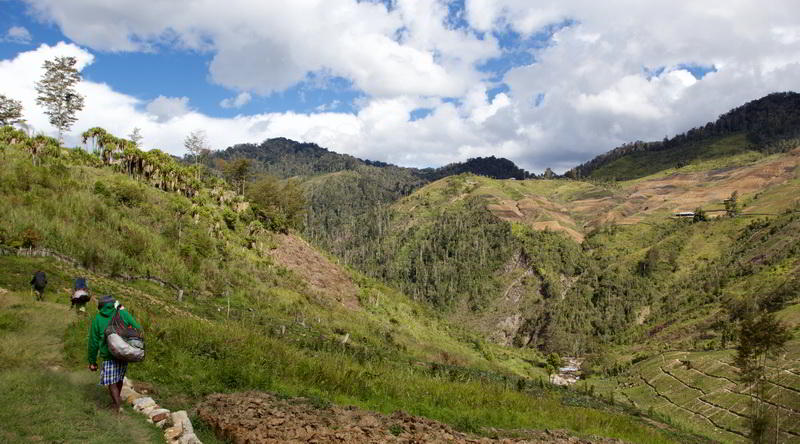 Baliem ValleyIn the morning, drive to the southern Baliem Valley past Wamena. By the village of Sogogmo, not quite 2 miles outside Kurima, the road ends. This is where our hike along the huge Baliem river starts. First, we cross the roaring Baliem river on a traditional suspension bridge. We continue through romantic Dani settlements with their terraced fields and wild sugar cane groves. Throughout the hike, we enjoy magnificent views of the river and the narrow valley. Around noon, we get to the church square of Seinma, where we eat our picnic lunch surrounded by stunning scenery. Outside Kurima we cross the river again on a wild and romantic suspension bridge. To return to our vehicle, we need to cross a few side valleys. There will be many unique photo opportunities today. We get back to the resort in late afternoon.
Day 3: Baliem Valley/Wamena - Kurulu - Baliem Valley/Wamena
(B/L/D)
Kurulu MummyIn the morning, one-hour trip to Jiwikia, in the middle of the Baliem Valley. Start of a one-hour uphill hike (approx. 1,000 feet altitude difference) through stunning mountain rainforest to the traditional salt spring of the Dani tribe. Local women dressed in traditional tribal clothes will accompany us and show us their ancestral salt production techniques. After the walk down, we will take a picnic lunch at the foot of the mountain. We will then walk to the nearby Kurulu village, where you can admire the ancient mummy of the famous Dugum clan. Afterwards, the women show us how they process the brine they extracted from the spring. We will see more quaint and picturesque Dani homesteads. Wherever we go, friendly Papuans offers their arts and craft, weapons, and all kinds of curiosities for sale. Return to the resort in the afternoon.
Day 4: Baliem Valley/Wamena
(B/L/D)
Preparations for the Pig FestivalTraditional one-day pig festival in a traditional Dani village, either in the resort grounds or in the Jiwika region. Many adorned people from the Dani tribe in traditional clothing will take part in the festival. Such food celebrations with hot stones and earth pits are probably the most interesting part of a trip to New Guinea. If you like taking photos and videos, you will certainly get your money's worth today! It is difficult to describe what's so unique about these food celebrations; you will have to see and experience it for yourself. Lunch will be a picnic in the village. If you like, you can taste the food from the traditional earth pit afterwards. The freshly cooked pork and sweet potatoes are delicious! Back to the resort in the late afternoon.
Day 5: Baliem Valley/Wamena - Jayapura
(B/L)
Yos Suudarso Bay, JayapuraTransfer to Wamena and short flight to Jayapura. Upon arrival, direct city sightseeing tour Jayapura or optional tour Lake Sentani with lunch en route. The lake is the biggest open lake in West Papua. It is said to be the home of rainbows by the local population. Many endemic fish species live in the waters of Lake Sentani. Overnight at a hotel in Sentani.
Day 6: Jayapura - End of Tour Jayapura (Irian Jaya/West Papua)
(B)
Transfer to airport, departure to your next destination.
Hotels, Rates & Information
Hotels for this Tour
(Changing the hotels according to your wishes is no problem!)
Location
Comfort Hotels
Baliem Valley/Wamena
Baliem Valley Resort

Honay Villa
Jayapura
Horex


Rates
Options
Comfort
Rate per person
EUR 1.540
USD 1,680
Based on individual private tour, min. 2 travellers in double/twin room
Changing or adapting this tour to match your personal needs, interests and wishes is, as always, possible. Please contact us! Group rates (closed groups only, min. 4 Pax) on request.
Single Supplement
EUR 200
USD 218
Use our travel bag to remember tours and quickly access them later through the Travel Bag Menue (, comes up as soon as you add a tour) - Or to add them to a tour request for an individual offer.
Add to your travel bag list
Map
In progress
Information, Services, Remarks
Depart/Arrive:

Jayapura (Irian Jaya/West Papua) / Jayapura (Irian Jaya/West Papua)


Hotel/Airport Transfers:

Transfers are inclusive from and to above mentioned airports and hotels of the immediate area.

Services (included):

Travel permit (surat jalan)
Domestic flights: Jayapura – Wamena – Jayapura
Private tour
English speaking guide
Air-conditioned car with driver
Accomodation: DBL room hotels (or similar)
Transfers, Entrance fees as per itinerary
Meal Plan as stated:
5x Breakfast 5x Lunch/Lunchbox 4x Dinner

Not included

Own expenses
Additional services (marked 'optional' above)
Programme not mentioned above
Season Surcharges


Best Season(s):

May - November

Important Remarks:

Min. 2 Persons. Single traveller rates on request.
Important information for traveler: Outside of highly touristic regions like Bali there is only a limited touristic infrastructure available. Regular flight connections, restaurants and hotels (all classes from simple to high end) are limited. Flight cancellations and delays are quite common. Please don't expect amenities like warm water, air-conditioning and even comfortable beds at all hotels and homestays during the round trip. This applies especially outside of bigger cities.

- Low difficulty (1/5): Easy tours with no special physical demands.
Please pay attention to the Travel Information provided.
When travelling islamic countries there can be interference during the month of Ramadan, other high holidays and fridays.
Volcanism: The Sunda Islands and the Sunda Archipelago are of volcanic orgin and show high volcanic activity. Accrodingly it may be possible that tours, routings and activities (especially those involving or near volcanoes) need to be altered in case of high activity or order by the government.
This tour is not soutable for people with reduced mobility. If you are unsure if you meet the requirements please contact us! We will try to find a solution for your individual needs.