Whale Sharks, Dragons & Coral Reefs - 9 days
Individual Private Tour - Tour Details & Information, Tour Code: SI-KOM-04
Detailed Itinerary
Day 1: Begin of Tour Labuan Bajo (Flores) - Labuhanbajo
(D)
Ombak Putih & KatharinaTransfer from the airport or your hotel in Labuan Bajo to the harbor, where your pinisi will be waiting at anchor. Once settled into your cabin, your cruise director will familiarize you with the vessel's facilities and safety procedures. Ready to start the adventure with a visit to a coral restoration project north of Labuan Bako. The following tour description is not fixed. Your captain and cruise director will make changes (due to weather and tides) to provide you with a unique experience.
Day 2: Labuhanbajo
(B/L/D)
Islands of Komodo National ParkThe boat will anchor just off Komodo island in the morning. The Komodo National Park encompasses 80 islands. You will go ashore near the ranger station in Loh Liang for an early morning trek through the park searching for Komodo dragons. The animals are endemic to the islands of the national park. You will be accompanied by a local ranger at all times. The giant lizards roam free on the small islands. You will encounter them during your hike through the dry, savannah-like landscape. You may also spot deer, wild boar, sulphur-crested cockatoos, butterflies, rare orchids and jungle chickens among the strangle-fig trees and the distinctive lontar palms. After returning to the boat, continue the trip with a visit to Komodo village, where you can buy some local handicrafts. Later head to the gorgeous Pantai Merah also known as Pink Beach. It takes its name from the particles of red coral mingled with the sand. Relax at the beach or swim in the sea.
Day 3: Labuhanbajo - Banta
(B/L/D)
Ship building at SangeangFollow a route past Banta island to reach Pulau Sangeang. The people of Sangeang are descendants of seafaring Bugis. They build new phinisi on the beach below the active volcano Sangeang Api. The children play between the small wooden huts and the goats are lounging in the shade beneath the new phinisi.
Day 4: Banta - Satonda
(B/L/D)
Satonda IslandThe journey westward follows the northern shore line of Sumbawa until you reach the tiny island of Satonda with its strange and mystical atmosphere. Explore the round crater lake in the center. When Mt. Tambora erupted in 1815, causing a tsunami in the process, the crater on Satonda was filled with saltwater. The eruption was the biggest volcanic explosion in the collective memory of mankind; it had roughly four times the energy of the eruption of Krakatoa in 1883. 1815 is known as the "year without a summer" because of the effect on North American and European weather. Local people believe Satonda to be magical. Keep that in mind when you climb up to the caldera to view the mysterious lake, alongside which are trees believed to be "wishing trees". Visitors to the island tie a small stone to a tree and make a wish. If your wish comes true, you are bound to return to the island to offer gratitude. The seas surrounding the island are rich with soft and hard corals and colorful tropical fish. You can spend the afternoon swimming and snorkeling. Another highlight of the visit to Satonda will be the sight of thousands of flying foxes that rise at dusk from the island to hunt on the mainland.
Day 5: Satonda - Teluk Saleh
(B/L/D)
Whale Shark (Rhincodon typus)In the morning, the phinisi will moor off the island of Sumbawa, where the chances are good to see some awe-inspiring whale sharks. The majestic animals grow up to 8 meters and travel the world while filtering seawater through their gills. The endangered animals are also very attracted by full fishing nets. Instead of driving the large animals away, the local fishermen invite visitors to swim with whale sharks from their fishing platforms. During this time, an appropriate distance is mandatory. There is no guarantee to see the sharks, as they are wild animals.
Day 6: Teluk Saleh - Moyo
(B/L/D)
Ombak PutihThe island of Moyo lies right next to the Saleh Bay. Today is a good day for water sports, trekking and relaxation aboard. Near the village of Labuan Aji is a small water fall, which offers a perfect spot to cool down.
Day 7: Moyo - Satonda
(B/L/D)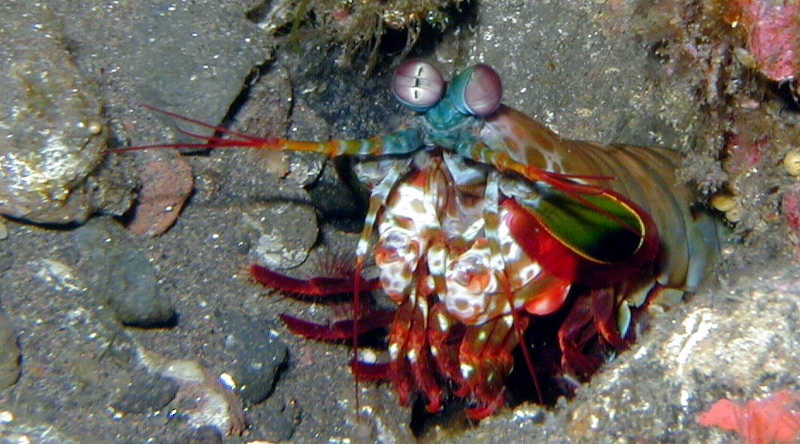 Clown Mantis Shrimp (Odontodactylus scyllarus)Return to Komodo National Park along the shoreline of Sumbawa. The volcanic origin of the region can be seen throughout the way. Majestic mountains, black beaches with metallic sands and volcanic gasses rise in tiny bubbles from the ocean ground. Another chance for an interesting snorkel experience.
Day 8: Satonda - Rinca Island
(B/L/D)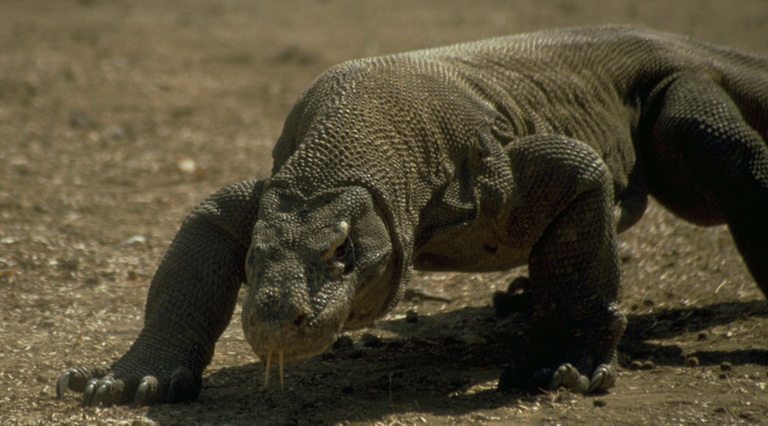 Komodo dragonToday is another opportunity to see Komodo Dragons on Rinca (or Padar) island. Aranger will take you along one of the designated trails. The islands are well-known for its diverse wildlife. You may spot monkeys, wild buffaloes, and deer. From the top of the hills, the scenery is breathtaking. In the afternoon, you can go snorkeling. The underwater world of the national park is rich with over 1,000 documented species of fish.
Day 9: Rinca Island - End of Tour Labuan Bajo (Flores)
(B/L)
After breakfast in Labuan Bajo harbor, leave the boat for a short visit to the local market or take a private bus to the inland village of Melo. Here, local strongmen will perform a ritual whip-fight called Caci. Two groups of rival players, each armed with rattan shields and whips, will try to hit each other while dancing to the rhythm of traditional acoustic instruments. The men of Western Flores are famous for this test of daring and skill, requiring lightning quick moves to dodge the infliction of a wound. The winner is loudly applauded and cheered by the village. The dancers will also perform other traditional dances. Afterward, return to the harbor and have lunch on the boat. Later transfer to the airport for flight back to Bali.
Hotels, Rates & Information
Hotels for this Tour
(Changing the hotels according to your wishes is no problem!)
Location
Comfort Hotels
Labuhanbajo
Ombak Putih/ Katharina
Boat
Cabin
Banta
Ombak Putih/ Katharina
Boat
Cabin
Satonda
Ombak Putih/ Katharina
Boat
Cabin
Teluk Saleh
Ombak Putih / Katharina
Boat
Cabin
Moyo
Ombak Putih/ Katharina
Boat
Cabin
Rinca Island
Ombak Putih/ Katharina
Boat
Cabin
Rates
Options
Comfort
Rate per person
EUR 4.940
USD 5,335
Based on individual private tour, min. 2 travellers in double/twin room
Changing or adapting this tour to match your personal needs, interests and wishes is, as always, possible. Please contact us! Group rates (closed groups only, min. 4 Pax) on request.
Single Supplement
On Request
Single Traveller
EUR 8.890
USD 9,605
Use our travel bag to remember tours and quickly access them later through the Travel Bag Menue (, comes up as soon as you add a tour) - Or to add them to a tour request for an individual offer.
Add to your travel bag list
Map
In progress
Information, Services, Remarks
Depart/Arrive:

Labuan Bajo (Flores) / Labuan Bajo (Flores)


Hotel/Airport Transfers:

Transfers are inclusive from and to above mentioned airports and hotels of the immediate area.

Services (included):

Private tour
English speaking guide
Air-conditioned car with driver
Accomodation: DBL room hotels (or similar)
Transfers, Entrance fees as per itinerary
Meal Plan as stated:
8x Breakfast 8x Lunch/Lunchbox 8x Dinner

Not included

Own expenses
Additional services (marked 'optional' above)
Programme not mentioned above
Season Surcharges
Domestic Flights
Fuel Surcharge (ca. EUR 400,- p.P.)


Best Season(s):

Best season for whale sharks: July - August

Important Remarks:

Min. 2 Persons. Single traveller rates on request.
Important information for traveler: Outside of highly touristic regions like Bali there is only a limited touristic infrastructure available. Regular flight connections, restaurants and hotels (all classes from simple to high end) are limited. Flight cancellations and delays are quite common. Please don't expect amenities like warm water, air-conditioning and even comfortable beds at all hotels and homestays during the round trip. This applies especially outside of bigger cities.

Schedule 2024:
14.04.2024 - 22.04.2024 Katharina
25.04.2024 - 03.05.2024 Katharina
06.05.2024 - 14.05.2024 Katharina
23.05.2024 - 31.05.2024 Ombak Putih
03.06.2024 - 11.06.2024 Katharina
14.06.2024 - 22.06.2024 Katharina
27.06.2023 - 05.07.2023 Ombak Putih
27.06.2023 - 05.07.2023 Katharina
08.07.2024 - 16.07.2024 Katharina
08.07.2024 - 16.07.2024 Ombak Putih
19.07.2024 - 27.07.2024 Katharina
19.07.2024 - 27.07.2024 Ombak Putih
30.07.2024 - 07.08.2024 Katharina
30.07.2024 - 07.08.2024 Ombak Putih Family Cruise
10.08.2023 - 18.08.2023 Katharina
10.08.2023 - 18.08.2023 Ombak Putih Family Cruise
21.08.2023 - 29.08.2023 Katharina
21.08.2023 - 29.08.2023 Ombak Putih
Important information: All programmes and transfers by boat are on seat-in-coach base (group). You may be in a small group with other people.
Please pay attention to the Travel Information provided.
When travelling islamic countries there can be interference during the month of Ramadan, other high holidays and fridays.
Volcanism: The Sunda Islands and the Sunda Archipelago are of volcanic orgin and show high volcanic activity. Accrodingly it may be possible that tours, routings and activities (especially those involving or near volcanoes) need to be altered in case of high activity or order by the government.
This tour is not soutable for people with reduced mobility. If you are unsure if you meet the requirements please contact us! We will try to find a solution for your individual needs.