Wildlife at Leuser National Park - 5 days
Individual Private Tour - Tour Details & Information, Tour Code: SI-MES-08
Detailed Itinerary
Day 1: Begin of Tour Medan/Kuala Namu (Sumatra) - Bukit Lawang/Bohorok
(L/D)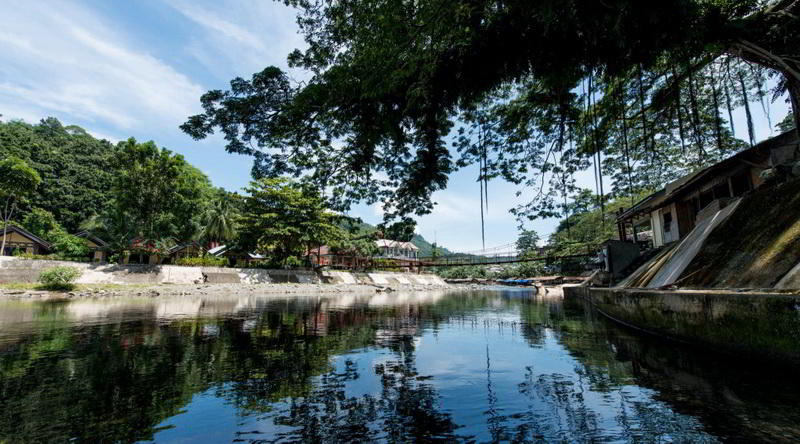 Bukit LawangArrival at Kuala Namu airport near Medan, meet your personal guide at the airport and then depart for Bukit Lawang at the southern fringe of Leuser National Park. The drive to Bohorok will take 3 to 4 hours depending on traffic. Bukit Lawang is home to a former rehabilitation center for orangutans. The feeding platform still exists but is not serviced any more. En route to Bohorok pass through several small towns followed by vast views of rubber and oil palm plantations with scenic countryside landscape. Check-in at the guesthouse. The afternoon is free at your leisure. Overnight at Bukit Lawang.
Day 2: Bukit Lawang/Bohorok
(B/L/D)
Orang Utan in North SumatraAfter breakfast start your trekking tour into the tropical rain forest around the station, accompanied by an experienced local ranger, for wildlife watching. You will have to cross some rivers and streams. There are also steep hills in the area and the footpaths are narrow. If you are lucky you may encounter some of the local wildlife like orangutans (Pongo), Thomas Leaf Monkeys (Presbytis thomasi), Macaques, Gibbons, Siamangs, and many endemic birds. Return to the hotel in the afternoon.
Day 3: Bukit Lawang/Bohorok - Tangkahan
(B/L/D)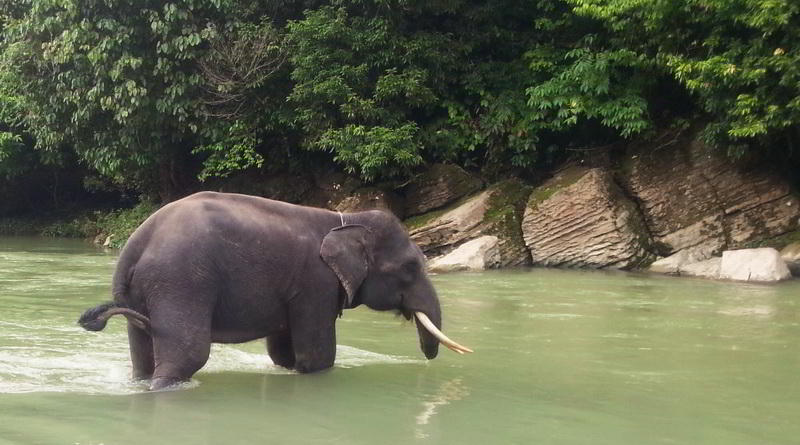 Elephant in TangkahanAfter breakfast depart for Tangkahan rain forest which is also a part of Leuser National Park. The road through palm oil plantations is partly in a very bad condition. The road end right in the middle of Tangkahan village. You will have to cross the river by jungle ferry to reach the lodge. Start the afternoon with a visit to the elephant center. It was founded by domestic and international NGOs to fight against illegal logging and poaching. The rangers patrol the neighboring hills on elephant back once a week. Join the caretakers on a walk with the elephants and wash the big animals in the nearby river. The love vegetables and fruits as snacks. Later return to the lodge, where a simple dinner is served. After dinner, you may enjoy the peaceful surroundings of the jungle with lots of bird sounds.
Day 4: Tangkahan
(B/L/D)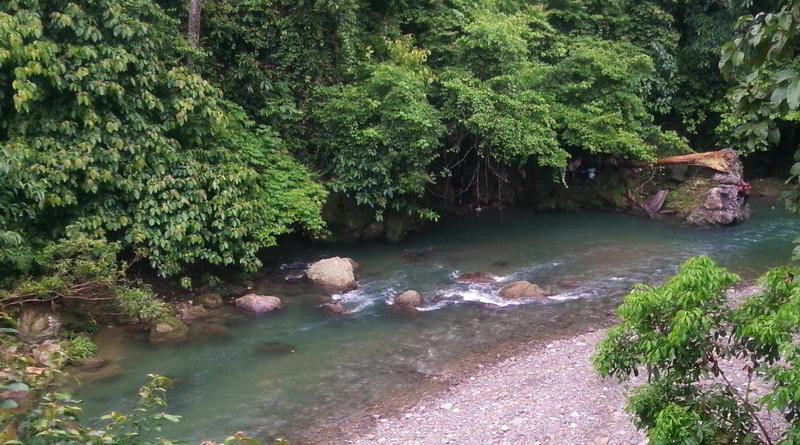 jungle trekkingThis morning you will start trekking through the lush rain forest of Tangkahan. There are 3 types of treks available which depend on your physical condition. The first alternative is a 2,2 km long interpretation trail which will take about 2,5 hours. Incredible tropical plants including medical ones can be seen along this trail. If you are lucky you will see orang utans, Leave Monkey, long-tailed Macaque and the great Argus. The second alternative is a challenging 2,6 km trail. Steep slopes and many giant trees are along this trail. You might be able to swim and catch fishes in Lubuk Larangan. The third alternative is an adventurous 6,8 km trail that will take about 6 hours. It serves for adventurers with healthy stamina only. Crossing some hills and steep slopes, you can enjoy the rainforest and find the opportunity to explore a bat cave with thousands of bats in it. The journey will be concluded by riding the rapid current of Batang Serangan river on a rubber tube. Return to your lodge.
Day 5: Tangkahan - End of Tour Medan/Kuala Namu (Sumatra)
(B)
Return to Medan within a 4 hours drive via a plantation road. Arrive in Medan and transfer to the airport for departure to your next destination.
Hotels, Rates & Information
Hotels for this Tour
(Changing the hotels according to your wishes is no problem!)
Location
Comfort Hotels
Bukit Lawang/Bohorok
Bukit Lawang Eco Lodge
Homestay/Guesthouse

Tangkahan
Jungle Lodge
Homestay/Guesthouse

Rates
Options
Comfort
Rate per person
EUR 720
USD 785
Based on individual private tour, min. 2 travellers in double/twin room
Changing or adapting this tour to match your personal needs, interests and wishes is, as always, possible. Please contact us! Group rates (closed groups only, min. 4 Pax) on request.
Single Supplement
On Request
Single Traveller
EUR 1.295
USD 1,410
Use our travel bag to remember tours and quickly access them later through the Travel Bag Menue (, comes up as soon as you add a tour) - Or to add them to a tour request for an individual offer.
Add to your travel bag list
Map
In progress
Information, Services, Remarks
Depart/Arrive:

Medan/Kuala Namu (Sumatra) / Medan/Kuala Namu (Sumatra)


Hotel/Airport Transfers:

Transfers are inclusive from and to above mentioned airports and hotels of the immediate area.

Services (included):

Private tour
English speaking guide
Air-conditioned car
Accomodation: DBL room hotels (or similar)
Transfers and entrance fees as per itinerary
Meal Plan as stated:
4x Breakfast 4x Lunch/Lunchbox 4x Dinner

Not included

Own expenses
Additional services (marked 'optional' above)
Programme not mentioned above
Season Surcharges


Best Season(s):

January - August

Important Remarks:

Min. 2 Persons. Single traveller rates on request.
Important information for traveler: Outside of highly touristic regions like Bali there is only a limited touristic infrastructure available. Regular flight connections, restaurants and hotels (all classes from simple to high end) are limited. Flight cancellations and delays are quite common. Please don't expect amenities like warm water, air-conditioning and even comfortable beds at all hotels and homestays during the round trip. This applies especially outside of bigger cities.
Please pay attention to the Travel Information provided.
When travelling islamic countries there can be interference during the month of Ramadan, other high holidays and fridays.
Volcanism: The Sunda Islands and the Sunda Archipelago are of volcanic orgin and show high volcanic activity. Accrodingly it may be possible that tours, routings and activities (especially those involving or near volcanoes) need to be altered in case of high activity or order by the government.
This tour is not soutable for people with reduced mobility. If you are unsure if you meet the requirements please contact us! We will try to find a solution for your individual needs.
During the dry season severe haze caused by wood fires in Borneo and Sumatra can possibly affect this region. Please keep yourself updated using the ASEAN Regional Haze Situation Center.