Yogyakarta and East Java - 7 days
Individual Private Tour - Tour Details & Information, Tour Code: SI-YOG-DPS
Detailed Itinerary
Day 1: Begin of Tour Yogyakarta (Java) - Yogyakarta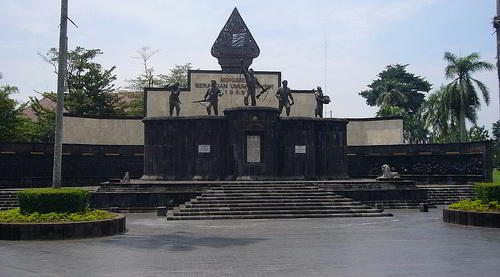 Tugu Monument, YogyakartaArrival at Yogyakarta Airport. Your guide will welcome you and bring you to your hotel in Yogyakarta. The Afternoon is at your leisure. We recommend to take a walk through Jalan Malioboro where you can find a lot of souvenirs and antique shops or just relax at the swimming pool of your hotel.
Day 2: Yogyakarta
(B/L)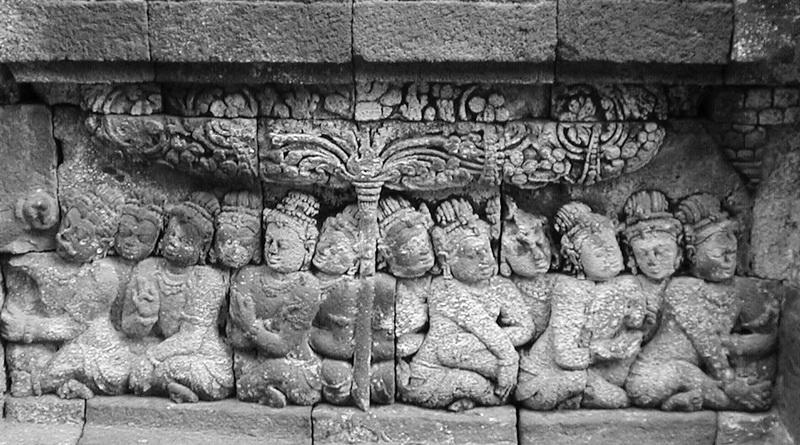 Prambanan ReliefAfter breakfast start your city tour. With 1 million citizens Yogyakarta is not only the most important city in Central Java, but also well known for its art production, high schools, universities and for keeping and cultivating Javanese traditions on the entire island of Java. Today you will visit the sultan's palace Keraton, the ruins of the water palace Taman Sari, the Old City, bird market Pasar Ngasem and some batik workshops and silver manufactories as well. Yogyakarta is very well known for its batik techniques which have become famous in South-East Asia. Next stop is at the Prambanan Temple. This huge temple complex is dedicated to Hindu gods Shiva, Brahma and Vishnu. The first relief begins on the most eastern entry and shows the epos of Ramayana. Afterwards return to the hotel. The evening is free at leisure, optional we can offer an additional dinner (buffet) while watching the traditional dance from the historic Ramayana legend at Pura Wisata.
Day 3: Yogyakarta
(B/L)
Sunset BorobudurAfter breakfast visit the mighty Borobudur. The Buddhist sanctuary was build as a single large stupa between the 8th and 9th century. Thousands of stone carvers, porters, and artists were participating during its construction. The walls are adorned with scenic reliefs. They tell the biography of Buddha. Visit the temples Candi Mendut and Candi Pawon in the afternoon. These smaller temples lie only a short distance away from Borobudur. All temples are particularly important during the Buddhist holiday of Vesak. Transfer back to Yogyakarta in the afternoon.
Day 4: Yogyakarta - Bromo
(B/L)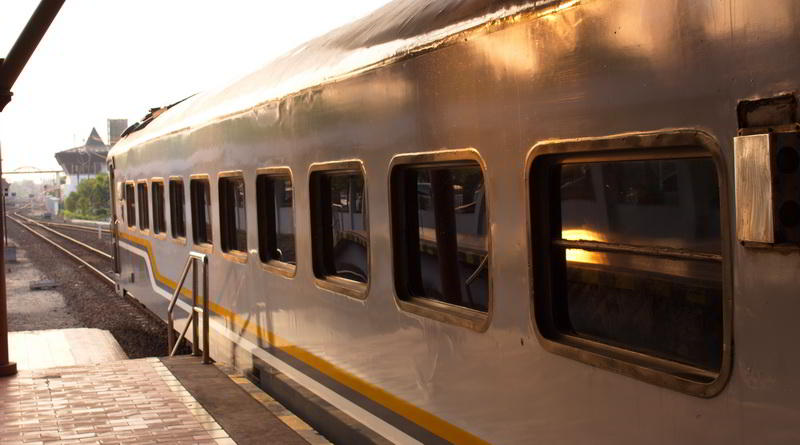 Train Station, JavaAfter the breakfast in the early morning check-out from your hotel in Yogyakarta and transfer to the railway station in Yogya. You will use the Argowillis-train which departures at 6.55 am and will take around 3 ½ hours to reach Jombang. The way to East Java goes through continuously changing landscapes, passing by volcanoes, rice paddies and plantations. Around 10:30 am arrival at Jombang station. Continue your trip to your hotel near the Bromo volcano.
Day 5: Bromo - Ijen
(B/L)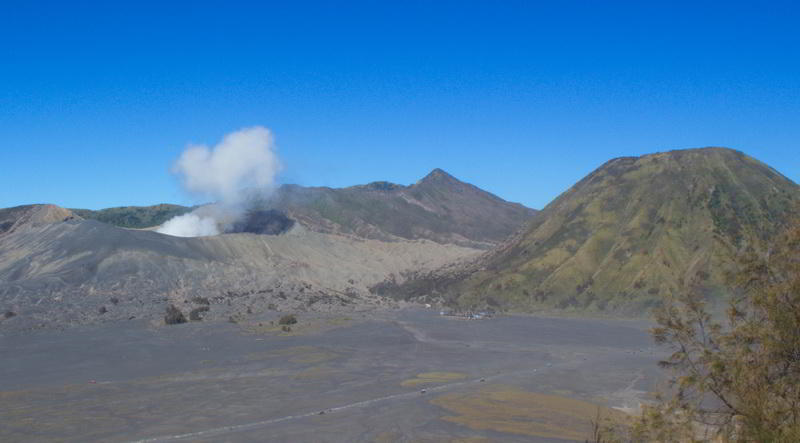 Bromo and TenggerIf you want to have a good view of the sunrise above Mt. Bromo you have to leave the resort at aroung 03:00 a.m. and drive to the crater. You will decend from Cemoro Lawang at the northeastern rim of the crater to the sand sea. Follow the track through early morning mist until you reach the junction to Penanjakan viewing point. It ist the most popular location to see the rays of the rising sun touch the slopes of Mt. Bromo and Mt. Merapi (depending of weather). After return to the sand sea drive to the meeting point near Pura Luhur Poten and ride a pony to Mt. Bromo. Take the "stairway to heaven" to reach the crater. During the anual Yadnya Kasada ceremony the local tengger people throw sacrifices into the fuming crater. Later return to hotel and have breakfast. The way to Kawah Ijen will take the whole day only interrupted by a short lunch break. Arrival at Ijen resort in the late afternoon.
Day 6: Ijen
(B/D)
Ijen ResortEarly in the morning a four-wheel drive jeep will stand-by at your hotel to drive with you through coffee, cocoa and clove plantations around the village of Licin. During the trip you will experience one of the last remaining rainforests of East Java. Then start the uphill trek following steep trails. It will take approx. 90 minutes to reach the crater of Ijen. In the rainforest you will have lots of chances to take pictures of beautiful tropical nature. After reaching the caldera in 2,883 meters altitude you will see the picturesque milky blue crater lake surrounded by yellow, sulfurous rocks. Along the way you will meet local sulfur carriers who are on their daily trips up and down the hill, carrying up to 80kg of this yellow mineral. Visit the Kaliklatak plantation in the afternoon. Overnight at Ijen.
Day 7: Ijen - End of Tour Denpasar (Bali)
(B/L)
Crater Lake IjenBreakfast at the resort. Later in the morning transfer to Ketepang. After lunch ferry ride from Java to Bali. From Gilimanuk transfer to your hotel in Bali or start of the next stage of your Bali round trip.
Hotels, Rates & Information
Hotels for this Tour
(Changing the hotels according to your wishes is no problem!)
Location
Comfort Hotels
Yogyakarta
The Phoenix Hotel

Superior Heritage
Bromo
Jiwa Jawa Resort

Deluxe B
Ijen
Ijen Resort Villas

Superior
Rates
Options
Comfort
Rate per person
EUR 1.305
USD 1,450
Based on individual private tour, min. 2 travellers in double/twin room
Changing or adapting this tour to match your personal needs, interests and wishes is, as always, possible. Please contact us! Group rates (closed groups only, min. 4 Pax) on request.
Single Supplement
On Request
Single Traveller
EUR 2.345
USD 2,610
Use our travel bag to remember tours and quickly access them later through the Travel Bag Menue (, comes up as soon as you add a tour) - Or to add them to a tour request for an individual offer.
Add to your travel bag list
Map
In progress
Information, Services, Remarks
Depart/Arrive:

Yogyakarta (Java) / Denpasar (Bali)


Hotel/Airport Transfers:

Transfers are inclusive from and to above mentioned airports and hotels of the immediate area.

Services (included):

Private tour
English speaking guide
Air-conditioned car
Accomodation: DBL room hotels (or similar)
Transfers and entrance fees as per itinerary
Meal Plan as stated:
6x Breakfast 5x Lunch/Lunchbox 1x Dinner

Not included

Own expenses
Additional services (marked 'optional' above)
Programme not mentioned above
Season Surcharges


Best Season(s):

April - November

Important Remarks:

Min. 2 Persons. Single traveller rates on request.
Important information: All programmes and transfers by boat are on seat-in-coach base (group). You may be in a small group with other people.
- Round trip can be combined with Bali - Kingdom of the Gods.
Please pay attention to the Travel Information provided.
When travelling islamic countries there can be interference during the month of Ramadan, other high holidays and fridays.
Volcanism: The Sunda Islands and the Sunda Archipelago are of volcanic orgin and show high volcanic activity. Accrodingly it may be possible that tours, routings and activities (especially those involving or near volcanoes) need to be altered in case of high activity or order by the government.
This tour is not soutable for people with reduced mobility. If you are unsure if you meet the requirements please contact us! We will try to find a solution for your individual needs.