Java and Bali - Heart and Soul of Indonesia - 8 days
Individual Private Tour - Tour Details & Information, Tour Code: SI-DPS-JAV
Detailed Itinerary
Day 1: Begin of Tour Denpasar (Bali) - Danau Bratan - Pemuteran
(L)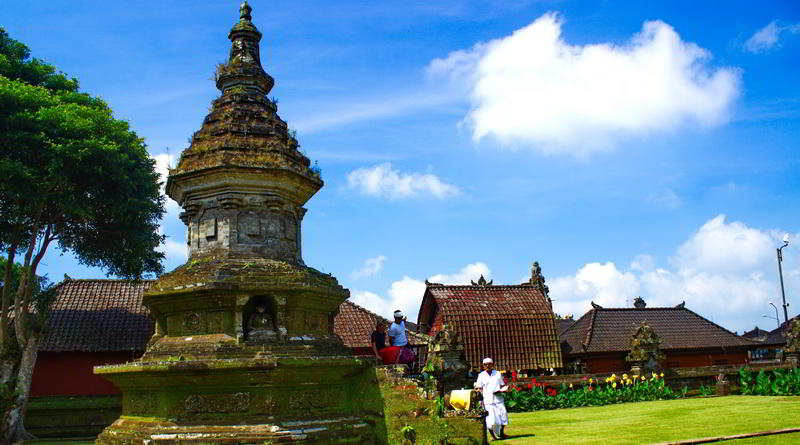 Buddhist Shrine at Ulun DanuPick-up from your hotel by your personal English speaking guide. After a short drive you will reach Tabanan Regency and in the small town of Mengwi stop for visit to the beautiful kingdom temple Taman Ayun. Through typical rice fields and lush nature you will reach the mountain region of Bedugul. First stop at a traditional market, which is famous around the whole island for its spices, fruits and orchids. On the shores of Beratan Lake visit to the photogenic Pura Ulun Danu. From here proceed to the north coast to the former capital of Bali, Singaraja. Surrounded by beautiful nature, you will take a bath in suplhurous and ferriferous hot springs in the village of Banjar. Drive along the north coast to Pemuteran and check-in at hotel in Pemuteran.
Day 2: Pemuteran - Gilimanuk - Surabaya
(B/L)
Pulau Menjangan near Pemuteran, BaliAfter breakfast short stop at Pulaki Temple and then proceed directly to Gilimanuk for taking a ferry to Java. Then drive along the north coast of East Java to its capital Surabaya. Overnight in Surabaya.
Day 3: Surabaya - Yogyakarta
(B/L)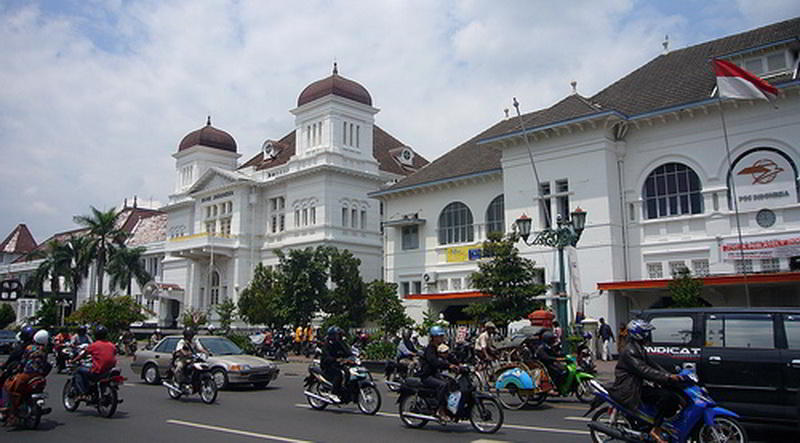 Streets of YogyakartaAfter breakfast transfer to the train station for taking the train at 07.15 to Yogyakarta. Along the railway you will observe always changing nature and fruitful volcanic fields. Around 13.30 o'clock arrival in Yogyakarta. After lunch transfer to your hotel for check-in. The whole afternoon is for free for your own activities and leisure. We recommend to take a walk in the famous Malioboro Street or to visit a performance of the famous Ramayana Ballet.
Day 4: Yogyakarta - Dieng Plateau - Yogyakarta
(B/L)
Sunset BorobudurAfter breakfast depart on a day trip to Dieng Plateau. Start with the famous Borobudur Temple, one of the largest Buddhist sanctuaries in the world. Approximately 30.000 stone carvers and 15.000 porters participated during its construction in the 9th century. Borobudur appears in the form a of a pyramid with 9 platforms. Every level is decorated with intricate stone reliefs. Stop at Candi Mendut and Candi Pawon on the way to the mountains in Central Java. All three temples are important during the Buddhist holiday of Vesak. Many pilgrims from all over Indonesia gather at the sacred sites and celebrate Buddha's Birthday together. Enjoy the scenic drive to Wonosobo following serpentine roads, passing by rice paddy fields and small villages. The Dieng Plateau is located high in the Javanese mountains and is known for a unique mystic atmosphere caused by increased volcanic activity in the area. The landscape is dominated by steep hillsides, steaming lakes and fuming volcanoes. The up to 400 Hindu temples at Dieng Plateau were built in the 7th century by Sanjaya Dynasty in a giant swampy caldera. They are the oldest Hindu temples on the island of Java. Dieng Plateau supposedly was a prospering temple center in the mountains, an Abode of the Gods, populated only by Hindu priests and hermits before is was abandoned. Later short stop at Lake Menjer followed by a ride downhill back to Yogyakarta.
Day 5: Yogyakarta - Prambanan - Yogyakarta
(B/L)
Taman SariAfter breakfast start your city tour. With 1 million residents Yogyakarta is not only the most important city in Central Java, but also well known for its arts, high schools and universities and for keeping and cultivating Javanese traditions alive. Further you will visit the sultan's palace Keraton, the ruins of Taman Sari water cast;e, the Old City, bird market Pasar Ngasem and some batik workshops and silver manufactories as well. Yogyakarta very well known for its batik techniques in all over South-East Asia. Next visit to the Prambanan Temple. This huge temple complex is dedicated to Hindu gods Siva, Brahma and Vishnu. The first relief begins on the most eastern entry and shows the epos of Ramayana. Then return to your hotel and evening free for own activities and leisure.
Day 6: Yogyakarta - Solo - Bromo
(B/L)
Rickshaws in JavaAfter breakfast drive through typically Javanese villages and cities to Solo (Surakarta), the sister city of Yogyakarta. Here you will visit the Mangkunegaran sultan's palace and an antiques market. After lunch drive to East Java, along tobacco and sugar cane plantations to the mountainous region of Bromo – Tengger – Semeru. Overnight at Mt. Bromo.
Day 7: Bromo - Kalibaru
(B/L)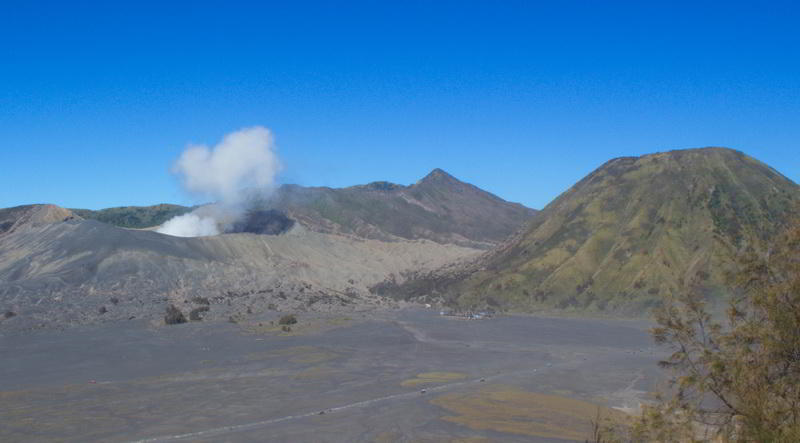 Bromo and TenggerToday an extraordinary experience is awaiting you! An amazing sunrise above the Bromo volcano – probably the most famous nature scenery of Indonesia. Early in the morning, at approx. 03:30 AM you will start from your hotel to Penanjakan taking a four-wheel drive jeep to the caldera of the Tengger crater in order to await the colorful sunrise and breathtaking photo shooting. Then drive downhill into the huge caldera of Bromo crater. The last few meters you will take a pony to the edge of the crater which enables you to watch the fuming mouth of Bromo volcano. Then return to your hotel for taking breakfast and check-out. In the forenoon continue to Kalibaru and check-in at the hotel.
Day 8: Kalibaru - Gilimanuk - End of Tour Denpasar (Bali)
(B/L)
Sanur BeachAfter breakfast visit to the near plantations of coffee, cocoa and cloves and then transfer to the harbor of Ketapang and crossing to Bali. Drive along the West coast to your hotel in Bali.
Hotels, Rates & Information
Hotels for this Tour
(Changing the hotels according to your wishes is no problem!)
Location
Comfort Hotels
Deluxe Hotels
Pemuteran
Taman Selini Resort


Matahari Beach Resort and SPA


Surabaya
Novotel Surabaya


The Majapahit


Yogyakarta
The Phoenix Hotel

Superior Heritage
Royal Ambarrukmo

Deluxe Balcony
Bromo
Jiwa Jawa Resort

Deluxe B
Jiwa Jawa Resort

Executive B
Kalibaru
Kalibaru Cottages
Homestay/Guesthouse

Kalibaru Cottages
Homestay/Guesthouse

Rates
Options
Comfort
Deluxe
Rate per person
EUR 1.025
USD 1,140
EUR 1.142
USD 1,271
Based on individual private tour, min. 2 travellers in double/twin room
Changing or adapting this tour to match your personal needs, interests and wishes is, as always, possible. Please contact us! Group rates (closed groups only, min. 4 Pax) on request.
Single Supplement
EUR 271
USD 302
EUR 349
USD 388
Single Traveller
EUR 1.845
USD 2,050
EUR 2.055
USD 2,285
Use our travel bag to remember tours and quickly access them later through the Travel Bag Menue (, comes up as soon as you add a tour) - Or to add them to a tour request for an individual offer.
Add to your travel bag list
Map
In progress
Information, Services, Remarks
Depart/Arrive:

Denpasar (Bali) / Denpasar (Bali)


Hotel/Airport Transfers:

Transfers are inclusive from and to above mentioned airports and hotels of the immediate area.

Services (included):

Private tour
English speaking guide
Air-conditioned car
Accomodation: DBL room hotels (or similar)
Transfers and entrance fees as per itinerary
Meal Plan as stated:
7x Breakfast 8x Lunch/Lunchbox

Not included

Own expenses
Additional services (marked 'optional' above)
Programme not mentioned above
Season Surcharges


Best Season(s):

April - November

Important Remarks:

Min. 2 Persons. Single traveller rates on request.
Important information: All programmes and transfers by boat are on seat-in-coach base (group). You may be in a small group with other people.
Please pay attention to the Travel Information provided.
When travelling islamic countries there can be interference during the month of Ramadan, other high holidays and fridays.
Volcanism: The Sunda Islands and the Sunda Archipelago are of volcanic orgin and show high volcanic activity. Accrodingly it may be possible that tours, routings and activities (especially those involving or near volcanoes) need to be altered in case of high activity or order by the government.
This tour is not soutable for people with reduced mobility. If you are unsure if you meet the requirements please contact us! We will try to find a solution for your individual needs.