Flores Overland - 8 days
Individual Private Tour - Tour Details & Information, Tour Code: SI-FLO-04
Detailed Itinerary
Day 1: Begin of Tour Maumere (Flores) - Maumere
(L/D)
Flores BeachArrival at airport in Maumere or Ende. You will meet your guide and then drive to the traditional village of Watublapi. The people are known for beautiful ikat fabrics, traditional chants and dances. Later transfer to hotel in Maumere.
Day 2: Maumere - Moni
(B/L/D)
Museum Bikon BlewutAfter breakfast check-out from the hotel and visit of the local market. See see busy vendors and take pictures of the goods. They sell exotic spices, vegetables, fruits and dried fish. Later drive to the Bajo village Wuring in the bay. All houses are built on stilts. On the way to Moni stop at the Ledalero museum. The Lio village in Ranggase is known for houses wis characteristic architecure. Arrival in Moni in the late afternoon. Check-in and overnight.
Day 3: Moni - Kelimutu - Riung
(B/L/D)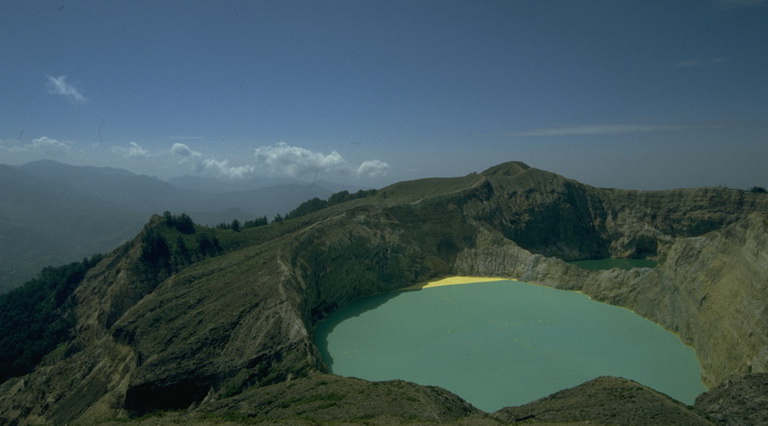 One of the 3 Coloured Lakes of KelimutuLeave the guest house aroung 04:00 hrs and drive up to the three-coloured lake of Kelimutu, one of Indonesia's most dramatic sights. The three lakes are set in deep craters at a height of 1,600m above sea level. Return to Moni for breakfast, and then continue to Ende for its traditional market. Lunch at a local restaurant afterwards drive towards Nuabosi, which offers a wonderful view over the town and the bay of Ende. Then proceed to Bajawa with a stop at Penggajawa Beach, where people are collecting blue pebbles for living (export) and then proceed to Wogo village, with rows of traditional houses. Overnight in Bajawa.
Day 4: Riung - Bajawa
(B/L/D)
Marine Reserve 17 IslandsEarly morning drive to Riung. Visit the Riung Marine National Park also known as Pulau Tujuhbelas. The park encompasses 17 islands with beautuful coral gardens. Take a boat around the park and see Pulau Ontoloe island which is inhabited by fying foxes and enframed by mangove trees. The whity sandy beaches invite to relax and sun bathe. Stay the whole morning and enjoy the underwater world by snorkeling or just explore the small islands. The local coral reefs are an intact eco system but conctantly endangerd by ilegal fishing. Move on to Bajawa after lunch. On the way pass by the Mengeruda hot springs in the Soa district and visit the traditional village Masu. Some remnants of a megalitic culture can be found in the small settlement. Arrival in Bajawa in the late afternoon.
Day 5: Bajawa - Ruteng
(B/L/D)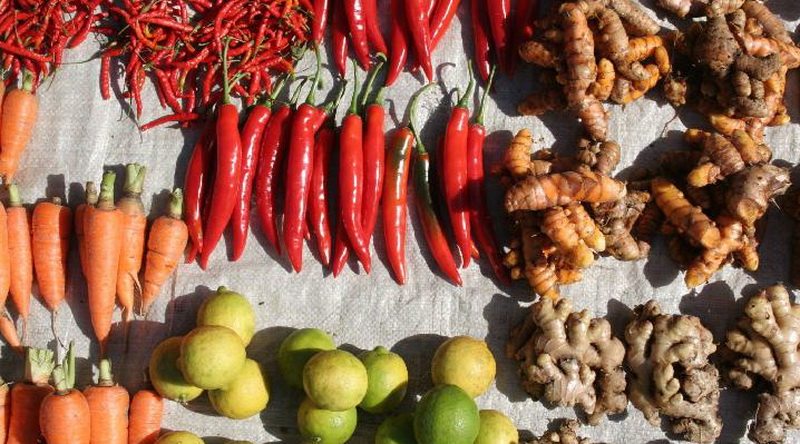 MarketBajawa is located in the heart of Ngadha culture, which is known for its megalithic architecture. There are traditional villages with unique stone monuments, ancestor worship shrines and Adat Houses. The hamlets are beautifully settled in the volcanic mountainous area. The most beautiful ones are Luba and Bena. Drive to Ruteng in the afternoon. You will pass by scenic villages and lush rain forests. En route stop at Ranamese Lake and follow the trail into the cloudy and mystic forest around the lake. Overnight in Ruteng.
Day 6: Ruteng - Labuan Bajo - Rinca
(B/L/D)
Lingko Randang, FloresRuteng is a small town in the Flores countryside, right next to the Ruteng Nature Conservation Park. The park is home to the bare-throated whistler (Pachycephala nudigula) or Ngkiong in the local tongue. A small singing bird endemic to the island. It is worth to visit the Park early in the morning to hear them sing (if there is no rain and strong winds). There is also a young volcano in the park area. The Anak Ranakah (Child of Ranakah) emereged during an eruption in 1987. En route to Labuan Bajo stop at Cara village in Cancar area to see the Lingko a rice field in the shape of a spider web. It is probably the only rice field of this kind in the world. Arrive in Labuan Bajo, transfer to the harbour and depart to Rinca Island aboard a modified fishing boat. Upon arrival in Rinca, walk along the trails and look out for the famous komodo dragons. Lunch and Dinner on board.
Day 7: Rinca - Komodo - Labuan Bajo
(B/L/D)
Komodo dragonEarly in the morning depart to Komodo. You have the chance to see the komodo dragons during another trekking tour. On the way to Labuan Bajo stop at Pantai Merah. The beach is known for ist pink colour and crystal clear water, inviting you to swim and relax. Stay there until the afternoon. Return to Labuan Bajo. Overnight at Labuan Bajo.
Day 8: Labuan Bajo - End of Tour Labuan Bajo (Flores)
(B)
Breakfast at the hotel. The morning is free at leisure. Depending on flight connection you can visit the Batu Cermin cave. The stalactite cave is home to scary looking amblypygids and other insects. There is also the fossil of a Coelacanth (Latimeria menadoensis) visible in the cave walls. Afterwards Airport Transfer.
Hotels, Rates & Information
Hotels for this Tour
(Changing the hotels according to your wishes is no problem!)
Location
Comfort Hotels
Deluxe Hotels
Maumere
Sylvia Hotel


Seaworld Club


Moni
Kelimutu Eco Lodge
Homestay/Guesthouse

Kelimutu Eco Lodge
Homestay/Guesthouse

Riung
Pondok SVD
Homestay/Guesthouse

Pondok SVD
Homestay/Guesthouse

Bajawa
Sanian
Homestay/Guesthouse

Sanian
Homestay/Guesthouse

Ruteng
Wisma Bunda Maria
Homestay/Guesthouse

Wisma Bunda Maria
Homestay/Guesthouse

Rinca
Fan Cabin Boat
Boat

AC Cabin Boat
Boat

Labuan Bajo
Puri Sari Beach Hotel

Deluxe
Bintang Flores


Rates
Options
Comfort
Deluxe
Rate per person
EUR 1.140
USD 1,290
EUR 1.260
USD 1,429
Based on individual private tour, min. 2 travellers in double/twin room
Changing or adapting this tour to match your personal needs, interests and wishes is, as always, possible. Please contact us! Group rates (closed groups only, min. 4 Pax) on request.
Single Supplement
EUR 209
USD 237
EUR 225
USD 255
Single Traveller
EUR 2.050
USD 2,325
EUR 2.265
USD 2,570
Use our travel bag to remember tours and quickly access them later through the Travel Bag Menue (, comes up as soon as you add a tour) - Or to add them to a tour request for an individual offer.
Add to your travel bag list
Map
In progress
Information, Services, Remarks
Depart/Arrive:

Maumere (Flores) / Labuan Bajo (Flores)


Hotel/Airport Transfers:

Transfers are inclusive from and to above mentioned airports and hotels of the immediate area.

Services (included):

Private tour
English speaking guide
Air-conditioned car
Accomodation: DBL room hotels (or similar)
Transfers and entrance fees as per itinerary
Meal Plan as stated:
7x Breakfast 7x Lunch/Lunchbox 7x Dinner

Not included

Own expenses
Additional services (marked 'optional' above)
Programme not mentioned above
Season Surcharges


Best Season(s):

April - November

Important Remarks:

Min. 2 Persons. Single traveller rates on request.
Important information for traveler: Outside of highly touristic regions like Bali there is only a limited touristic infrastructure available. Regular flight connections, restaurants and hotels (all classes from simple to high end) are limited. Flight cancellations and delays are quite common. Please don't expect amenities like warm water, air-conditioning and even comfortable beds at all hotels and homestays during the round trip. This applies especially outside of bigger cities.
Please pay attention to the Travel Information provided.
When travelling islamic countries there can be interference during the month of Ramadan, other high holidays and fridays.
Volcanism: The Sunda Islands and the Sunda Archipelago are of volcanic orgin and show high volcanic activity. Accrodingly it may be possible that tours, routings and activities (especially those involving or near volcanoes) need to be altered in case of high activity or order by the government.
This tour is not soutable for people with reduced mobility. If you are unsure if you meet the requirements please contact us! We will try to find a solution for your individual needs.