Journey to the Korowai and Asmat - 15 days
Individual Private Tour - Tour Details & Information, Tour Code: SI-IRJ-02
Detailed Itinerary
Day 1: Begin of Tour Jayapura (Irian Jaya/West Papua) - Baliem Valley/Wamena
(L/D)
Baliem Valley ResortThis tour will not be operated in 2024.
In the morning, arrival in Jayapura and short flight to Wamena. Lunch and visit of the local market in Wamena. Transfer to The Baliem Valley Resort. The small resort is located in the vast Baliem Valley and surrounded by the Jayawijaya Mountains. A 3-star hideaway in a natural paradise. Dinner and overnight at the Resort.
Day 2: Baliem Valley/Wamena
(B/L/D)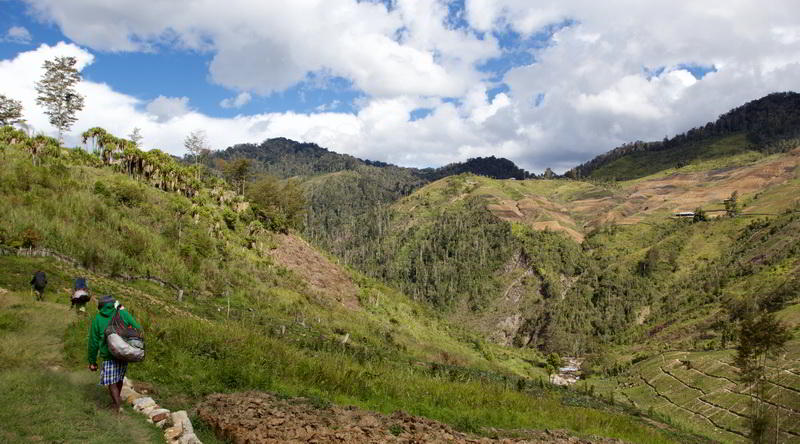 Baliem ValleyIn the morning, drive to the southern Baliem Valley past Wamena. By the village of Sogogmo, not quite 2 miles outside Kurima, the road ends. This is where our hike along the huge Baliem river starts. First we cross the roaring Baliem river on a traditional suspension bridge. We continue through romantic Dani settlements with their terraced fields and wild sugar cane groves. Throughout the hike we enjoy magnificent views of the river and the narrow valley. Around noon we get to the church square of Seinma, where we eat our picnic lunch surrounded by stunning scenery. Outside Kurima we cross the river again on a wild and romantic suspension bridge. To return to our vehicle we need to cross a few side valleys. There will be many unique photo opportunities today. We get back to the resort in late afternoon.
Day 3: Baliem Valley/Wamena
(B/L/D)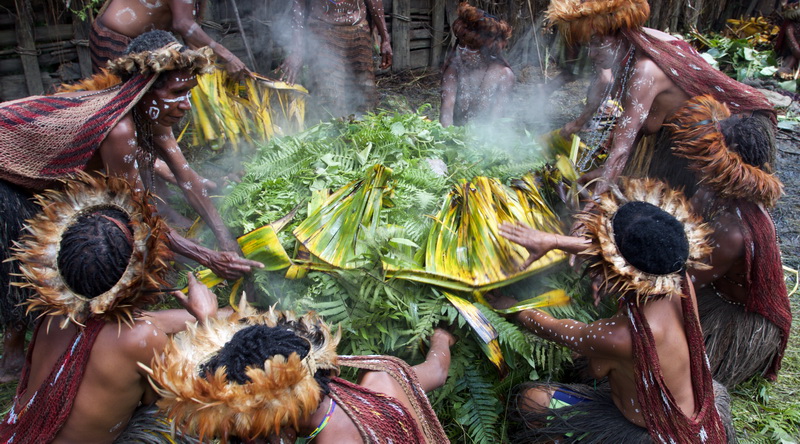 Pig Festival, Baliem ValleyTraditional one-day pig festival in a traditional Dani village, either in the resort grounds or in the Jiwika region. Many adorned people from the Dani tribe in traditional clothing will take part in the festival. Such food celebrations with hot stones and earth pits are probably the most interesting part of a trip to New Guinea. If you like taking photos and videos you will certainly get your money's worth today! It is difficult to describe what's so unique about these food celebrations; you will have to see and experience it for yourself. Lunch will be a picnic in the village. If you like you can taste the food from the traditional earth pit afterwards. The freshly cooked pork and sweet potatoes are delicious! Back to the resort in the late afternoon.
Day 4: Baliem Valley/Wamena - Dekai - Patipi Dibawa
(B/L/D)
Korowai TrekkingIn the morning transfer to airport. Regular flight to Yahokimo (Dekai), located at the upper reaches of Brazza River (about 35 flight minutes). After arrival, visit of local market and last shopping for the tour. After lunch at a local restaurant, drive to harbor (about 28km/ ca. 1 hour). At the harbor our motor log boat incl. crew awaits us. Today we plan to go downstream for 2 hours until we reach the village of Patipi Dibawa. Here we raise our first tent camp right down by the river. This short stage gives us an impression of what awaits us during the next days: a pure jungle experience!
Day 5: Patipi Dibawa - Mabul/Korowai
(B/L/D)
Travel by BoatIn the morning we have an early breakfast before we continue to go downstream with our longboat. Down Brazza river, we are passing amazing prime forest landscapes. Hornbills, flying foxes and other birds often startle when our boat appears. Around noon we will reach the mouth of the mighty Siret River. After our lunchbreak, we go upstream Siret river to the Korowai settlement MABUL. Going upstream, the Siret river changes its face; the current gets stronger, sand banks appear, big tree trunks often block parts of the way, less and less local boats appear. Depending on the water level, our today's boat trip take around 8 hours. Under best circumstances, we will reach Mabul in the afternoon. Mabul is a small settlement of Korowai people who were attracted by the Indonesian government to leave behind their nomadic lifestyle in the forest and to settle down. We will use this settlement as the starting point of our trekking into the Korowai corridor. After we set up our tents and kitchen, we will start recruiting our porters for the next days. With a little bit of luck, we can set up our tents inside an empty stilt house.
Day 6: Mabul/Korowai - Manopteropo
(B/L/D)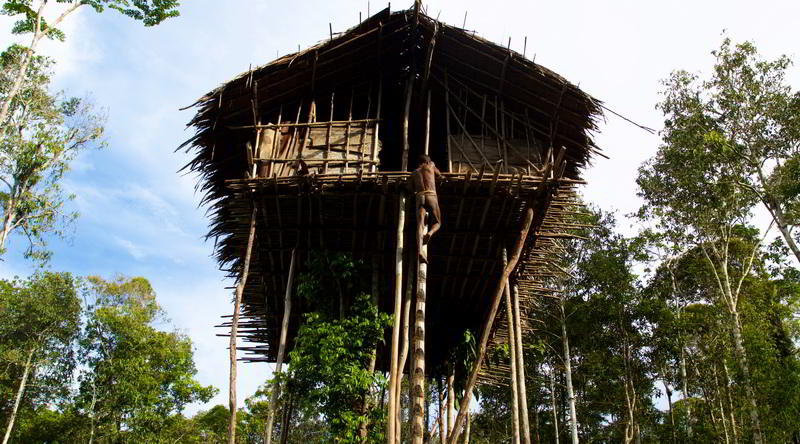 Kuruwai Tree houseAfter breakfast we meet our escort team. Our entire luggage and our food for the next days will be carried by our porters. We leave Mabul in Eastern direction. Only some 50 meters and we are standing in thick forest, which we will not leave for the next days. Today, we approximately need 5 hours until we reach our first destination: a fantastic jungle settlement with several tree houses, MANOPTEROPO. The traditionally dressed Korowai give us a friendly welcome. Tent camp next to the tree houses.
Day 7: Manopteropo
(B/L/D)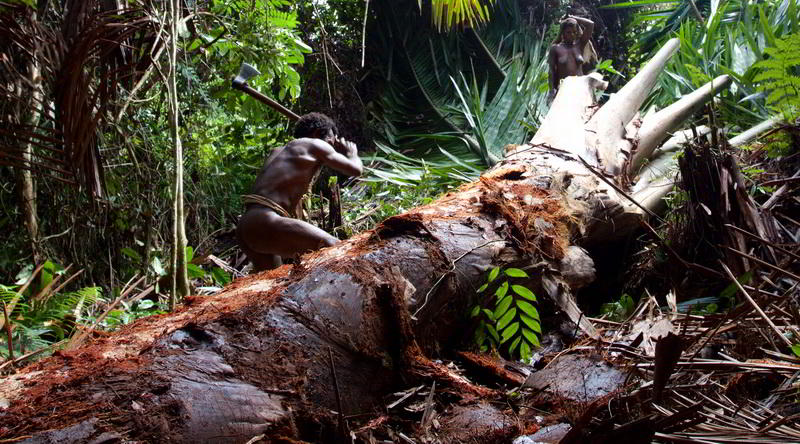 Sago FarmingToday, we will follow several Korowai families into the sago forest. Here, we will experience a spectacle from another world. The forest nomads chop a huge sago palm with their stone axes, open the trunk, and start smashing the sago pulp. The gained sago pulp is further processed by women who wash it in primitive washing installments – build only from leaves, branches and Rotan. The pure sago is the staple food for all jungle dwellers. Camera enthusiasts will probably never forget this day! In the afternoon we are back at the tree houses, where our cook starts preparing our next real jungle dinner: maybe we will have papaya vegetables, sago larvas, and plantains! The kitchen will surprise us every day with new exotic viands.
Day 8: Manopteropo
(B/L/D)
Kuruwai Koen womanWe will spend a second day with the friendly forest nomads. Maybe today they show us how to repair a tree house in crazy heights, or how to make and use bows and arrows – the most important weapons here. Or we join the Korowai on a journey into the forest to seek food. They are true hunters and gatherers: in a few hours their nets are filled with spiders, larvas, locusts and other exotic animals. They even shoot flying dogs from the trees. And again, we can look forward to another exotic dinner!
Day 9: Manopteropo - Mabul/Korowai
(B/L/D)
Korowai CoupleToday, we say good-bye to our friendly hosts. Back in Mabul we still have time to take a look at the local craftsmanship. One piece or the other, for example a fantastic bone knife, is a perfect souvenir for every visitor, and a true proof that somebody has really been to the stone ages!
Day 10: Mabul/Korowai - Wowi
(B/L/D)
Asmat Village near RiverIn the morning we leave Mabul and go back down the river in our boat. After some 2 hours we again pass the mouth of Brazza river. Downstream the strong current makes our journey much quicker. Shortly after, we reach Binam/Suator, the first bigger settlement with a small kiosk, situated on the upper reach of Siret river. Here we need to fill up our petrol and it is also time for lunch in a small warung. After lunch we continue to Wowi, a typical Citak settlement, right across the mouth of the powerful Wildemann river. And it is also the home of our boatman. We will build our tents next to his house and will use his kitchen place for our dinner. A small tour through the settlement gives a very good insight into the lives of the people here.
Day 11: Wowi - Kaimo
(B/L/D)
AsmatWe spend today on the boat until we reach KAIMO, the first typical Asmat settlement, for lunch. Later in the afternoon we reach Yaosokor. Our tents and kitchen will be set up inside the traditional men house (Jeu). Spending the night in this impressive house is a unique experience itself.
Day 12: Kaimo - Ewer - Warse
(B/L/D)
Craftwork AsmatWe continue by boat until we reach AMBOREB, a big Asmat settlement with three mighty men houses and a famous settlement for Asmat craftsmanship. After our arrival the residents bring all of their art treasures to the men house, opening a briskly bazar. Visitors often have a good chance to find interesting objects for low prices that cannot be found in the official stores in bigger towns. After lunch in Amboreb we continue to WARSE (about 4 hours). Here, we will set up our tents in one of the three big men houses of the village. There should be time for a short walk to the other men houses where further craftsmanship can be found.
Day 13: Warse - Agats
(B/L/D)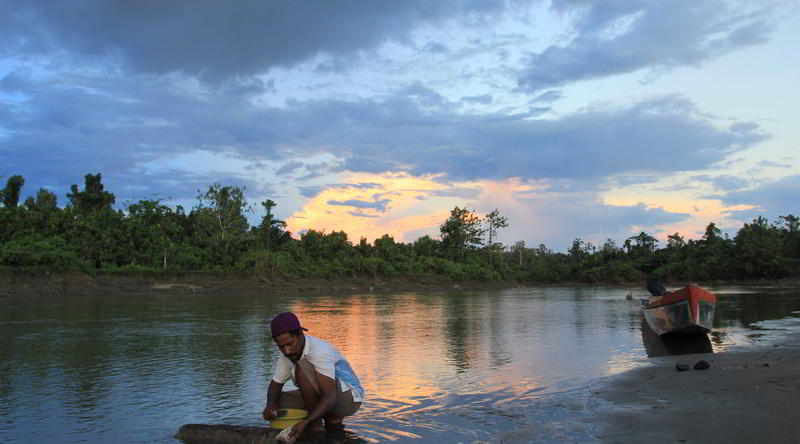 Asmat RiverIn the morning we go through a narrow river channel, right through the mangrove forest. This is a spectacular journey, as our boat goes past the thick jungle. Already at around 10am we will reach Agats, the "capital city" of Asmat. Here we will stay in Hotel Anggrek, a small, clean, and quiet hotel. As all the other buildings in Agats, also Hotel Anggrek is built on wooden stilts. In the afternoon we will visit the very interesting Asmat museum, which collected a big amount of unique Asmat artifacts. The collection gives a very good overview on the different Asmat cultures and styles of craftsmanship. Agats is a town without cars and during our short tour through the center we will be surprised how many people are nonetheless living here.
Day 14: Agats - Timika
(B/L/D)
In the morning transfer by boat (30 minutes) to the airfield of Ewer. Flight to Timika (1 hour). In Ewer we also have to say good-bye to our boat crew. After arrival in Timika directly transfer to our Hotel Komoro Tame. Here we will spend our afternoon right next to the swimming pool, with some cold beverages. Dinner in the hotel.
Day 15: Timika - End of Tour Timika (Irian Jaya/West Papua)
(B)
In the morning farewell from our crew from Wamena. They will have to fly back via Jayapura to Wamena on the same day. Transfer to Timika airport for your next flight.
Hotels, Rates & Information
Hotels for this Tour
(Changing the hotels according to your wishes is no problem!)
Location
Comfort Hotels
Baliem Valley/Wamena
Baliem Valley Resort

Honay Villa
Patipi Dibawa
Camp
Camp

Mabul/Korowai
Camp
Camp

Manopteropo
Camp
Camp

Wowi
Camp
Camp

Kaimo
Camp
Camp

Warse
Camp
Camp

Agats
Hotel Anggrek


Timika
Hotel Komoro Tame

Honai Standard
Rates
Options
Comfort
Rate per person
EUR 5.950
USD 6,620
Based on individual private tour, min. 2 travellers in double/twin room
Changing or adapting this tour to match your personal needs, interests and wishes is, as always, possible. Please contact us! Group rates (closed groups only, min. 4 Pax) on request.
Single Supplement
EUR 400
USD 445
Use our travel bag to remember tours and quickly access them later through the Travel Bag Menue (, comes up as soon as you add a tour) - Or to add them to a tour request for an individual offer.
Add to your travel bag list
Map
In progress
Information, Services, Remarks
Depart/Arrive:

Jayapura (Irian Jaya/West Papua) / Timika (Irian Jaya/West Papua)


Hotel/Airport Transfers:

Transfers are inclusive from and to above mentioned airports and hotels of the immediate area.

Services (included):

Travel permit (surat jalan)
Crew and equipment (tents, cooking equipment)
Domestic flights: Jayapura – Wamena // Wamena Dekai // Ewer - Timika
Private tour
English speaking guide
Air-conditioned car with driver
Accomodation: DBL room hotels (or similar)
Transfers, Entrance fees as per itinerary
Meal Plan as stated:
14x Breakfast 14x Lunch/Lunchbox 14x Dinner

Not included

Own expenses
Additional services (marked 'optional' above)
Programme not mentioned above
Season Surcharges
Domestic flights to Jayapura and from Timika
sleeping bag/mattress


Best Season(s):

September - April

Important Remarks:


Min. 2 Persons. Single traveller rates on request.
Important information for traveler: Outside of highly touristic regions like Bali there is only a limited touristic infrastructure available. Regular flight connections, restaurants and hotels (all classes from simple to high end) are limited. Flight cancellations and delays are quite common. Please don't expect amenities like warm water, air-conditioning and even comfortable beds at all hotels and homestays during the round trip. This applies especially outside of bigger cities.
Important information: All programmes and transfers by boat are on seat-in-coach base (group). You may be in a small group with other people.
- Medium difficulty (3/5): Certain physical demands and often lack of comfort. Participants should be in good health and with at least average physical condition.
- Join Group: 29.10.2017 - 12.11.2017
Please pay attention to the Travel Information provided.
When travelling islamic countries there can be interference during the month of Ramadan, other high holidays and fridays.
Volcanism: The Sunda Islands and the Sunda Archipelago are of volcanic orgin and show high volcanic activity. Accrodingly it may be possible that tours, routings and activities (especially those involving or near volcanoes) need to be altered in case of high activity or order by the government.
This tour is not soutable for people with reduced mobility. If you are unsure if you meet the requirements please contact us! We will try to find a solution for your individual needs.