Add-on: Habbema LakeTrekking - 4 days
Individual Private Tour - Tour Details & Information, Tour Code: SI-IRJ-04
Detailed Itinerary
Day 1: Baliem Valley/Wamena - Habema See
(L/D)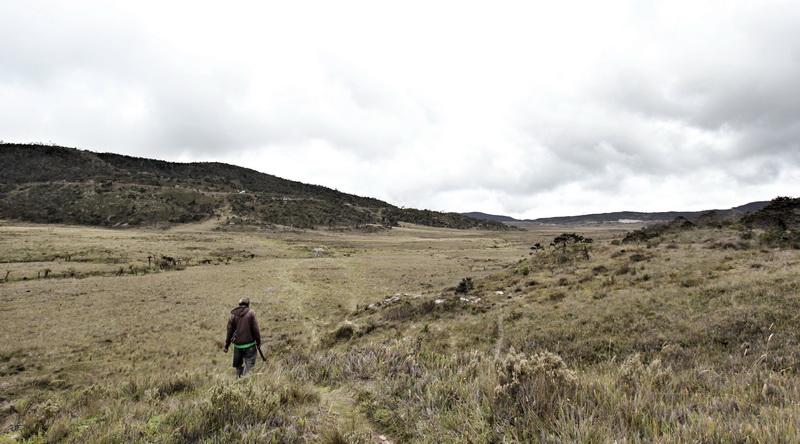 Habema LakeDepart from resort early in the morning. Depending on the weather (rain!) the drive through the tall rainforests can be problematic! A 3-hour drive (about 55 miles) from the resort to the lake at about 50,000 feet altitude. We will pass all the vegetation zones of Equatorial New Guinea. The often savannah-like landscape of the wide bottom of the Baliem Valley gives way to gigantic mountain cloud forests and rainforests with truly monstrous tree ferns and screw pines. The giant trees are overgrown with moss, lichen and climbing plants - a wonderfully unique flora. Lake Habbema is located in the middle of a large upland moor, surrounded by magical meadows full of dwarf cypresses, little tree ferns, rhododendron and many different types of orchid. If the weather is nice you will have spectacular views of the peak of nearby Mount Trikora (15,000 feet). Picnic lunch by the lake surrounded by the magnificent upland moor landscape. Excursions to the surrounding area are possible depending on the weather. You are accompanied by a guide and cook and maybe porters. Overnight in tent.
Day 2: Habema See - Ibele Camp 1
(B/L/D)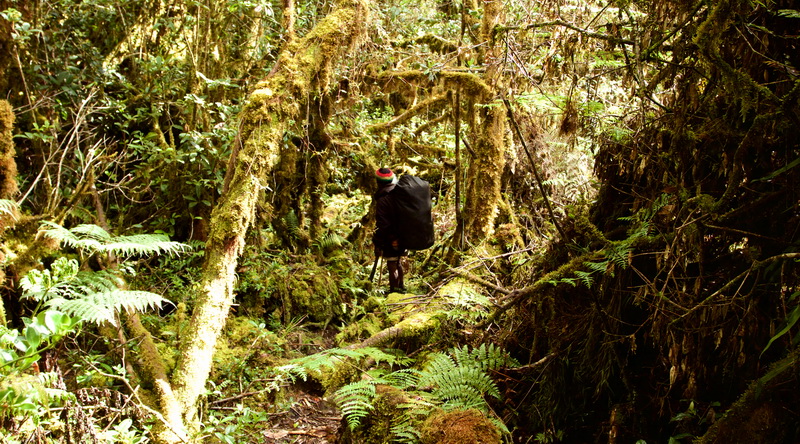 Mountain Forest HabemaIn the morning we still have some time to enjoy the unique landscape of lake Habema. From here starts our trek back to Wamena. The first part of the trek follows Ibele River on its way down to the valley. The mountain forest up here is untouched and we have it all for ourselves most of the time as this path is only rarely used by a few locals. In the afternoon, we reach a clearing in the forest, which is a perfect place for our tent camp. Overnight in tent.
Day 3: Ibele Camp 1 - Ibele Camp 2
(B/L/D)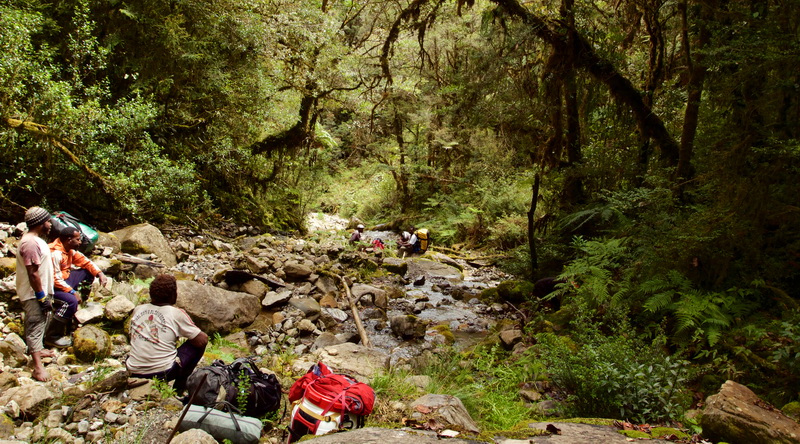 Ibele RiverWe continue our trekking to Wamena. Around noon we will leave the forest and are now back to the populated Baliem Valley. We walk through first small settlements of the Lani tribe. Lunch break next to Ibele River which now already carries a lot of water and is very nice for a quick swim, too. Later tentcamp in a small settlement on the way.
Day 4: Ibele Camp 2 - Baliem Valley/Wamena
(B/L/D)
Half day trekking until we reach a small missionary station with airfield. From here starts the road again and we are picked up by car for a 2 hour drive back to the Resort. Dinner in the Resort.
Hotels, Rates & Information
Hotels for this Tour
(Changing the hotels according to your wishes is no problem!)
Location
Comfort Hotels
Habema See
Habema See Camp
Camp

Ibele Camp 1
Ibele Camp 1
Camp

Ibele Camp 2
Ibele Camp 2
Camp

Baliem Valley/Wamena
Baliem Valley Resort

Honay Villa
Rates
Options
Comfort
Rate per person
EUR 770
USD 830
Based on individual private tour, min. 2 travellers in double/twin room
Changing or adapting this tour to match your personal needs, interests and wishes is, as always, possible. Please contact us! Group rates (closed groups only, min. 4 Pax) on request.
Single Supplement
EUR 150
USD 162
Use our travel bag to remember tours and quickly access them later through the Travel Bag Menue (, comes up as soon as you add a tour) - Or to add them to a tour request for an individual offer.
Add to your travel bag list
Map
In progress
Information, Services, Remarks
Depart/Arrive:

Wamena (Irian Jaya/West Papua) / Wamena (Irian Jaya/West Papua)


Hotel/Airport Transfers:

Transfers are inclusive from and to above mentioned airports and hotels of the immediate area.

Services (included):

Private tour
English speaking guide
Accomodation: DBL tent/Hotels (or similar)
Transfers, Entrance fees as per itinerary
Travel permit (surat jalan, Lorentz National Park)
Meal Plan as stated:
3x Breakfast 4x Lunch/Lunchbox 4x Dinner

Not included

Own expenses
Additional services (marked 'optional' above)
Programme not mentioned above
Season Surcharges
Sleeping bag/mat


Important Remarks:

Min. 2 Persons. Single traveller rates on request.
Important information for traveler: Outside of highly touristic regions like Bali there is only a limited touristic infrastructure available. Regular flight connections, restaurants and hotels (all classes from simple to high end) are limited. Flight cancellations and delays are quite common. Please don't expect amenities like warm water, air-conditioning and even comfortable beds at all hotels and homestays during the round trip. This applies especially outside of bigger cities.
- Medium difficulty (3/5): Certain physical demands and often lack of comfort. Participants should be in good health and with at least average physical condition.
- This is an add-on for existing program at Baliem Valley
Please pay attention to the Travel Information provided.
When travelling islamic countries there can be interference during the month of Ramadan, other high holidays and fridays.
Volcanism: The Sunda Islands and the Sunda Archipelago are of volcanic orgin and show high volcanic activity. Accrodingly it may be possible that tours, routings and activities (especially those involving or near volcanoes) need to be altered in case of high activity or order by the government.
This tour is not soutable for people with reduced mobility. If you are unsure if you meet the requirements please contact us! We will try to find a solution for your individual needs.