Add-on: Birds-of-Paradise at Nimbokrang - 2 days
Individual Private Tour - Tour Details & Information, Tour Code: SI-IRJ-05
Detailed Itinerary
Day 1: Begin of Tour Jayapura (Irian Jaya/West Papua) - Nimbokrang
(L/D)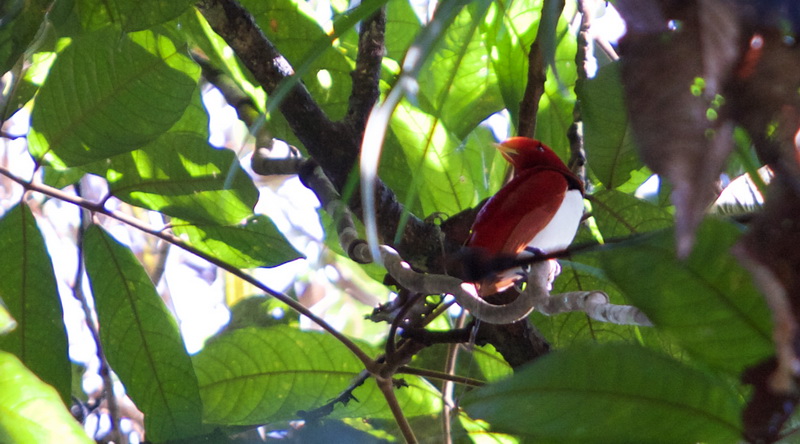 King bird-of-ParadiseIn the morning transfer to Wamena and flight to Jayapura. Directly after arrival, transfer to Nimbokrang (1,5 hour drive) to a small guesthouse with neighbouring bird sanctuary. The owner of the guesthouse, Mr. Alex, an ornithologist, is very well known for his guided tours to the birds of paradise. After a quick lunch, prepared by the hostess, we directly start with our first birding tour in the early afternoon. Walking in the forest is easy, more important is a little patience. In this forest several types of bird of paradise can be seen, among which are the Lesser Bird of Paradise, the King BoP, and the 12 Wire BoP. Almost daily, male bird of paradise come to their trees to impress and attract females with their singing and dancing. The chance to see one or more different types of bird of paradise on this guided tour is very high. Only when there is rain the birds do not show up. In the evening, dinner and overnight at the guesthouse. The guesthouse has several simple but clean double rooms (twin beds) with private bathrooms.
Day 2: Nimbokrang - End of Tour Jayapura (Irian Jaya/West Papua)
(B)
In the very early morning, with the break of dawn, we enter the forest once more. The very early morning hours are the best time to see the birds of paradise but during our walk through the forest we will realize that many other birds are also active at this time of day. We have time and there is no need to rush. Return to guesthouse in late morning and transfer back to Jayapura Airport.
List of local bird species:Rothalskasuar (Casuarius unappendiculatus) engl: northern cassowary
Braunschwanz-Paradieshopf (Drepanornis bruijnii) engl: Pale-billed Sicklebill
Dunkelliest (Todiramphus nigrocyaneus) engl: Blue-and-Black Kingfisher
Braunlori (Chalcopsitta duivenbodei) engl: Brown lory
Zwölffädige Paradiesvogel (Seleucidis melanoleuca) engl: Twelve-wired bird-of-paradise
Froschschnabelliest (Clytoceyx rex) engl: Shovel-billed Kingfisher
Kronentaube (Goura victoria) engl: Victoria crowned pigeon
Königs-Paradiesvogel (Cicinnurus regius) engl: King Bird of Paradise
Blauflöter (Ptilorrhoa caerulescens) engl: Blue jewel-babbler
Wüstenrabe (Corvus ruficollis) engl: Brown-necked Raven
Hakenliest (Melidora macrorrhina) engl: Hook-billed Kingfisher
Goldkopf Papagai (Pyrilia vulturina) engl: Vulturine Parrot
Rundflügelkauz (Uroglaux dimorpha) engl: Papuan Hawk Owl
Kleine Paradiesvogel (Paradisaea minor) engl: lesser bird-of-paradise
Halsbandtalegalla (Talegalla jobiensis) engl: Brown-collared Brush Turkey
Mohrenkuckuck (Centropus menbeki) engl: Greater Coucal
Papuanachtschwalbe (Eurostopodus papuensis) engl: Papuan Nightjar
Nebelkrähe (Corvus cornix) engl: hooded crow
Schwarzflankenschnäpper (Poecilodryas hypoleuca) engl: black-sided robin
Waldpeltops (Peltops blainvillii) engl: Lowland Peltops Flycatcher
Weißohr Laubenvogel (Ailuroedus buccoides) engl: white-eared catbird
Langschwanz-Fruchttaube (Ptilinopus magnificus) engl: wompoo fruit dove
Lilakappen-Fruchttaube (Ptilinopus coronulatus) engl: coroneted fruit dove
Hotels, Rates & Information
Hotels for this Tour
(Changing the hotels according to your wishes is no problem!)
Location
Comfort Hotels
Nimbokrang
Pak Jamil
Homestay/Guesthouse

Rates
Options
Comfort
Rate per person
EUR 270
USD 290
Based on individual private tour, min. 2 travellers in double/twin room
Changing or adapting this tour to match your personal needs, interests and wishes is, as always, possible. Please contact us! Group rates (closed groups only, min. 4 Pax) on request.
Single Supplement
EUR 150
USD 162
Use our travel bag to remember tours and quickly access them later through the Travel Bag Menue (, comes up as soon as you add a tour) - Or to add them to a tour request for an individual offer.
Add to your travel bag list
Map
In progress
Information, Services, Remarks
Depart/Arrive:

Jayapura (Irian Jaya/West Papua) / Jayapura (Irian Jaya/West Papua)


Hotel/Airport Transfers:

Transfers are inclusive from and to above mentioned airports and hotels of the immediate area.

Services (included):

Private tour
English speaking guide
Accomodation: DBL room Hotel (or similar)
Transfers, Entrance fees as per itinerary
Meal Plan as stated:
1x Breakfast 1x Lunch/Lunchbox 1x Dinner

Not included

Own expenses
Additional services (marked 'optional' above)
Programme not mentioned above
Season Surcharges



Important Remarks:

Min. 2 Persons. Single traveller rates on request.
Important information for traveler: Outside of highly touristic regions like Bali there is only a limited touristic infrastructure available. Regular flight connections, restaurants and hotels (all classes from simple to high end) are limited. Flight cancellations and delays are quite common. Please don't expect amenities like warm water, air-conditioning and even comfortable beds at all hotels and homestays during the round trip. This applies especially outside of bigger cities.
- This is an add-on for existing program at Baliem Valley
Please pay attention to the Travel Information provided.
When travelling islamic countries there can be interference during the month of Ramadan, other high holidays and fridays.
Volcanism: The Sunda Islands and the Sunda Archipelago are of volcanic orgin and show high volcanic activity. Accrodingly it may be possible that tours, routings and activities (especially those involving or near volcanoes) need to be altered in case of high activity or order by the government.
This tour is not soutable for people with reduced mobility. If you are unsure if you meet the requirements please contact us! We will try to find a solution for your individual needs.