Jakarta - Surabaya Overland - 10 days
Individual Private Tour - Tour Details & Information, Tour Code: SI-JSO
Detailed Itinerary
Day 1: Begin of Tour Jakarta (Java) - Jakarta
(D)
Istiqlal Mosque in JakartaOn arrival at Jakarta airport meet your personal guide. Transfer to your city hotel. The rest of the day is free at your leisure. Explore the city on your own. Overnight in Jakarta.
Day 2: Jakarta - Bandung
(B/L)
Breakfast at hotel. Your overland tour will start in the morning with a visit to the National Museum before you leave for the countryside. Stop at the Botanical Garden in Bogor and the tea plantations at Puncak Pass. Continue to Bogor.
Day 3: Bandung - Pangandaran
(B/L)
BandungDrive through West Java after breakfast until you reach Pangandaran on the southern coast. Stop on the way for a visit at the traditional Sundanese village Kampung Naga between Garut and Tasikmalaya. The villagers are dedicated to preserve their local customs and beliefs. The small, wooden houses of the village were build on the banks of Ciwulan River in a green valley. You have to climb 360 steps and follow the path through the rice fields to reach the settlement. Tasikmalaya is known for bamboo plaited handicrafts. Arrive in Pangandaran late in the afternoon.
Day 4: Pangandaran
(B/D)
CoastBreakfast at the hotel. Pangandaran is a small fishing town which over the years developed into a popular beach resort. You came to the right place if you love nature. Take a walk with a local guide through the rain forests at the Pananjung Nature Reserve. The protected area was established on a small peninsula between the West and East Beach. Optional visit to Green Canyon. Seafood dinner in the evening.
Day 5: Pangandaran - Wonosobo
(B/L)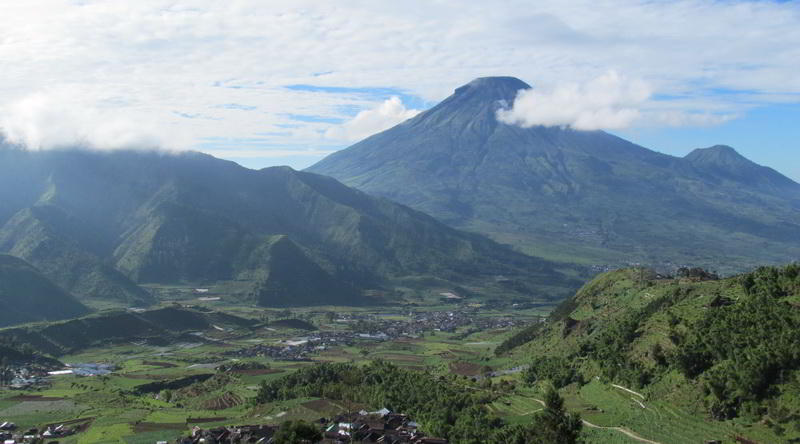 Wonosobo landscapeBreakfast in the morning. Leave for Wonosobo right afterwards. The drive to the highland resort will take approximately 10 hours. Lunch en-route. Wonosobo is the starting point for all excursions at the Dieng Plateau.
Day 6: Wonosobo - Yogyakarta
(B/L)
Borobudur Temple JavaEarly breakfast at the hotel in Wonosobo. A one hour scenic drive takes you up to the high plateau. The Dieng Plateau is located high in the Javanese mountains and is known for a unique mystic atmosphere caused by increased volcanic activity in the area. The landscape is dominated by steep hillsides, steaming lakes and fuming volcanoes. Some of the oldest Hindu temples of Java can be found here. They were built in the 7th century by Sanjaya Dynasty in a giant swampy caldera. Dieng Plateau supposedly was a prospering temple center in the mountains, an Abode of the Gods, populated only by Hindu priests and hermits before it was abandoned. Continue your journey to Yogyakarta and stop at Borobudur Temple on the way. The compound is known as one of the largest Buddhist sanctuaries in the world. Approximately 30.000 stone carvers and 15.000 porters participated during its construction in the 9th century. Borobudur appears in the form of a pyramid with 9 platforms. Every level is decorated with intricate stone reliefs. Overnight in Yogyakarta.
Day 7: Yogyakarta
(B/D)
Prambanan PanoramaDo a sightseeing tour of Yogyakarta, the center of Javanese arts and culture. Visit the Sultan's palace Keraton and the ruins of the water palace Taman Sari. Yogyakarta is well known for the local batik fabrics. You can see the techniques at a batik workshop. Visit Prambanan Temple after lunch. This huge temple complex is dedicated to Hindu gods Shiva, Brahma, and Vishnu. The first relief begins on the most eastern entry and shows stories of the Ramayana epic. Dinner and overnight at the hotel in Yogyakarta.
Day 8: Yogyakarta - Malang
(B/L)
Breakfast at hotel. Leave Yogya for Malang in East Java by train. Enjoy the view of the Javanese landscape with green rice and sugar cane field. Arrive at Jombang station approximately 3.5 hrs later. Visit Candi Jawi temple and tea plantations on the way to Malang.
Day 9: Malang - Bromo
(B/L)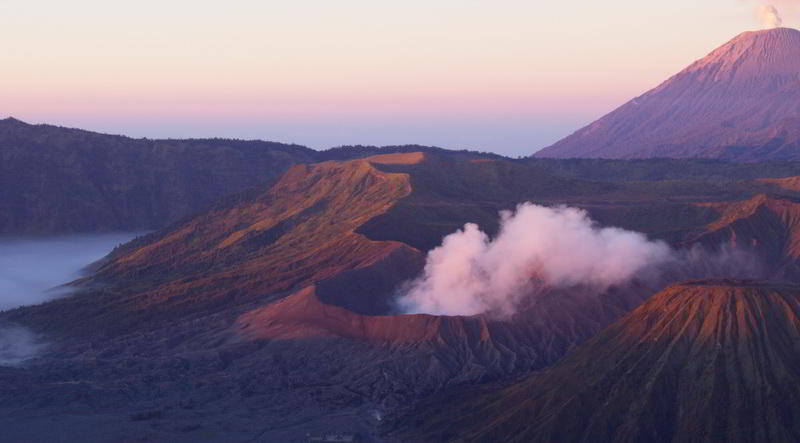 Bromo, Tengger and SemeruBreakfast at hotel. Morning sightseeing tour of Malang and Batu, well known as the "little Switzerland" with lots of flowers and apple orchards. Afterwards visit Jago Temple and Singaposari Temple. Continue eastwards until you reach the Bromo volcano at Bromo Tengger Semeru National Park.
Day 10: Bromo - End of Tour Surabaya (Java)
(B)
Java Volcano aerialWake-up call in the early morning. Leave the hotel at 03:30 AM for the sunrise experience at Mount Bromo. Take a four-wheel ride to Cemoro Lawang at the crater rim. You will reach the Viewpoint in the dark. Try to find a good spot and wait for the sun to rise. You will have a beautiful view of the Sea of Sand and the Mount Bromo in the crater and the Semeru in the background. Return to the crater and cross the Sea of Sand by foot or by pony. At the foot of Mount Bromo you will have to climb the stairway to heaven to reach the crater rim (if volcanic activity permits). Then return to your hotel for taking breakfast and check-out. Drive to Surabaya airport.
Hotels, Rates & Information
Hotels for this Tour
(Changing the hotels according to your wishes is no problem!)
Location
Comfort Hotels
Deluxe Hotels
Jakarta
Novotel Jakarta Cikini

Deluxe
The Sultan

Deluxe
Bandung
Grand Preanger

Superior
Sheraton Bandung

Superior
Pangandaran
Nyuir Resort

Standard
Nyuir Resort

Superior
Wonosobo
Gallery Kresna Wonosobo

Superior
Gallery Kresna Wonosobo

Deluxe
Yogyakarta
The Phoenix Hotel

Superior Heritage
Royal Ambarrukmo

Deluxe Balcony
Malang
Santika Premiere Malang

Deluxe
Tugu Malang

Superior Deluxe
Bromo
Jiwa Jawa Resort

Deluxe B
Jiwa Jawa Resort

Executive B
Rates
Options
Comfort
Deluxe
Rate per person
EUR 1.250
USD 1,390
EUR 1.398
USD 1,556
Based on individual private tour, min. 2 travellers in double/twin room
Changing or adapting this tour to match your personal needs, interests and wishes is, as always, possible. Please contact us! Group rates (closed groups only, min. 4 Pax) on request.
Single Supplement
EUR 319
USD 355
EUR 429
USD 477
Single Traveller
EUR 2.250
USD 2,500
EUR 2.515
USD 2,800
Use our travel bag to remember tours and quickly access them later through the Travel Bag Menue (, comes up as soon as you add a tour) - Or to add them to a tour request for an individual offer.
Add to your travel bag list
Map
In progress
Information, Services, Remarks
Depart/Arrive:

Jakarta (Java) / Surabaya (Java)


Hotel/Airport Transfers:

Transfers are inclusive from and to above mentioned airports and hotels of the immediate area.

Services (included):

Private tour
English speaking guide
Air-conditioned car
Accomodation: DBL room hotels (or similar)
Transfers and entrance fees as per itinerary
Meal Plan as stated:
9x Breakfast 6x Lunch/Lunchbox 3x Dinner

Not included

Own expenses
Additional services (marked 'optional' above)
Programme not mentioned above
Season Surcharges


Best Season(s):

April - November

Important Remarks:

Min. 2 Persons. Single traveller rates on request.
Please pay attention to the Travel Information provided.
When travelling islamic countries there can be interference during the month of Ramadan, other high holidays and fridays.
Volcanism: The Sunda Islands and the Sunda Archipelago are of volcanic orgin and show high volcanic activity. Accrodingly it may be possible that tours, routings and activities (especially those involving or near volcanoes) need to be altered in case of high activity or order by the government.
This tour is not soutable for people with reduced mobility. If you are unsure if you meet the requirements please contact us! We will try to find a solution for your individual needs.