Orang Utan Expedtition - 7 days
Individual Private Tour - Tour Details & Information, Tour Code: SI-MES-07
Detailed Itinerary
Day 1: Begin of Tour Medan/Kuala Namu (Sumatra) - Bukit Lawang/Bohorok
(D)
Palm Oil Plantation SumatraPick up at the airport of Medan by your personal guide and drive to the village of Bukit Lawang on the border of the Gunung Leuser National Park. The protected area is a habitat for endangered species like the Sumatran orangutan (Pongo abelii) and Thomas's langur (Presbytis thomasi). The transfer from Medan will take approximately 4 hours. You will pass rubber and palm oil plantations on your way. Dinner and overnight at a simple guest house in Bukit Lawang.
Day 2: Bukit Lawang/Bohorok
(B/L)
Orangutans in SumatraLeave the guest house for an early morning trek into the jungle together with a local guide. He will show you the former feeding platforms, which are still frequented by the local orangutan population. Explore the forest along the many trails to see the native animals and plants. Picnic lunch on the way. The afternoon is free at your leisure. Overnight in Bukit Lawang.
Day 3: Bukit Lawang/Bohorok - Berastagi
(B/D)
Market in BerastagiThe morning starts with a simple breakfast at the guesthouse. Free time until transfer to Berastagi. The drive will take several hours via winding roads up into the highlands. Lush green forests cover the homeland of the Batak people. Berastagi lies right in the heart of the Karo Batak. The city was a cool mountain retreat during Dutch colonial times. The mild climate of the high plateau invited the cultivation of vegetables, fruits and flowers. The fertile soil is provided by neighboring active volcanos Sibayak and Sinabung. Overnight at a hotel in Berastagi.
Day 4: Berastagi - Kutacane - Ketambe
(B/L)
Fried FishBreakfast at the hotel. Leave the heart of the Karo Batak region and start the approximately six hours drive to Ketambe. The winding roads will take you deep into the Barisan Highland, passing by the beautiful landscape of North Sumatra. Your destination is the Gunung Leuser National Park near Ketambe. The region is home to 10000 animal and plant species, many of the endangered. After arriving in the village, check-in at the simple homestay (room without AC, bath with mandi a traditional scoop bath). Overnight at Ketambe
Day 5: Ketambe
(B/L)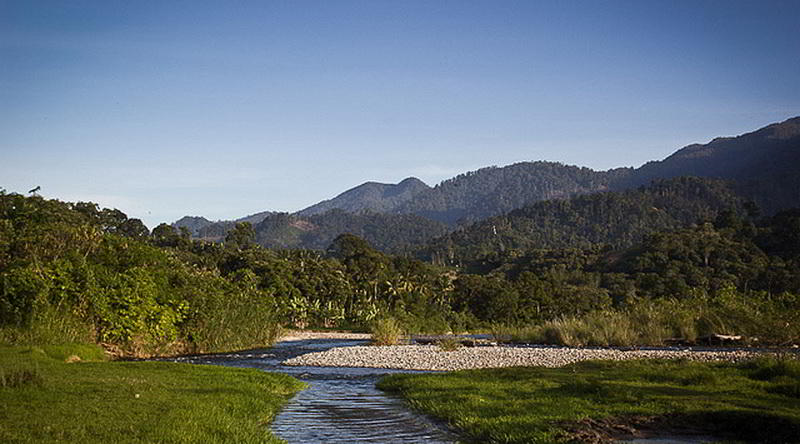 Leuser National ParkThe morning starts with a hike through the nearby forest. Your local guide will accompany you on the trails to find rare animals. If you are lucky you may see orangutans, gibbons and tropical birds. Picnic on the way. Return to the guesthouse in the afternoon. Overnight in Ketambe.
Day 6: Ketambe - Medan
(B/L)
Ixora casei (Rubiaceae)Breakfast at the guesthouse. The morning is free at your leisure until the transfer back to Medan. Enjoy the view of the forest and river near the lodging. The way back to Medan follows the road via Kutacane and Berastagi. Arrival in Medan during the afternoon. Check-in at the hotel. Overnight in Medan.
Day 7: Medan - End of Tour Medan/Kuala Namu (Sumatra)
(B)
Breakfast at the hotel. Free time before your transfer back to the airport.
Hotels, Rates & Information
Hotels for this Tour
(Changing the hotels according to your wishes is no problem!)
Location
Comfort Hotels
Bukit Lawang/Bohorok
Bukit Lawang Eco Lodge
Homestay/Guesthouse

Berastagi
Grand Mutiara

Superior
Ketambe
Ketambe Friendship
Homestay/Guesthouse

Medan
Santika Premiere Dyandra

Deluxe
Rates
Options
Comfort
Rate per person
EUR 670
USD 715
Based on individual private tour, min. 2 travellers in double/twin room
Changing or adapting this tour to match your personal needs, interests and wishes is, as always, possible. Please contact us! Group rates (closed groups only, min. 4 Pax) on request.
Single Supplement
On Request
Single Traveller
EUR 1.205
USD 1,290
Use our travel bag to remember tours and quickly access them later through the Travel Bag Menue (, comes up as soon as you add a tour) - Or to add them to a tour request for an individual offer.
Add to your travel bag list
Map
In progress
Information, Services, Remarks
Depart/Arrive:

Medan/Kuala Namu (Sumatra) / Medan/Kuala Namu (Sumatra)


Hotel/Airport Transfers:

Transfers are inclusive from and to above mentioned airports and hotels of the immediate area.

Services (included):

Private tour
English speaking guide
Air-conditioned car
Accomodation: DBL room hotels (or similar)
Transfers and entrance fees as per itinerary
Meal Plan as stated:
6x Breakfast 4x Lunch/Lunchbox 2x Dinner

Not included

Own expenses
Additional services (marked 'optional' above)
Programme not mentioned above
Season Surcharges


Best Season(s):

January - August

Important Remarks:

Min. 2 Persons. Single traveller rates on request.
Important information for traveler: Outside of highly touristic regions like Bali there is only a limited touristic infrastructure available. Regular flight connections, restaurants and hotels (all classes from simple to high end) are limited. Flight cancellations and delays are quite common. Please don't expect amenities like warm water, air-conditioning and even comfortable beds at all hotels and homestays during the round trip. This applies especially outside of bigger cities.
Please pay attention to the Travel Information provided.
When travelling islamic countries there can be interference during the month of Ramadan, other high holidays and fridays.
Volcanism: The Sunda Islands and the Sunda Archipelago are of volcanic orgin and show high volcanic activity. Accrodingly it may be possible that tours, routings and activities (especially those involving or near volcanoes) need to be altered in case of high activity or order by the government.
This tour is not soutable for people with reduced mobility. If you are unsure if you meet the requirements please contact us! We will try to find a solution for your individual needs.
During the dry season severe haze caused by wood fires in Borneo and Sumatra can possibly affect this region. Please keep yourself updated using the ASEAN Regional Haze Situation Center.