Sumatra Highlands - 11 days
Individual Private Tour - Tour Details & Information, Tour Code: SI-SOL
Detailed Itinerary
Day 1: Begin of Tour Medan/Kuala Namu (Sumatra) - Medan
Mesjid Raja in MedanArrival at the new Kualanamu International Airport of Medan. You will be welcomed by your personal guide. He will bring you to your Hotel in Medan. Check-in at hotel. The rest of the day is at your disposal. Overnight in Medan.
Day 2: Medan - Bukit Lawang/Bohorok
(B/D)
Orangutans in SumatraBreakfast at the hotel. Afterwards you will meet the guide and leave for Bohorok. The small village is part of the Leuser National Park. The drive will take about 3,5 hours. You will pass by many cities until you reach the more scenic countryside. Noticeable are the many rubber and palm oil plantations. The afternoon is at your leisure. Overnight in Bohorok.
Day 3: Bukit Lawang/Bohorok - Berastagi
(B/D)
Sibayak Volcano, SumatraEarly morning breakfast at the guesthouse. Afterwards start on a 6 hours trekking tour following the forest trails. Maybe you will find orang-utans in the trees. Return to the guesthouse and leave Bohorok for Berastagi. The drive will take several hours following busy Sumatran roads into the highlands. Berastagi is a highland resort known for its mild climate and fertile soil due to the many volcanoes in the region. Visit the village Peceren on the way. There you can see some of the remaining traditional houses of the Batak Karo. The wooden structures are very considerate of the many earth quakes compared to modern houses. The Batak are an important ethnic group in Indonesia. The make up 40% of the population of North Sumatra.
Day 4: Berastagi - Sibayak - Berastagi
(B/D)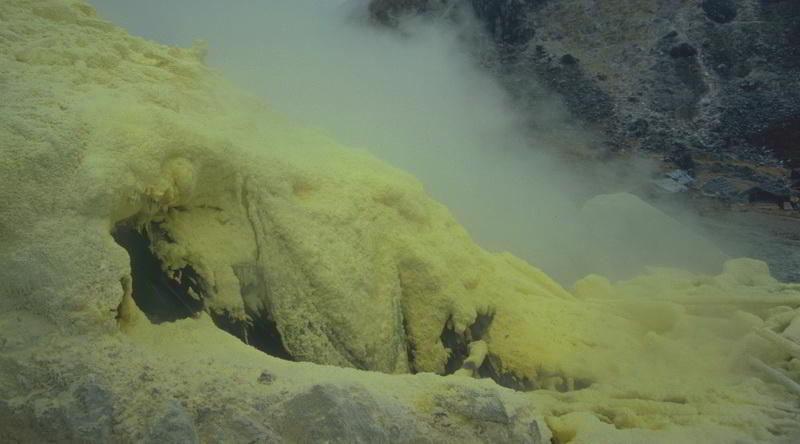 Sulfur at Sibayak VolcanoAfter breakfast leave for Mt. Sibayak. The volcano lies 5km to the North East of Berastagi. It was quite active in recent years, therefore the route might by changed depending on seismicity. You will start off at Jaramudas village near the foot of the mountain. The trekking will take approximately four hours. You will walk along narrow mountain trails until you reach the rim and see the lake. Good hiking shoes and a rain cover are a necessity for the day trip. Before returning to your hotel stop at the Raja Bernah hot springs. You can take a bath in the warm water if you want. The rest of the afternoon at your leisure. Dinner and overnight at the hotel.
Day 5: Berastagi - Parapat - Samosir
(B/L)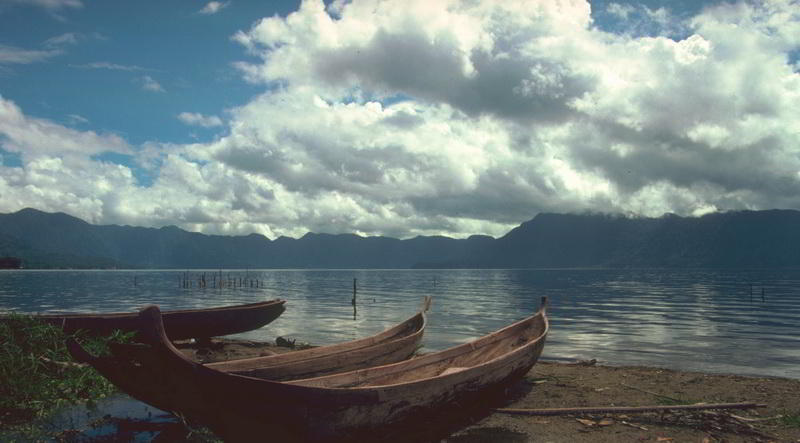 Lake TobaAfter breakfast depart for Parapat at the shores of famous Lake Toba. Stop on the way at the northern shore and see the Sipisopiso Waterfall. The slender waterfall drops elegantly from a hundred meters height down into the lake. Visit the ancient King's Palace of Simalungun at Pematang Purba. Proceed to Parapat through fertile countryside with many vegetable and fruit plantations, pine tree forest and spectacular views of Lake Toba. Arrive at the market square in Parapat and leave for Samosir with one of the many boats. The ferry ride to the islands will take approximately 45 minutes. Arrival in Samosir and check-in at your hotel.
Day 6: Samosir
(B/L)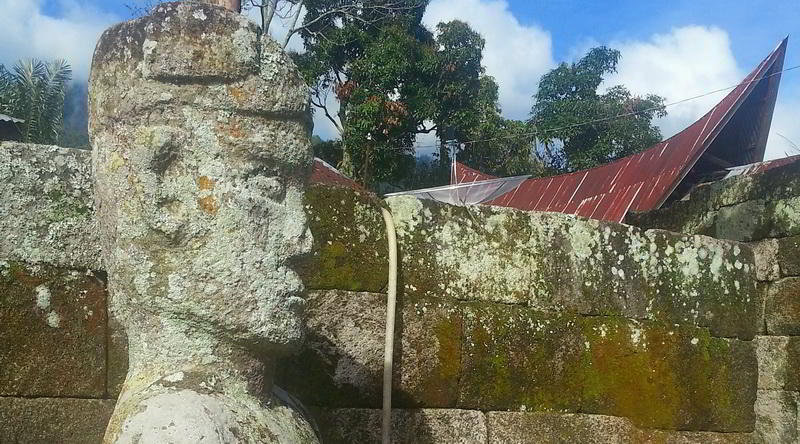 Tomok, SamosirStart with the sightseeing tour after breakfast. Visit the Tomb of King Sidabutar and the Batak Toba Village at Tomok. Then proceed to Ambarita, a traditional village with ancient megalithic furniture in front of the traditional houses. Proceed to the village of Simanindo, where you will watch a traditional folk dance performance of Batak Toba people. Further, visit the lovely tiny Tao Island. In the afternoon return to your hotel in Samosir.
Day 7: Samosir - Sibolga - Padang Sidempuan
(B/D)
Traditonal Batak houseAfter breakfast check out from your hotel in Samosir and return by boat to the mainland at Parapat. Continue your journey for Padang Sidempuan. Visit Lumban Binanga Village and the small town Balige with its rich ornamented market hall along the winding road to Tarutung. The trip to Padang Sidempuan (ca. 210 km) will take the whole day.
Day 8: Padang Sidempuan - Bukittinggi
(B/D)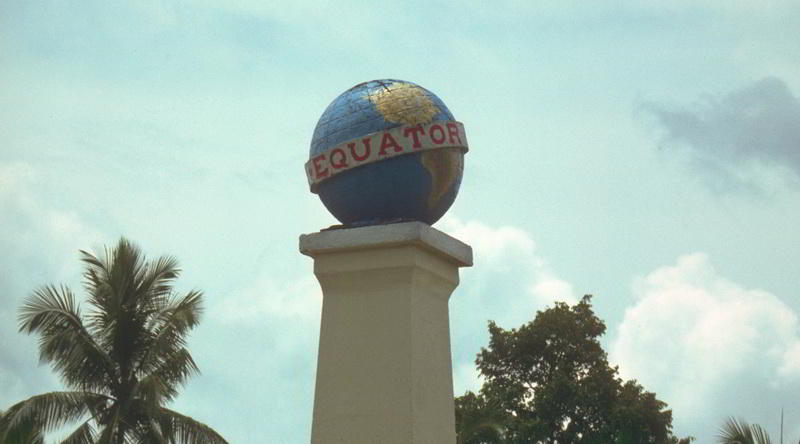 Equator MonumentThe drive from Padang Sidempuan to Bukittinggi (ca. 250 km) is the quintessential Sumatran journey. You will see the beauty of the land with its green mountains, fertile valleys the many rivers and the friendly faces of the people. On your way south you will cross the equator. There is even an equator Monument at Bonjol. The region is also known for the Rafflesia, named after Sir Thomas Stamford Raffles.
Day 9: Bukittinggi
(B/L)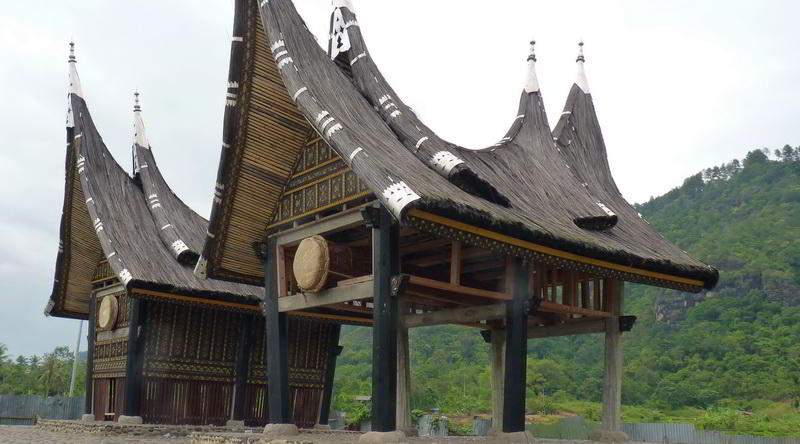 Bukittinggi HouseStart in the morning with a sightseeing tour of Bukittinggi. You will see the Ngarai Sianok, a sweeping valley near the city, the clock tower Jam Gadang and the local markets Pasar Tasa and Basar Bawah. Kota Gadang is a center of arts and crafts. The artists are known for detailed silver and gold works and beautiful embroidery. The Sultans's Palace of Pagaruyung is an example for the typical Minangkabau architecture. Before returning to the hotel you will also visit the batu tulis, a stone inscripted in several languages dating back to king Adityawarman in the 14th century.
Day 10: Bukittinggi - Padang
(B/L)
After breakfast depart for Padang via the beautiful Anai Valley (Lembah Anai). There is a small nature reserve in the valley which was founded back in the 1920s. The reserve was original established to protect the local wildlife, such as tigers, deer, siamangs (a black-furred gibbon) and tropical birds. The waterfall right next to the road is a popular spot to take pictures. Overnight in Padang.
Day 11: Padang - End of Tour Padang (Sumatra)
(B)
Breakfast at hotel. The day is at your leisure until airport transfer.
Hotels, Rates & Information
Hotels for this Tour
(Changing the hotels according to your wishes is no problem!)
Location
Comfort Hotels
Deluxe Hotels
Medan
Santika Premiere Dyandra

Deluxe
J.W. Marriott

Deluxe
Bukit Lawang/Bohorok
Bukit Lawang Eco Lodge
Homestay/Guesthouse

Bukit Lawang Eco Lodge
Homestay/Guesthouse

Berastagi
Grand Mutiara

Superior
Grand Mutiara

Deluxe
Samosir
Tabo Cottage

Batak Villa
Tabo Cottage

Junior Suite
Padang Sidempuan
Mega Permata Hotel

Deluxe
Mega Permata Hotel

Deluxe
Bukittinggi
Grand Rocky Hotel

Deluxe
Grand Rocky Hotel

Suite
Padang
Pangeran Beach Hotel

Deluxe
Mercure Padang

Deluxe
Rates
Options
Comfort
Deluxe
Rate per person
EUR 900
USD 990
EUR 1.027
USD 1,132
Based on individual private tour, min. 2 travellers in double/twin room
Changing or adapting this tour to match your personal needs, interests and wishes is, as always, possible. Please contact us! Group rates (closed groups only, min. 4 Pax) on request.
Single Supplement
EUR 220
USD 242
EUR 342
USD 377
Single Traveller
EUR 1.620
USD 1,785
EUR 1.845
USD 2,035
Use our travel bag to remember tours and quickly access them later through the Travel Bag Menue (, comes up as soon as you add a tour) - Or to add them to a tour request for an individual offer.
Add to your travel bag list
Map
In progress
Information, Services, Remarks
Depart/Arrive:

Medan/Kuala Namu (Sumatra) / Padang (Sumatra)


Hotel/Airport Transfers:

Transfers are inclusive from and to above mentioned airports and hotels of the immediate area.

Services (included):

Private tour
English speaking guide
Air-conditioned car
Accomodation: DBL room hotels (or similar)
Transfers and entrance fees as per itinerary
Meal Plan as stated:
10x Breakfast 4x Lunch/Lunchbox 5x Dinner

Not included

Own expenses
Additional services (marked 'optional' above)
Programme not mentioned above
Season Surcharges


Best Season(s):

January - October

Important Remarks:

Min. 2 Persons. Single traveller rates on request.
Important information for traveler: Outside of highly touristic regions like Bali there is only a limited touristic infrastructure available. Regular flight connections, restaurants and hotels (all classes from simple to high end) are limited. Flight cancellations and delays are quite common. Please don't expect amenities like warm water, air-conditioning and even comfortable beds at all hotels and homestays during the round trip. This applies especially outside of bigger cities.
Please pay attention to the Travel Information provided.
When travelling islamic countries there can be interference during the month of Ramadan, other high holidays and fridays.
Volcanism: The Sunda Islands and the Sunda Archipelago are of volcanic orgin and show high volcanic activity. Accrodingly it may be possible that tours, routings and activities (especially those involving or near volcanoes) need to be altered in case of high activity or order by the government.
This tour is not soutable for people with reduced mobility. If you are unsure if you meet the requirements please contact us! We will try to find a solution for your individual needs.
During the dry season severe haze caused by wood fires in Borneo and Sumatra can possibly affect this region. Please keep yourself updated using the ASEAN Regional Haze Situation Center.