Timor Leste Highlights - 9 days
Individual Private Tour - Tour Details & Information, Tour Code: TL-DIL-03
Detailed Itinerary
Day 1: Begin of Tour Dili (Timor-Leste) - Baucau
(L/D)
Northern Coast of Timor Leste Meeting at the airport and direct transfer to east coast till subao hills for a photo spot then continue to Manatutu with potential site for agriculture. Arrive in town short visit natural clay arts such as potery and basketry before continue to Laleia with visit european achicterure catholic church then heading to Baucau. Arrive in Baucau old town have lunch at vitoria restaurant. After that drive to Garivai short visit Japanese seven dug cave and continue to Venilele and spend sometimes to visit former Portuguese royal family school. In the afternoon return to Baucau and stay overnight at Pousada de Baucau. Dinner will be serve at the hotel.
Day 2: Baucau - Tutuala
(B)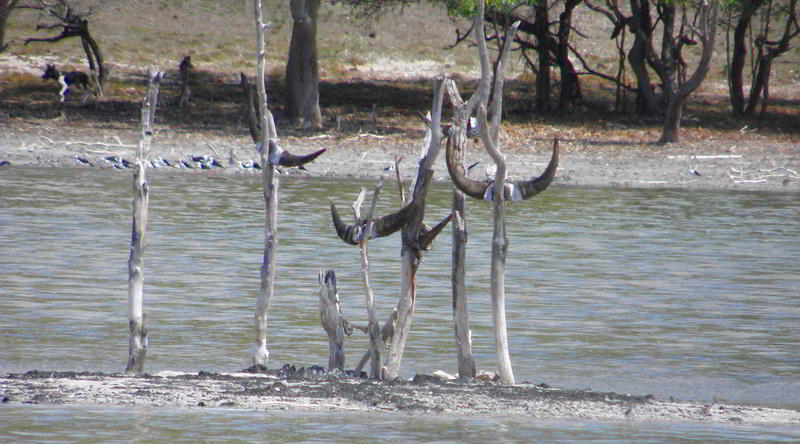 Salt Lake near LagaIn the morning at your convinient time, drive to Laga visit natural rocky salty lake and Lautem take look at former Portuguese fort before head onto to Com a small fishermen village. We'll then visit local traditional weaving shops before return to Com Beah Resort for Lunch. After that drive to southwards to Etepiti and Pitileti and learn Livestyle of local people around the areas. Then continue drive to Assalain, Along the way, will take look at our animism ancient tombs before continue to Bauro with visit typical traditional house of Lospalos. After that contininue to Tutuala and stay overnight at Pousada. Dinner will be served at the hotel.
Day 3: Tutuala - Jaco - Tutuala Beach
(B)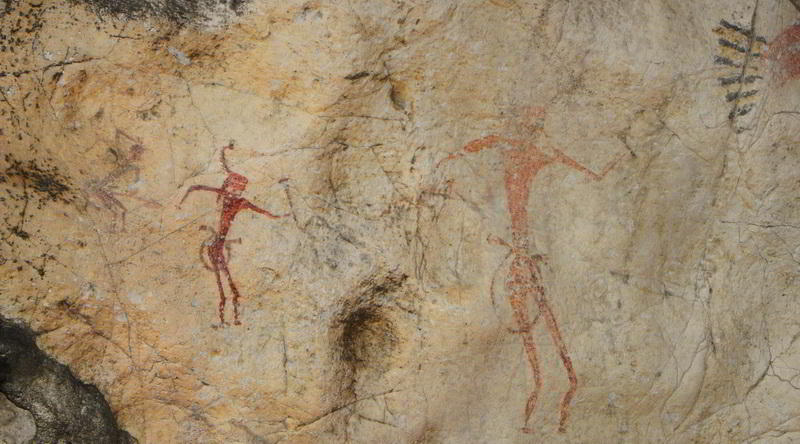 Cave Paining TutualaIn the morning at your convinient time, drive down to Konis Santana National Park, then walk to the rock painting and it takes 35 minutes each way. After that continue drive to Walu beach and get a boat to Jaco Island. Spend sometimes to enjoy crystal blue water and return in the after noon and stay overnight at Lacumore guest house. BBQ fish for lunch at the Island and dinner will be served at the guest house
Day 4: Tutuala Beach - Lospalos
(B)
Tutuala BeachIn the morning, drive passed by Nino Coni Santana national park all the way to Meehara. Spend sometime to visit Ira-lalar lake before continue to Fuiloro short visit former Salesian Don Bosco agriculture school. And then continue to Lospalos and stay overnight at hotel Roberto Carlos. Lunch and dinner will be served at the hotel.
Day 5: Lospalos - Viqueque - Loihunu
(B)
Girl in TreehouseIn the morning, drive to westwards passing by several mountain scenic and some animism crucifics until arrive in Iliomar. After passed by Iliomar subdistrict, we'll enter deepest rain forest and at the end there is a typical house built on a trees. We'll spend sometimes to talk to the owner and while waiting to test local arak at the same place. After that heading to Vatucarba and Vatulari with largest rice paddies until arrive in Viqueque district. Spend sometimes to visit local market before heading to Loihunu and stay overnight at resistant guest house called Loihunu. Lunch box will be provided during the trip and dinner will be served at the guest house.
Day 6: Loihunu - Viqueque - Same
(B)
Kids Playing in Timor LesteAfter breakfast, short visit fish farm and waterfalls in Loihunu. Then continue drive to natarbora a largest agriculture site during Indonesian occupation and some typical traditional houses on the way until arrive in Betano dark sand beaches. Have a break and lunch box will be served at the beach. After that continue to Same short visit statue of Don Boaventura before arrive in Samelau guest house and stay overnight. Dinner will be served at the guest house.
Day 7: Same - Hato-Builico
(B)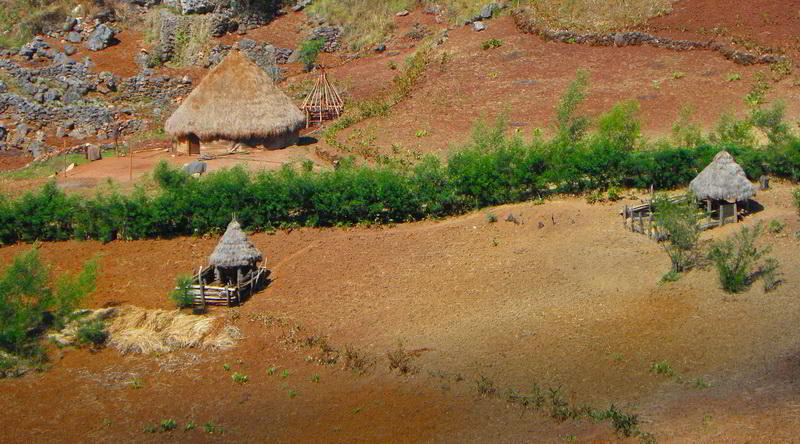 Traditional Farm in Timor LesteIn the morning at your convinient time,visits Pousada Same before continue to flecha a valleys with breathtaking view then continue to Hatu-builiko and stay overnight at Pousada Hatu-Builiko. Lunch and dinner will be served at the guest house.
Day 8: Hato-Builico - Mt. Ramelau - Dili
(B)
Sunrise Mt. Ramelau03H00AM start to climb Mt Ramelau till the summit before sun rising. We'll then wait until the cloud become clear and its spectacular view around the areas. After that return to Hatu-builiko and have breakfast.Then return to Maubisse with visits; traditional houses, coffee plantation and Pousada de Maubisse. Lunch will be served at Pousada. After that continue to Aileu short visits; monument massacre WWII and alligator pond and then continue drive to Dare with visit Australian memerial during second world war before arrive in Dili. Stay overnight at hotel Timor. Dinner will be served at Early sun restaurant.
Day 9: Dili - End of Tour Dili (Timor-Leste)
(B)
In the morning free at your own leisure till departure to the airport and transfer formalities.
Hotels, Rates & Information
Hotels for this Tour
(Changing the hotels according to your wishes is no problem!)
Location
Comfort Hotels
Baucau
Pusada do Baucau
Homestay/Guesthouse

Tutuala
Pousada de Tutuala
Homestay/Guesthouse
Standard
Tutuala Beach
Tutuala Beach Guesthouse
Homestay/Guesthouse

Lospalos
Hotel Roberto Carlos

Standard
Loihunu
Loihunu Guesthouse
Homestay/Guesthouse

Same
Same Guesthouse
Homestay/Guesthouse

Hato-Builico
Hato-Builico Guesthouse
Homestay/Guesthouse

Dili
Hotel Timor

Standard
Rates
Options
Comfort
Rate per person
EUR 1.510
USD 1,645
Based on individual private tour, min. 2 travellers in double/twin room
Changing or adapting this tour to match your personal needs, interests and wishes is, as always, possible. Please contact us! Group rates (closed groups only, min. 4 Pax) on request.
Single Supplement
EUR 167
USD 182
Single Traveller
EUR 2.715
USD 2,965
Use our travel bag to remember tours and quickly access them later through the Travel Bag Menue (, comes up as soon as you add a tour) - Or to add them to a tour request for an individual offer.
Add to your travel bag list
Map
In progress
Information, Services, Remarks
Depart/Arrive:

Dili (Timor-Leste) / Dili (Timor-Leste)


Hotel/Airport Transfers:

Transfers are inclusive from and to above mentioned airports and hotels of the immediate area.

Services (included):

Private tour
English speaking guide
Air-conditioned car with driver
Accomodation: DBL room hotels (or similar)
Transfers, Entrance fees as per itinerary
Meal Plan as stated:
8x Breakfast 1x Lunch/Lunchbox 1x Dinner

Not included

Own expenses
Additional services (marked 'optional' above)
Programme not mentioned above
Season Surcharges
Visa on Arrival in Dili (USD 30)
Departure Airport Taxes Dili (USD 10)


Important Remarks:

Important information for traveler to Timor-Leste (East Timor): Timor Leste is a new destintion with limited touristic infrastructure. Regular flight connections, restaurants and hotels (all classes from simple to high end) are limited. Flight cancellations and delays are quite common. Please don't expect amenities like warm water, air-conditioning and even comfortable beds at the hotels during the round trip. This applies especially outside of bigger cities.
Min. 2 Persons. Single traveller rates on request.
- What to bring: Sunscreen, mosquito repellent, trekking shoes, flashlight, warm clothes, towels, toilet paper, batteries
Please pay attention to the Travel Information provided.
When travelling islamic countries there can be interference during the month of Ramadan, other high holidays and fridays.
Volcanism: The Sunda Islands and the Sunda Archipelago are of volcanic orgin and show high volcanic activity. Accrodingly it may be possible that tours, routings and activities (especially those involving or near volcanoes) need to be altered in case of high activity or order by the government.
This tour is not soutable for people with reduced mobility. If you are unsure if you meet the requirements please contact us! We will try to find a solution for your individual needs.
During the dry season severe haze caused by wood fires in Borneo and Sumatra can possibly affect this region. Please keep yourself updated using the ASEAN Regional Haze Situation Center.