Orangutans and Turtles in Borneo - 5 days
Individual Private Tour - Tour Details & Information, Tour Code: SI-BUN-06
Detailed Itinerary
Day 1: Begin of Tour Pankalanbun (Kalimantan) - Kumai - Tanjung Puting
(L/D)
Tanjung Puting National ParkUpon arrival in Pangkalan Bun airport meeting service with your guide then direct transfer to Kumai for 20 minutes. Proceed transfer you up on board and boating down Kumai river to reach Sekonyer river. It will take about 2 hours to reach the first camp Tanjung Harapan. If the time still permitted you will visit Orangutan feeding at 15.00 in Tanjung Harapan Camp. Enjoy your time until 16.00 then boating up to see more proboscis monkey. Meals provided in houseboat and overnight at lodge.
Day 2: Tanjung Puting - Camp Leaky - Tanjung Puting
(B/L/D)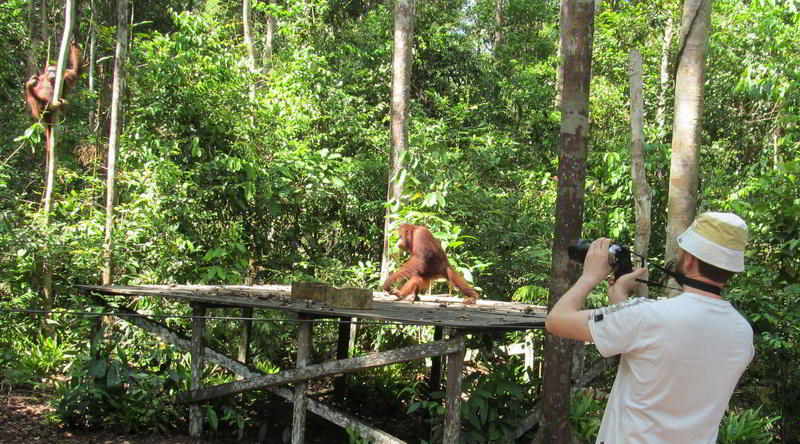 Orang-Utan at Tanjung PutingAfter breakfast, proceed upstream to Camp Leaky area, it will pass the black river. When arrive in Camp Leaky, hiking up to see more wildlife such as Orangutans, gibbons, wild pigs, birds etc. Back to the boat for lunch and at 14.00 will follow the feeding program. Feeders will carry banana and feed the Orangutan on the feeding platform. At 16.00, back to the boat for dinner and return to the lodge for overnight.
Day 3: Tanjung Puting - Pesalat - Tanjung Harapan
(B/L/D)
Orang-Utan at Tanjung PutingAfter breakfast, boating down the river to the second station called Pondok Tanggui. On arrival in Pondok Tanggui trekking up to the Orangutan feeding at 09.00. Enjoying the situation until 10.00 then continue the trip and boating down to Pasalat Camp for your carbon offsetting program. Here you will grow one tree per person as a contribution for slow down the climate change. This is also as a payment for the carbon you had paid from the airline ticket and all the transportation you had used to get here. Afterwards going back to the boat and boating down direct to Tanjung Harapan Camp for visiting the last Orangutan feeding. Here they feed the Orangutan at 15.00 in the afternoon. Enjoy the situation until 16.00 pm. Back to the camp and if it is still enough time crossing to Tanjung Harapan village to see the Malayan settlement activities in the afternoon. Back to the boat and boating down directly to Nipa Palm area to see thousand of firefly. Lunch will be served en-route on board. Dinner and overnight on boat.
Day 4: Tanjung Harapan - Tanjung Kluang
(B/L/D)
House boat at Tanjung PutingAfter breakfast boating down direct to Tanjung Kluang beach. It will take about 2 hours to reach the beach. Enjoy the time while you could see the baby hawk turtle in Tanjung Kluang conservation project. Here you could adopt and release the baby turtle (release baby turtle will charge on your own account). High Attention: Watch out there is a poison jelly fish.
Day 5: Tanjung Kluang - Kumai - End of Tour Pankalanbun (Kalimantan)
(B)
After breakfast boating up to Kumai, it will take about 2 hours. On arrival in Kumai direct transfer to the airport for your onward journey.
Hotels, Rates & Information
Hotels for this Tour
(Changing the hotels according to your wishes is no problem!)
Location
Comfort Hotels
Deluxe Hotels
Tanjung Puting
Rimba Lodge
Homestay/Guesthouse
Emerald
Rimba Lodge
Homestay/Guesthouse
Diamond
Tanjung Harapan
klotok
Boat

klotok
Boat

Tanjung Kluang
klotok
Boat

klotok
Boat

Rates
Options
Comfort
Deluxe
Rate per person
EUR 970
USD 1,035
EUR 1.116
USD 1,194
Based on individual private tour, min. 2 travellers in double/twin room
Changing or adapting this tour to match your personal needs, interests and wishes is, as always, possible. Please contact us! Group rates (closed groups only, min. 4 Pax) on request.
Single Supplement
On Request
On Request
Single Traveller
EUR 1.745
USD 1,865
EUR 2.005
USD 2,145
Use our travel bag to remember tours and quickly access them later through the Travel Bag Menue (, comes up as soon as you add a tour) - Or to add them to a tour request for an individual offer.
Add to your travel bag list
Map
In progress
Information, Services, Remarks
Depart/Arrive:

Pankalanbun (Kalimantan) / Pankalanbun (Kalimantan)


Hotel/Airport Transfers:

Transfers are inclusive from and to above mentioned airports and hotels of the immediate area.

Services (included):

Private tour
English speaking guide
Air-conditioned car with driver
Accomodation: DBL room hotels (or similar)
Transfers, Entrance fees as per itinerary
Meal Plan as stated:
4x Breakfast 4x Lunch/Lunchbox 4x Dinner

Not included

Own expenses
Additional services (marked 'optional' above)
Programme not mentioned above
Season Surcharges


Best Season(s):

May - September

Important Remarks:

Min. 2 Persons. Single traveller rates on request.
Important information for traveler: Outside of highly touristic regions like Bali there is only a limited touristic infrastructure available. Regular flight connections, restaurants and hotels (all classes from simple to high end) are limited. Flight cancellations and delays are quite common. Please don't expect amenities like warm water, air-conditioning and even comfortable beds at all hotels and homestays during the round trip. This applies especially outside of bigger cities.
Please pay attention to the Travel Information provided.
When travelling islamic countries there can be interference during the month of Ramadan, other high holidays and fridays.
Volcanism: The Sunda Islands and the Sunda Archipelago are of volcanic orgin and show high volcanic activity. Accrodingly it may be possible that tours, routings and activities (especially those involving or near volcanoes) need to be altered in case of high activity or order by the government.
This tour is not soutable for people with reduced mobility. If you are unsure if you meet the requirements please contact us! We will try to find a solution for your individual needs.
During the dry season severe haze caused by wood fires in Borneo and Sumatra can possibly affect this region. Please keep yourself updated using the ASEAN Regional Haze Situation Center.