MOANA Liveaboard at Komodo National Park - 6 days
Tour Details & Information, Tour Code: SI-MBC-03
Detailed Itinerary
Day 1: Begin of Tour Labuan Bajo (Flores) - Sebayur Kecil - Gili Lawa
(D)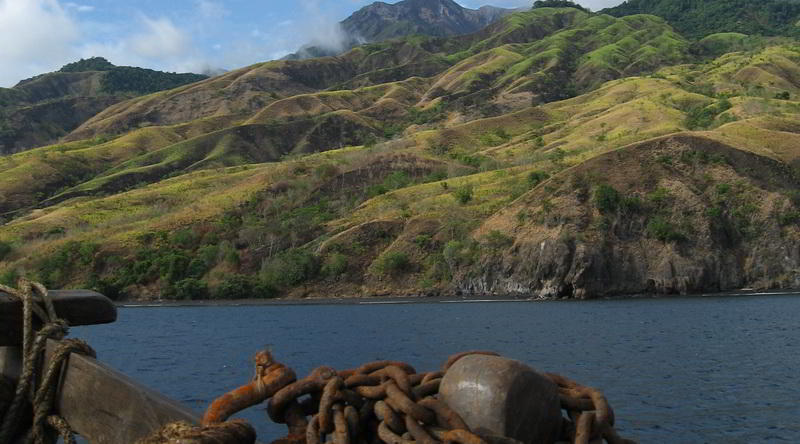 Moana at Komodo National ParkWelcome onboard MOANA. After a refreshing welcome drink, we set sails heading south. Now it is time for a short introduction to the facilities of our vessel and the tour program. Afterwards, there is only one thing left to do: relax and enjoy great views, while we are steaming towards our first stop: the famous Komodo National Park. The route depends on several conditions (weather, moon phase, season). The first dive will be in the afternoon. The spot near Sebayur Kecil is often used for a check dive because of the conditions are suitable for beginners. After wards snacks on board. Moana will stay in a quite bay for the night.
Day 2: Gili Lawa -
(B/L/D)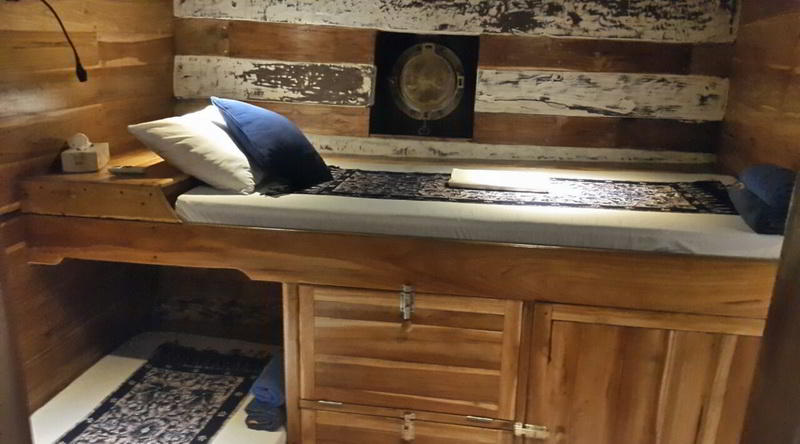 Moana Twin CabinA typical diving day aboard Moana starts with breakfast at 06:00 hrs. Cereals and warm beverages will be served by the crew. Afterwards briefing for the first dive of the day. When we return around 08:00 hrs a more hearty breakfast will be served. Afterwards it is time for the second dive of the morning. For example at Castle Rock. Lunch will be served abord Moana. Time to relax until 14:30 hrs. The third dive will be in the afternoon. Local snacks and drinks will be served afterwads. The fourth dive will be possible at 17:30 hrs. When all divers have returned to Moana it will be time for the three course set-dinner. The food is influenced by local indonesian and european dishes.
Day 3: Gili Lawa - Tatawa
(B/L/D)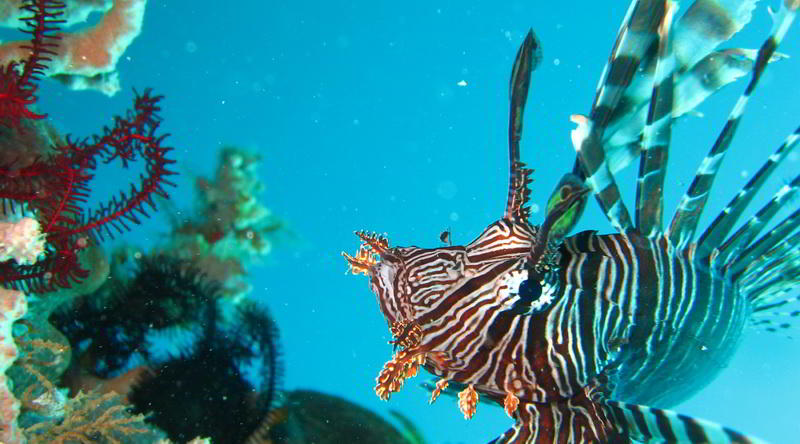 scorpion fishFirst dive before Moana hoists anchor and moves to the area between Komodo and Rinca. From there we can reach many of surrounding diving spots. Some of them are the best of the National Park. For example Batu Bolong south of Sebayur Kecil. It is easily spotted from above because of the characteristic rock arc. The diving spot is aptly named Current City. The tip of an underwater mountain is densely covered with corals and many fish can be found here. The currents attract also big fish.
Day 4: Tatawa
(B/L/D)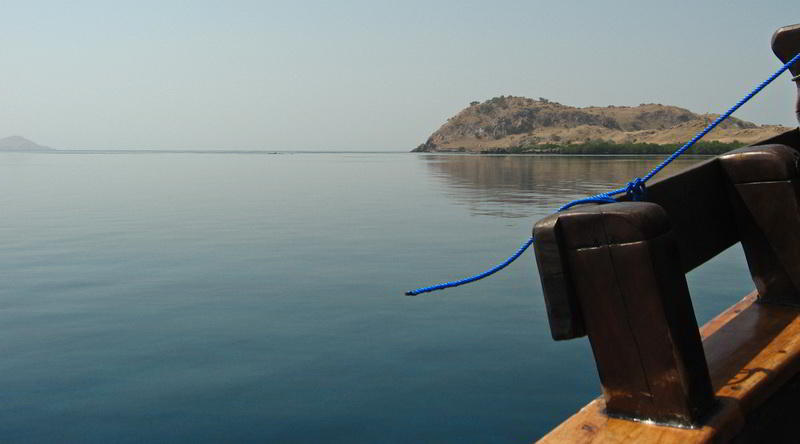 Islands of Nusa TenggaraThe north-west of Tatawa Besar is a good spot for drift dives. You will see large groups of fish and orange soft-corals in a depth of 15-20m. The west coast of Tatawa Kecil is known for beautiful rock formations and tricky currents. Only suitable for advanced divers.
Day 5: Tatawa - Rinca - Bat Island
(B/L/D)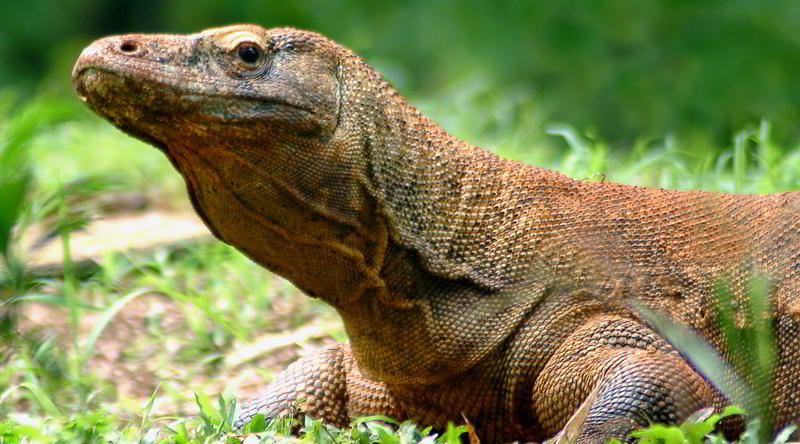 Komodo dragonDragon-Walk: Komodo dragons are the world's largest lizards. They only live on the island of Komodo and other tiny surrounding islands. After an early breakfast we start a 3-hours trek. We walk through the island to observe the Komodo Dragons in their pure environment as well as an opportunity to observe other animals such as deer, horses, birds etc, in their wild life. After returning to the boat we have the opportunity to swim or snorkel on the clean and white sandy beach.
Day 6: Bat Island - Pulau Bidadari - Labuan Bajo
(B)
MoanaBefore we move on to the harbour of Labuan Bajo Moana anchors at Bidadari Island. You can swim near the beach or just relax in the sand. It possible to snorkel at the reef. Return to Labuan Bajo after lunch and transfer to the airport.
Hotels, Rates & Information
Hotels for this Tour
(Changing the hotels according to your wishes is no problem!)
| | | |
| --- | --- | --- |
| Location | Comfort Hotels | Deluxe Hotels |
Rates
Options
Comfort
Deluxe
Rate per person
EUR 1.625
USD 1,770
EUR 1.925
USD 2,101
Changing or adapting this tour to match your personal needs, interests and wishes is, as always, possible. Please contact us! Group rates (closed groups only, min. 4 Pax) on request.
Single Supplement
On Request
On Request
Use our travel bag to remember tours and quickly access them later through the Travel Bag Menue (, comes up as soon as you add a tour) - Or to add them to a tour request for an individual offer.
Add to your travel bag list
Map
In progress
Information, Services, Remarks
Depart/Arrive:

Labuan Bajo (Flores) / Labuan Bajo (Flores)


Hotel/Airport Transfers:

Transfers are inclusive from and to above mentioned airports and hotels of the immediate area.

Services (included):

Standard rate:
Full board (3 meals per day and snacks)
air-conditioned cabins with en-suite bathrooms (incl. shower/toilet)
non-alcoholic drinks (soft drinks, tea, coffee, water)
towels, day trips (see itin)
European cruise director
Transfers to/from boat

Diving Cruise ("upgrade"):
Unlimited diving
professional diving instructor and crew,
2 compressors, tanks, weights

Meal Plan as stated:
5x Breakfast 4x Lunch/Lunchbox 5x Dinner

Not included

Own expenses
Additional services (marked 'optional' above)
Programme not mentioned above
Season Surcharges
Domestic flight
Harbour clearance EUR 40,- p.p./night
Komodo National Park fees
Crew gratuities (EUR 15/guest/night)
alcoholic beverages, soft drinks
Diving: from EUR 40,- (excl. Equipment) or EUR 55 (incl. Equipment)


Best Season(s):

March - December

Important Remarks:

Minimum 4 pax in Komodo.
There is no fixed route for this trip. Route depends on weather conditions, currents and other things. Changes are possible at any moment. For more information, click on the fact sheet.
Last update: 30.09.2022
Season 2022
05.11.2022 - 10.11.2022
12.11.2022 - 17.11.2022
03.12.2022 - 08.12.2022
10.12.2022 - 15.12.2022
Season 2023 EUR 1.625,- p.P.
18.03.2023 - 23.03.2023
25.03.2023 - 30.03.2023
15.04.2023 - 20.04.2023
06.05.2023 - 11.05.2023
13.05.2023 - 18.05.2023
20.05.2023 - 25.05.2023
10.06.2023 - 15.06.2023
24.06.2023 - 29.06.2023
01.07.2023 - 06.07.2023
08.07.2023 - 13.07.2023
15.07.2023 - 20.07.2023
22.07.2023 - 27.07.2023
29.07.2023 - 03.08.2023
05.08.2023 - 10.08.2023
12.08.2023 - 17.08.2023
19.08.2023 - 24.08.2023
26.08.2023 - 31.08.2023
02.09.2023 - 07.09.2023
09.09.2023 - 14.09.2023
16.09.2023 - 21.09.2023
23.09.2023 - 28.09.2023
30.09.2023 - 05.10.2023
07.10.2023 - 12.10.2023
14.10.2023 - 19.10.2023
21.10.2023 - 26.10.2023
28.10.2023 - 02.11.2023
04.11.2023 - 09.11.2023
11.11.2023 - 16.11.2023
18.11.2023 - 23.11.2023
25.11.2023 - 30.11.2023
02.12.2023 - 07.12.2023
09.12.2023 - 14.12.2023
Important information for traveler: Outside of highly touristic regions like Bali there is only a limited touristic infrastructure available. Regular flight connections, restaurants and hotels (all classes from simple to high end) are limited. Flight cancellations and delays are quite common. Please don't expect amenities like warm water, air-conditioning and even comfortable beds at all hotels and homestays during the round trip. This applies especially outside of bigger cities.
Min. 2 Persons. Single traveller rates on request.
- For more information on MOANA click on the fact sheet (pdf 0,3MB).
Please pay attention to the Travel Information provided.
When travelling islamic countries there can be interference during the month of Ramadan, other high holidays and fridays.
Volcanism: The Sunda Islands and the Sunda Archipelago are of volcanic orgin and show high volcanic activity. Accrodingly it may be possible that tours, routings and activities (especially those involving or near volcanoes) need to be altered in case of high activity or order by the government.
This tour is not soutable for people with reduced mobility. If you are unsure if you meet the requirements please contact us! We will try to find a solution for your individual needs.