Kinabalu Summit Climb - 3 days
Individual Private Tour - Tour Details & Information, Tour Code: MD-BKI-09
Detailed Itinerary
Day 1: Begin of Tour Kota Kinabalu (Sabah) - Kinabalu Nationalpark
(L/D)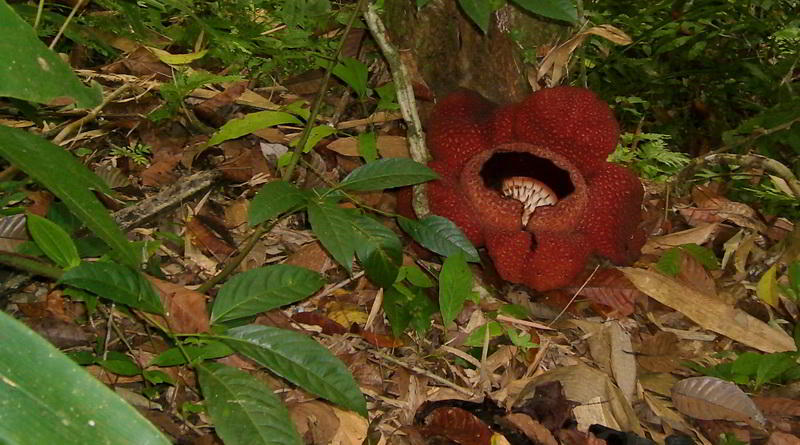 RafflesiaDrive 2 hours overland (88km) through paddy fields and Dusun villages over the ridges of the Crocker Range to the foothills of Mt. Kinabalu. Short stop at a roadside stall to savor the taste of local fruits. Arrival at Kinabalu National Park World Heritage Site and visit Education Center and Mountain Garden. You will find various species of flowering rhododendrons, carnivorous pitcher plants, orchids, ferns, oak trees, and birds. Overnight at National Park.
Day 2: Kinabalu Nationalpark - Mount Kinabalu
(B/L/D)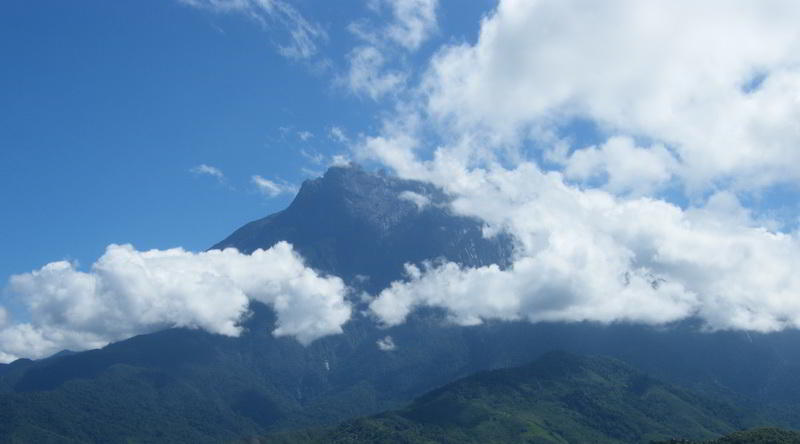 Mount Kinabalu in SabahTransfer to Timpohon Gate at 1,800m to start 4-6 hours trek with mountain guide to the Laban Rata Rest house at 3,353m. The overnight accommodation is dormitory style (unheated, 4-6 beds) with a shared bathroom and restaurant. The trek follows steep foot ways up the mountain. A reasonable level of fitness is required from every participant. Do not forget to look around you while climbing. You will see some of the endemic flowers and pitcher plants. (Temperature around 5-10°C)
Day 3: Mount Kinabalu - End of Tour Kota Kinabalu (Sabah)
(B/L)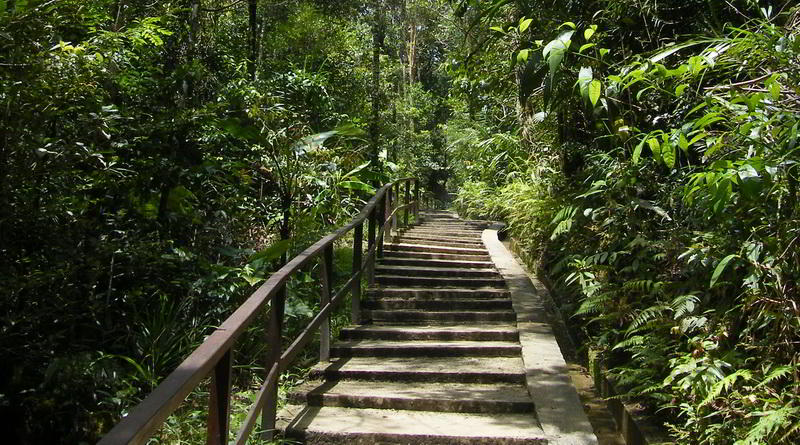 Trail Kinabalu National ParkWake-up call at 02:00 AM. After a light breakfast, leave Laban Rata at 02:30 AM and continue the climb up the mountain. The night will be cold and dark. Don't forget your headlights, so you can grab onto the stairs during the climb. The stairs are very simple designed and can be slippery from rain or dew. After 2 hours of climbing, you will reach Sayat-Sayat checkpoint. There you can refill your water bottle and eat a light snack before the last leg of the trip to the summit. Because of the high altitude, you will have to take more breaks. You will reach the summit close to 06:00 AM. Take a picture and enjoy the vista before you return to Laban Rata. You should start your descend in clear daylight. A breakfast will await you at the rest house (08:00 AM) to restore your strength for the trek downhill. After returning to the Park HQ you will receive your certificate for climbing the mountain. Lunch at the Park HQ. Return to Kota Kinabalu in the afternoon.
Hotels, Rates & Information
Hotels for this Tour
(Changing the hotels according to your wishes is no problem!)
Location
Comfort Hotels
Kinabalu Nationalpark
Hill Lodge
Homestay/Guesthouse

Mount Kinabalu
Laban Rata Resthouse
Homestay/Guesthouse
Schlafsaal/Dormitory
Rates
Options
Comfort
Rate per person
EUR 815
USD 870
Based on individual private tour, min. 2 travellers in double/twin room
Changing or adapting this tour to match your personal needs, interests and wishes is, as always, possible. Please contact us! Group rates (closed groups only, min. 4 Pax) on request.
Single Supplement
EUR 157
USD 168
Single Traveller
EUR 1.465
USD 1,565
Use our travel bag to remember tours and quickly access them later through the Travel Bag Menue (, comes up as soon as you add a tour) - Or to add them to a tour request for an individual offer.
Add to your travel bag list
Map
In progress
Information, Services, Remarks
Depart/Arrive:

Kota Kinabalu (Sabah) / Kota Kinabalu (Sabah)


Hotel/Airport Transfers:

Transfers are inclusive from and to above mentioned airports and hotels of the immediate area.

Services (included):

Private tour
English speaking guide
Air-conditioned car with driver
Accomodation: DBL room hotels (or similar)
Transfers, Entrance fees as per itinerary
Climbing permit
Climbing certificate & climbing insurance
services of a mountain guide
The Mt. Kinabalu Climb offered on a Seat-in-Coach basis. These tours operate on the principle that you may be in a small group with other people.
Meal Plan as stated:
2x Breakfast 3x Lunch/Lunchbox 2x Dinner

Not included

Own expenses
Additional services (marked 'optional' above)
Programme not mentioned above
Season Surcharges
porter
private, englischspreaking guide


Important Remarks:

Min. 2 Persons. Single traveller rates on request.
- What to bring: Daypack, boots, raincoat, insect repellent, warm clothes (incl. cap/beanie, gloves, warm socks), windbreaker, flashlight/headlight, water bottle, personal medicine. It will get very cold on the mountain (0°C).
Please pay attention to the Travel Information provided.
When travelling islamic countries there can be interference during the month of Ramadan, other high holidays and fridays.
Volcanism: The Sunda Islands and the Sunda Archipelago are of volcanic orgin and show high volcanic activity. Accrodingly it may be possible that tours, routings and activities (especially those involving or near volcanoes) need to be altered in case of high activity or order by the government.
This tour is not soutable for people with reduced mobility. If you are unsure if you meet the requirements please contact us! We will try to find a solution for your individual needs.
During the dry season severe haze caused by wood fires in Borneo and Sumatra can possibly affect this region. Please keep yourself updated using the ASEAN Regional Haze Situation Center.