Visit at Mengkak Lonhouse - 3 days
Individual Private Tour - Tour Details & Information, Tour Code: MD-KCH-05
Detailed Itinerary
Day 1: Begin of Tour Kuching (Sarawak) - Lachau - Mengkak Longhouse
(L/D)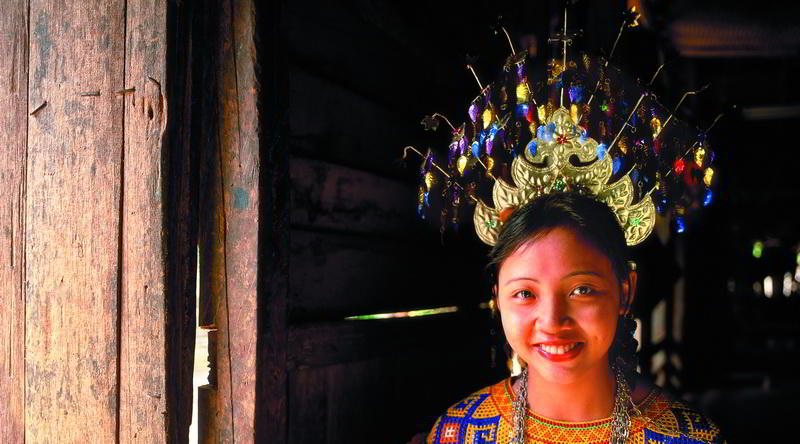 Iban girl with traditional garbStart the journey to the Mengkak Longhouse in the early morning. The longhouse is situated 270km from Kuching. Make a few stops on the way. The town of Serian is known for a market with local fruits and vegetables. A short visit at a pepper farm and roadside stops to see wild orchids and pitcher plants. The last stop will be in Lachau, a small village with mainly Chinese inhabitants. Lunch at Lachau. The village is also the last opportunity to buy gifts for the Iban tribe. Continue your way to the longhouse after lunch. Take a local longboat from Batang Ai jetty to cross the lake and travel upstream until you reach the longhouse. Be welcomed by the Iban families. Connect with your hosts while exchanging presents, drinking coffee and tea. Dinner at the longhouse and overnight on the ruai (community space). A simple mattress and mosquito net are provided.
Day 2: Mengkak Longhouse - Batang Ai
(B/L/D)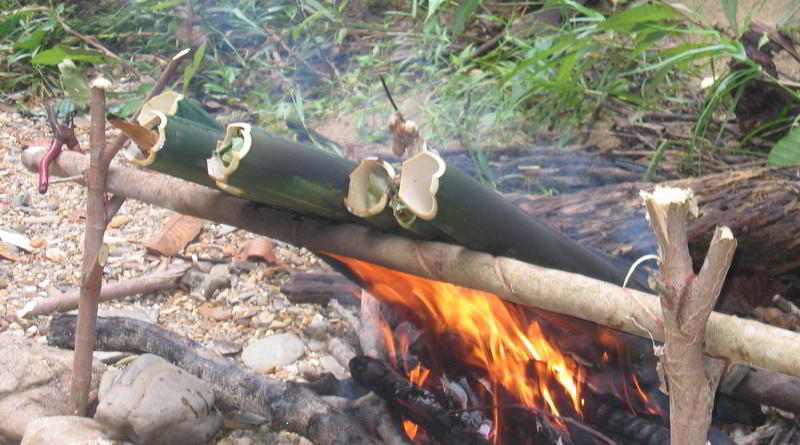 fire placeWake up very early with the Iban families and start today's program after breakfast. A long hike will take you through the rain forest covering the steep hills near the village. Many animals live in the unspoiled forest. Find the tracks of wild boars, sun bears and hear the calls of wild macaques and orang-utans. Lunch en-route. In the afternoon check-in at the Aiman Batang Ai Resort. Dinner and overnight at the resort.
Day 3: Batang Ai - Lachau - End of Tour Kuching (Sarawak)
(B/L)
Longboats SarawakBreakfast at the resort. Later in the morning return by boat to the jetty and transfer back to Kuching. Lunch on the way at Ranchang Pool near Serian.
Hotels, Rates & Information
Hotels for this Tour
(Changing the hotels according to your wishes is no problem!)
Location
Comfort Hotels
Mengkak Longhouse
Mengkak Longhouse
Camp
Ruai (Gemeinschaftshalle/community floor)
Batang Ai
Aiman Batang Ai Resort & Retreat

Standard
Rates
Options
Comfort
Rate per person
On request
Based on individual private tour, min. 2 travellers in double/twin room
Changing or adapting this tour to match your personal needs, interests and wishes is, as always, possible. Please contact us! Group rates (closed groups only, min. 4 Pax) on request.
Single Supplement
On Request
Single Traveller
On Request
Use our travel bag to remember tours and quickly access them later through the Travel Bag Menue (, comes up as soon as you add a tour) - Or to add them to a tour request for an individual offer.
Add to your travel bag list
Map
In progress
Information, Services, Remarks
Depart/Arrive:

Kuching (Sarawak) / Kuching (Sarawak)


Hotel/Airport Transfers:

Transfers are inclusive from and to above mentioned airports and hotels of the immediate area.

Services (included):

Private tour
English speaking guide
Air-conditioned car with driver
Accomodation: DBL room hotels (or similar)
Transfers, Entrance fees as per itinerary
Meal Plan as stated:
2x Breakfast 3x Lunch/Lunchbox 2x Dinner

Not included

Own expenses
Additional services (marked 'optional' above)
Programme not mentioned above
Season Surcharges
Presents for Iban families


Important Remarks:

Important information: All programmes and transfers by boat are on seat-in-coach base (group). You may be in a small group with other people.
Min. 2 Persons. Single traveller rates on request.
- Accomodation at the longhouse is very simple. You will stay at the ruai and a mattress, mosquito nets and sheets will be provided. Toilets and bathrooms are available but very primitive.
- The nights are very short at the longhouse and usually ends before first light.
- You can bring clothes, notebooks, pens, postcards and pictures from your hometown as presents for the Iban families. As your guide how many families live at the longhouse during your stay.
- Use a waterproof bag for your personal belongings.
- What to bring: Sarong, flashlight or headlamp, raincoat, towel, sandals, insect repellent, sunscreen
- The visit at the school is not possible during holidays and on the weekends. There will be other activities with the Iban.
Please pay attention to the Travel Information provided.
When travelling islamic countries there can be interference during the month of Ramadan, other high holidays and fridays.
Volcanism: The Sunda Islands and the Sunda Archipelago are of volcanic orgin and show high volcanic activity. Accrodingly it may be possible that tours, routings and activities (especially those involving or near volcanoes) need to be altered in case of high activity or order by the government.
This tour is not soutable for people with reduced mobility. If you are unsure if you meet the requirements please contact us! We will try to find a solution for your individual needs.
During the dry season severe haze caused by wood fires in Borneo and Sumatra can possibly affect this region. Please keep yourself updated using the ASEAN Regional Haze Situation Center.