Sarawak Wildlife Explorer - 5 days
Individual Private Tour - Tour Details & Information, Tour Code: MD-KCH-10
Detailed Itinerary
Day 1: Begin of Tour Kuching (Sarawak) - Semenggoh - Kuching
(D)
Orang Utan in SemenggohIn the morning your personal guide will meet you and you will start your journey with a tour to Semenggok Orang Utan Rehabilitation Centre where you will have the chance to observe the Orang Utans coming out of the forest for the feeding time. Your guide will give you further details about these amazing animals. After this fascinating experience you will proceed back to Kuching by van. In the late afternoon your guide will pick you up from the hotel again and you will proceed to the beach of Damai where you will board a boat for a ride into the mangroves in search for the rare Proboscis monkeys. Explore the Riverine Mangrove Forest on a slow drive through the narrow passages. Borneo is the only place in the world where this rare primate lives. It lives in mangrove forest of the coastal area and riverine forest on the lower reaches of major rivers. Once a group of Proboscis monkeys is sighted take your time to watch these animals in their natural habitat. Shortly before darkness we will leave the Mangrove forest to experience the beautiful sunset. We will enter the mangroves once more in darkness. This slow boat ride through the Mangrove forest will offer a rare opportunity to see the wild crocodiles of the River. Use torch lights to find the reflection of crocodile eyes in the water and on land. Enjoy the sound of the Mangroves in the night and search for Fireflies. Fireflies are soft bodied beetles which sizes range from 5 to 25mm in length. On the underside of the abdomen it has special light organs that glows in luminous flashes. These amazing animals can be found along the trees of the Riverine Mangrove forest and will light some trees up like a Christmas tree. Enjoy a dinner in a restaurant with sea view before returning to your hotel in Kuching. Overnight in the Hotel.
Day 2: Kuching - Bako
(B/L/D)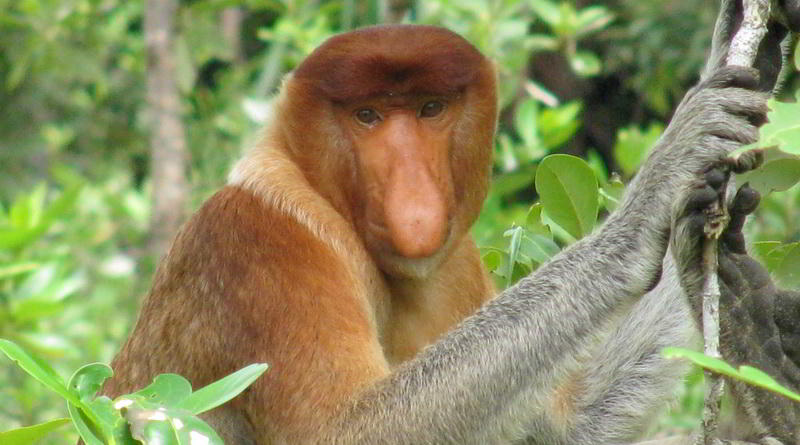 Proboscis monkeyA scenic drive this morning brings you to Bako Fishing village where an exciting boat ride takes you to marvel at the abundant natural beauty of Sarawak's most popular National Park. Trek along the trails to spot wildlife in its natural surroundings including the proboscis monkeys, the monitor lizards, bearded pigs, silver leaf monkeys and more than one hundred species of birds. The stunning tropical rain forest ranges from the mangrove swamp forest to kerangas (Heath forest) to cliff and beach vegetation. Exotic plants found along the trails include the several species of pitcher plants and wild orchids. You may end your trekking at a beautiful secluded swimming beach. Lunch will be served in the Park's Canteen. After lunch you will have your time to explore the wildlife and vegetation around the Parks Headquarter on your own or take a walk together with our guide along one of the other short trails around the Headquarter. Dinner will be served in the Park Canteen. Overnight at the lodge.
Day 3: Bako - Kuching
(B/L)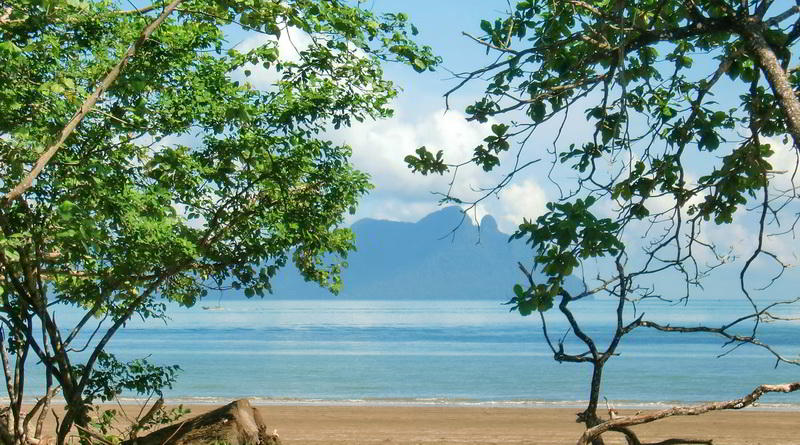 Bako National ParkBreakfast at the park cafeteria. Optional: Early riser can wander along the trails around the park headquarter. You can see birds and other wildlife such as monitor lizards, squirrels or tree shrew. You will be taken on another trail to explore the different vegetation before returning to Kuching. Overnight in the Hotel.
Day 4: Kuching - Damai - Kuching
(B/L)
Birds RockAfter breakfast your guide will pick you up from the hotel and you will proceed to the beach of Damai to board a speedboat and proceed to the river mouth for an approximate 45 minutes ride in search for the Irrawaddi (or Snubfin) Dolphins. This species has a large melon and a blunt, rounded head. Its beak is indistinct. The dorsal fin is short, blunt and triangular. It is located about two-thirds of the way along the back. The flippers are long and broad. It is lightly colored all over - slightly whiter on the underside than the back. It appears whiter than it actually is when set against the background of a muddy river. Length is about 100cm at birth and 230cm at full maturity. Birth weight is about 10kg. Adult weight exceeds 130kg. Lifespan is about 30 years. The Irrawaddy Dolphin is a slow swimmer. It surfaces in a rolling fashion and lifts its tail fluke clear of the water for a deep dive only. Irrawaddy Dolphins spit streams of water from their mouths whilst spy hopping. Observe the dolphins while they swim around the boats of the local fishermen in search for food. After this fascinating experience you will visit Kampong Salak, a Malay Fishing Village where the villagers are still living without electricity and proper water supply. A Generator is supplying the School with Electricity. Experience the traditional life in the village. After this visit we will once more try to find wild Crocodiles along the Riverbanks of the Mangrove Forest. Afterwards we will proceed by boat for another 45 minutes to the Satang Islands located off the coast of Santubong. Together with the Talang-Talang Islands that are located off the coast of Sematan, these two locations are the only major marine turtle nesting sites in Sarawak. During the "turtle season" from May to September, Green Turtles come ashore at night to lay their eggs and rest in the surrounding waters before and in between landings. Packed lunch is provided on the island. Enjoy the beautiful view from the island, relax at the beach or go for a swim or snorkel in the clear water. On the return boat ride to Permai we will pass by "Bird's Rock". We will slowly pass by the rock for a better impression of this rocky islet which is an important rookery for Black-napped and Bridled terns. After the tour return to your hotel in Kuching. Overnight in the Hotel.
Day 5: Kuching - End of Tour Kuching (Sarawak)
(B)
Breakfast in the Hotel. Time free at leisure until check out. Transfer to Kuching International Airport.
Hotels, Rates & Information
Hotels for this Tour
(Changing the hotels according to your wishes is no problem!)
Location
Comfort Hotels
Kuching
Pullman

Deluxe
Bako
Forest Lodge
Homestay/Guesthouse
Type 4
Rates
Options
Comfort
Rate per person
On request
Based on individual private tour, min. 2 travellers in double/twin room
Changing or adapting this tour to match your personal needs, interests and wishes is, as always, possible. Please contact us! Group rates (closed groups only, min. 4 Pax) on request.
Single Supplement
On Request
Single Traveller
On Request
Use our travel bag to remember tours and quickly access them later through the Travel Bag Menue (, comes up as soon as you add a tour) - Or to add them to a tour request for an individual offer.
Add to your travel bag list
Map
In progress
Information, Services, Remarks
Depart/Arrive:

Kuching (Sarawak) / Kuching (Sarawak)


Hotel/Airport Transfers:

Transfers are inclusive from and to above mentioned airports and hotels of the immediate area.

Services (included):

Private tour
English speaking guide
Air-conditioned car with driver
Accomodation: DBL room hotels (or similar)
Transfers, Entrance fees as per itinerary
Meal Plan as stated:
4x Breakfast 3x Lunch/Lunchbox 2x Dinner

Not included

Own expenses
Additional services (marked 'optional' above)
Programme not mentioned above
Season Surcharges


Best Season(s):

April - October

Important Remarks:

Important information: All programmes and transfers by boat are on seat-in-coach base (group). You may be in a small group with other people.
Min. 2 Persons. Single traveller rates on request.
The accomodation at Bako National Park is provided by Sarawak Forestry. The simple lodges (Type 6 or similar) are not air-condtioned. The facilities include a fan and private lavatory. The park cafeteria sells simple, local dishes and drinks (non-alcoholic).
Please pay attention to the Travel Information provided.
When travelling islamic countries there can be interference during the month of Ramadan, other high holidays and fridays.
Volcanism: The Sunda Islands and the Sunda Archipelago are of volcanic orgin and show high volcanic activity. Accrodingly it may be possible that tours, routings and activities (especially those involving or near volcanoes) need to be altered in case of high activity or order by the government.
During the dry season severe haze caused by wood fires in Borneo and Sumatra can possibly affect this region. Please keep yourself updated using the ASEAN Regional Haze Situation Center.