South Kalimantan: Banjarmasin & Loksado - 5 days
Individual Private Tour - Tour Details & Information, Tour Code: SI-BDJ-02
Detailed Itinerary
Day 1: Begin of Tour Banjarmasin (Kalimantan) - Banjarmasin
Pick up at the airport of Banjarmasin by your local guide. Check-in at the hotel. Start your tour with a tour of the canals in Banjarmasin in the afternoon. You can see the life of the local people living by the river, swimming, washing and other activities. Overnight in Banjarmasin.
Day 2: Banjarmasin - Loksado
(B/L/D)
Floating Market BanjarmasinEarly in the morning you will be picked up from the hotel and depart for a trip on the Martapura River in a traditional motorboat >em>klotok to the floating market in Lokbaintan. Selling and shopping on the river is purely women's work, and the women protect themselves from the sun with large hats called tangguis. You can take great photos here. Along the river, you can see the local people doing their daily activities. Return to the hotel for breakfast. The journey continues about 40 km southeast of Banjarmasin to the village of Cempaka, where diamonds and gemstones have been found for centuries. Visit to one of these traditional mines. In Martapura, famous throughout Southeast Asia for its diamond, gemstone and gold market, visit to a gemstone cutting workshop. In Martapura, visit the Cahaya Bumi Selamat shopping complex, opportunity to buy some gemstones. Then your journey continues 125 km (approx. 3 hours) northeast to Hulu Sungai Selatan province. Stop in Kandangan, the central town of the province, for lunch. Dinner at hotel in Loksado.
Day 3: Loksado
(B/L/D)
After breakfast at the hotel, drive to Loksado and walk for about 20 minutes to the Dayak Malaris tribe. Some can only be reached by suspension bridges. Visit a traditional longhouse and possibly meet the local people. Learn more about their daily life, then walk to Loksado village. The next stop is Negara village, which is known for its vast recycling industry. Negara is also called Kota Daur Ulang (Recycling city). You can see how used materials get a second live. In the afternoon, return to the lodge.
Day 4: Loksado - Pankalanbun - Banjarmasin
(B/L/D)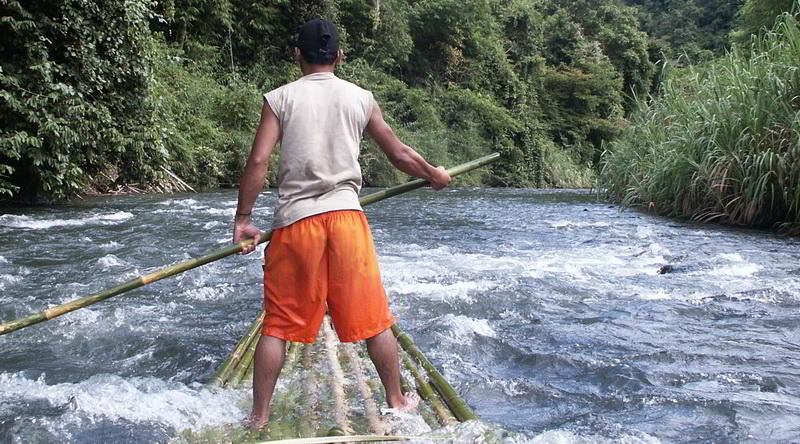 Amandit RaftingAfter breakfast at the hotel, depart for a sensational ride on the Amandit River on a traditional bamboo raft. Bamboo rafts were traditionally built by Dayak tribes to travel to the market in the provincial town to sell their goods. They then dismantled their rafts, sold the bamboo as well and walked back to their village - a multi-day walk through the jungle. Your raft will be made especially for you and for this occasion. The trip takes about 2 hours, is absolutely safe and opens up spectacular views of the tropical nature. These floats are called lanting and are piloted by experienced local pilots. After this adventure, return to the lodge before the transfer back to Banjarmasin, where you check in at the hotel in the afternoon.
Day 5: Banjarmasin - End of Tour Banjarmasin (Kalimantan)
(B)
Breakfast at the hotel. The day is free at leisure until it is time for the airport transfer.
Hotels, Rates & Information
Hotels for this Tour
(Changing the hotels according to your wishes is no problem!)
Location
Comfort Hotels
Banjarmasin
Swissbelhotel Borneo

Superior
Loksado
Amandit River Lodge
Homestay/Guesthouse

Rates
Options
Comfort
Rate per person
EUR 740
USD 805
Based on individual private tour, min. 2 travellers in double/twin room
Changing or adapting this tour to match your personal needs, interests and wishes is, as always, possible. Please contact us! Group rates (closed groups only, min. 4 Pax) on request.
Single Supplement
EUR 79
USD 86
Single Traveller
EUR 1.330
USD 1,450
Use our travel bag to remember tours and quickly access them later through the Travel Bag Menue (, comes up as soon as you add a tour) - Or to add them to a tour request for an individual offer.
Add to your travel bag list
Map
In progress
Information, Services, Remarks
Depart/Arrive:

Banjarmasin (Kalimantan) / Banjarmasin (Kalimantan)


Hotel/Airport Transfers:

Transfers are inclusive from and to above mentioned airports and hotels of the immediate area.

Services (included):

Private tour
English speaking guide
Air-conditioned car with driver
Accomodation: DBL room hotels (or similar)
Transfers, Entrance fees as per itinerary
Meal Plan as stated:
4x Breakfast 3x Lunch/Lunchbox 3x Dinner

Not included

Own expenses
Additional services (marked 'optional' above)
Programme not mentioned above
Season Surcharges


Best Season(s):

June - October

Important Remarks:

Important information for traveler: Outside of highly touristic regions like Bali there is only a limited touristic infrastructure available. Regular flight connections, restaurants and hotels (all classes from simple to high end) are limited. Flight cancellations and delays are quite common. Please don't expect amenities like warm water, air-conditioning and even comfortable beds at all hotels and homestays during the round trip. This applies especially outside of bigger cities.

Min. 2 Persons. Single traveller rates on request.
Please pay attention to the Travel Information provided.
When travelling islamic countries there can be interference during the month of Ramadan, other high holidays and fridays.
Volcanism: The Sunda Islands and the Sunda Archipelago are of volcanic orgin and show high volcanic activity. Accrodingly it may be possible that tours, routings and activities (especially those involving or near volcanoes) need to be altered in case of high activity or order by the government.
This tour is not soutable for people with reduced mobility. If you are unsure if you meet the requirements please contact us! We will try to find a solution for your individual needs.
During the dry season severe haze caused by wood fires in Borneo and Sumatra can possibly affect this region. Please keep yourself updated using the ASEAN Regional Haze Situation Center.